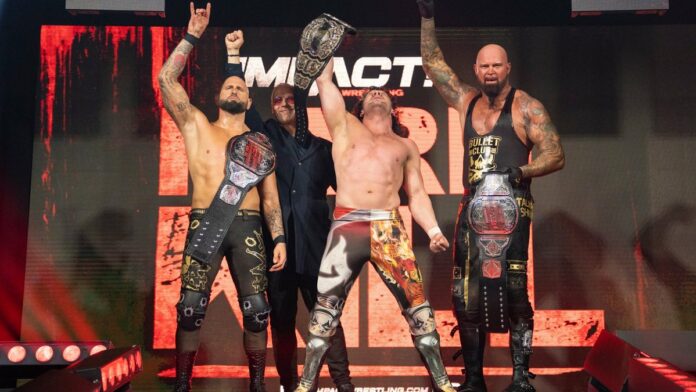 This past weekend, Impact Wrestling kicked off its 2021 pay-per-view scheduled with "Hard to Kill," an event that generated some buzz in recent weeks because of the addition of Kenny Omega to team with The Good Brothers in a six man tag team main event that featured both the All Elite Wrestling and Impact champion. Still, as I've mentioned in the past, in the era of $10 streaming services, it becomes that much more difficult to sell a broadcast at the traditional price.
So, did this Impact pay-per-view reach that standard and more importantly, how will the results affect the future of the promotion?
Usually, I wouldn't discuss pre-show matches, simply because they are usually throw together bouts added without much rhyme or reason, but it should be mentioned that Brian Myers, who recently just inked a new deal with the organization, and Josh Alexander delivered a very solid bout. It would be great to see a potential rematch on a bigger stage than just a countdown show or either of these athletes used in a more prominent role within the company. Since Alexander's work rate was well-known because of his work on the independent scene and the tag team of The North, most are aware that he can go bell-to-bell. Where he goes in the next few months remains to be seen because of Ethan Page's exit from the company, but one thing is for sure, Josh Alexander is a tremendous asset to any organization. As far as a company that will probably need to restock and replenish its roster within the next few months, Josh Alexander should be a name that has main event potential. On the flip side, Myers was typecast as a WWE mid-card prior to his release from the promotion during the pandemic roster cuts, but he proved in this bout that he's much more than just an interchangeable wrestler on the list of talent booked for the WWE main event show. I'm not sure if Myers will necessarily be the guy to put this version of Impact on the map, but he's definitely capable of a bigger role than what he had during the majority of his career in WWE.

The pay-per-view card opened with Crazy Steve and Rosemary vs. Tenille Dashwood and Kaleb. While this wasn't anything terrible, it wasn't anything spectacular either. Crazy Steve and Rosemary have portrayed their characters well during their Impact tenure, but this was basically just an average TV match, which saw Crazy Steve and Rosemary get the win.
The six man tag team hardcore match had its moments, but it was more or less an average brawl. With so many multi-person matches on the card, it seemed like some of these matches were booked more to get as many people as possible on the show than the potential match quality. That being said, there were a few bright spots that again go back to the potential of bigger roles for some on the roster. It's good to see that Cody Deaner and Jake dropped the hillbilly personas, considering that it appears that they have skills in the ring and didn't need an over-the-top gimmick to get a spot on TV. If nothing else, an evolution of their characters allows them to progress in the company. Similar to how Josh Alexander has untapped main event potential, I think the same can be said for Joe Doering. His accomplishments in Japan are well-documented, but if that translates to something beyond just Eric Young's sidekick is still up in the air. In my opinion, Doering has the agility and more importantly, the believable to be a top guy for Impact Wrestling. Don't get me wrong, Eric Young deserves a lot of credit for everything he's accomplished in his career, he took whatever he was given and made the best of it, and was totally underutilized in WWE, but hopefully, at some point in the future the focus transitions from Young to Doering, with perhaps Eric Young as the manager to cut promos.
The knockouts tag team title match was okay, but it was another bout on the card that was more of an average TV match than a major pay-per-view contest. Next, Matt Cardona debuted against Ace Austin for a match that went about three minutes and ended in a lackluster DQ. I'm not sure what the logic was behind this finish, particularly because it's not exactly the best way to debut Cardona, and when you consider that it only went a few minutes the entire segment seemed rather pointless. That being said, Cardona, who got over earlier in his career despite WWE management trying to ignore the reaction, could be a solid signing for Impact. After the previously mentioned pandemic releases, Cardona surfaced in All Elite Wrestling for a series of matches, but reportedly didn't sign a long-term deal. It was implied that Cardona was now a part of Impact Wrestling so maybe this is another new chapter for him. Granted, it's possible this is another AEW/Impact working agreement since he's not involved in anything major on Dynamite at the moment, but it's still a good opportunity for Impact to get some recognizable names on their TV show.

The X-Division title match and the Knockouts title bout were more or less in the same category. The matches were fine and there wasn't anything wrong with them, but there wasn't anything specifically great that you should go out of your way to see from either of these contest. At this point in the show, particularly by the delivery of these matches, you get the impression that this event is going to be mostly glorified TV matches and nothing stands out as "PPV quality." I think one of the reasons for that is there were ten matches shoehorned onto the broadcast and thus most matches had roughly the same amount of time as they would for a typical episode of Impact. Perhaps, those time restrictions only allowed for the structure of the contests to be something usually seen on television. That being said, Rohit has done very well in his role, and if Chris Bey continues to evolve his skills, he's another athlete the company could try to push as a featured star in the future.
The Ethan Page segment was absolutely horrendous, and from what he's posted on Twitter since it aired, the final product wasn't what was originally supposed to be presented. Page implied that the skit was intentionally made to look bad because he was leaving the promotion and the segment was a goofy way to write him out of the show, which is very possible. Ethan Page is a talented performer and has more of an upside than most of what we've seen him have the chance to do in Impact, with The North tag team as the exception. He has gotten in great shape in recent months, and if he's going to finally sign a WWE contract, this would probably be the time to do it.
The Eddie Edwards/Sami Callihan barbed wire match was a little goofy because the name implied that it was going to be a no-rope barbed wire match, something that I assumed was going to be taped a head of time and then edited into the live broadcast to avoid the delay of the set up of the barbed wire. Instead, there was a collection of barbed wire weapons and barbed wire boards. This was an entertaining match and both wrestlers deserve credit for their efforts, but without the no-rope aspect to add another layer to the feud, some of this presentation seemed like a retread of previous matches. Eddie Edwards got the win so hopefully, these two are booked for something new going forward, as they can both be extremely valuable competitors for Impact.

The main event was a very good match, and in some ways, this pay-per-view was a one-match show. While there are several that wrestled on this event that have the potential to have a much bigger role in Impact in the future, the wrestling and the star power of those in the main event, particularly Kenny Omega, were a level above the rest of the card. Moose really shined in this environment, and management from either company should consider an Omega/Moose match at some point in the future. The most discussed result from this pay-per-view was that Omega pinned Rich Swan, and unless there are plans for Omega to win the Impact title as well, which would make sense with the belt collector gimmick then I'm not sure what the logic would be to have the champion pinned in a six man tag, especially when Sabin or Moose could've taken the pin. Assuming Omega does eventually capture the Impact title, obviously, it would continue to put a spotlight on the promotion, but you have to wonder how the company eventually gets some shine from this working agreement as well. Granted, in crossover angles, the bigger group usually has more leverage in the booking, and right now this working agreement is beneficial to everyone, but it must be carefully booked or Impact might unintentionally be made to look subpar. While it's very unique to have the AEW champion in the main event of an Impact pay-per-view, it indirectly exposed some of the lack of depth on the roster compared to the rest of the show. Hopefully, the extra exposure that this angle garnered for Impact can be used to establish some stars because there's definitely talent on the roster.
What do you think? Comment below with your thoughts, opinions, feedback and anything else that was raised.
Until next week
-Jim LaMotta
E mail drwrestlingallpro@yahoo.com | You can follow me on Twitter @jimlamotta