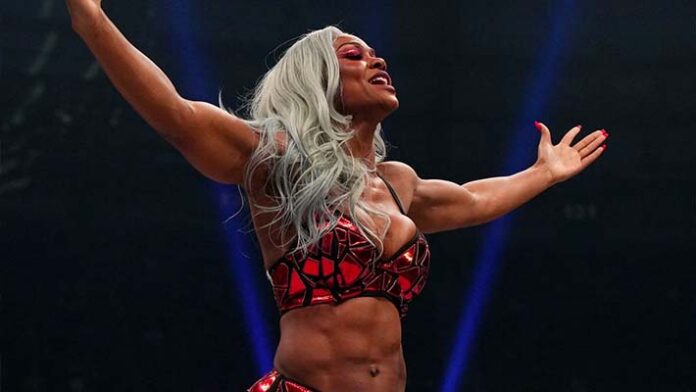 After this week's episode of Rampage, a broadcast that was taped earlier this week, it appears that Jade Cargill, who All Elite Wrestling protected, but not necessarily developed as a talent, made her exit from the organization. At this point, nothing is confirmed, but there continues to be much speculation that the fitness star could be on her way to the WWE, which just completed the mega merger with the UFC through the TKO group.
I have to be honest, while details are sparse on if Jade's deal expired or if she simply requested her release, I was surprised to read that she returned on Collision last week, and was even more surprised when I saw on Dynamite that the company promoted the Kris Statlander/Jade Cargill title match for Rampage, especially because the Friday night show is more or less cannon fodder with the addition of Collision to the AEW weekly line-up. It definitely looked like her exit was indeed planned, as fan footage from the taped show surfaced online a few days ago, showing Jade and Statlander embrace following the bout.
I actually penned an article about a month and a half ago to discuss Jade's status, mostly based on her sudden disappearance from the organization three months earlier after she dropped the TBS championship to the previously mentioned Kris Statlander at Double or Nothing. I don't want to retread everything from that column, but to reiterate, I think that All Elite made a few key mistakes in how it handled Jade's tenure with the organization. Considering that she made her debut with the company during the pandemic era in a segment with Brandi Rhodes that was memorable for all the wrong reasons, with literally no experience, I'm not sure that it was the best decision for her debut on national TV when she didn't get to work on a smaller scale before that. I'm just guessing, but given her look, athletic ability, and charisma, it seemed like AEW knew that they a potential star and didn't want to miss the chance to get her under contract. Still, it's a tough situation to expect someone to flourish under those circumstances. When you take into account that Tony Khan has dozens of wrestlers under contract that have as much exposure as the witness protection program, perhaps it would've been better to sign Cargill to a deal, but allow her to work smaller shows after than pandemic so that she could've been more polished for national television.
Along the same lines, she was booked for short, one-sided matches, and while that makes sense at first, she wasn't given the chance to truly develop into a more well-rounded performer, as even her title matches on pay-per-view only went six or seven minutes. If Jade couldn't work a longer match than her skills weren't up to par for the spot she was given, or management overprotected her by not allowing her the opportunity to show that she was a more complete performer. Either way, it was definitely an example of how her All Elite tenure was mismanaged.

Again, the circumstances of her departure are puzzling since she was gone from the organization for a few months, returned to do the job for Statlander, and might depart the company. I doubt it was simply a matter that her contract expired, and given that the way the defeat Double or Nothing was still booked in a way protected her status, it doesn't appear like her four-month hiatus was planned either. Obviously, if her deal did actually expire, there's only so much Tony Khan can do, as far as the money he could offer her to re-sign. If Jade had bigger plans outside of AEW or even the wrestling business in general, Cargill might've already decided that she wanted bigger exposure than All Elite can offer. It goes without saying that only Tony and Jade know the details of those possibly negotiations so that scenario can only be based on speculation if Cargill wasn't looking for a specific amount of money to re-sign.

However, if Jade requested a release, and Tony just granted it, it's another example of how Cargill was mismanaged in the organization. The argument could be made that Jade was the most protected and spotlighted stars in AEW during the past few years. She was booked to win 60 matches in a row, the TBS title was more or less created for her, and she only did one clean defeat in the company. From a presentation standpoint, Cargill was made to look like a total star. The fact that none of that was developed beyond a basic presentation might be one of the reasons that she had to go elsewhere to continue to evolve as a performer. Unfortunately, the extended winning streak and the television exposure was basically an audition for WWE, not a way to do business for AEW.
When you take into account that the state of the women's division in All Elite was the subject of debate recently, and all of the behind-the-scenes drama between CM Punk and several other competitors over the past year, it's very possible that Jade wanted to continue her career in a more professional environment. On one side of the coin, Tony Khan said publicly that he was afraid for his life at All Out, and the WWE just completed a $21.9 billion dollar merger this week.
All things considered, as I said in the prior article, the WWE is a better place to develop Jade's skills to maximize her potential, regardless of if that's as a top star or just an addition to the card. Aside from the Performance Center, where some of the best coaches in the world work with young talent, the WWE's women's division is one of the most consistent aspects of the organization. Not only are there more experienced athletes on the female roster to work with young talent, they have a level of star power that can help establish new stars. Make no mistake about it, AEW is a profitable niche, but still a niche. That's nothing wrong with that, either since profit is the true barometer of success. That said, Jade is in the theoretical prime of her career, and the WWE offers the chance for main stream exposure, especially after the TKO merger, that a competitor won't have the opportunity for in AEW.
Granted, the rumors will continue until Jade actually shows up on WWE television, but more than anything, her decision to potentially pursue a WWE career is an example of the possible advantages of the money offered and the media opportunities after the TKO merger earlier this week.
What do you think? Share your thoughts, opinions, feedback, and anything else that was raised on Twitter @PWMania and Facebook.com/PWMania.
Until next week
-Jim LaMotta
E mail drwrestlingallpro@yahoo.com | You can follow me on Instagram, Facebook, & Threads @jimlamotta89