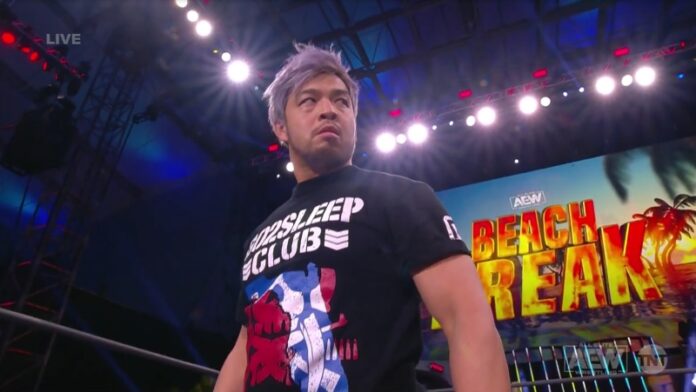 I penned an article in earlier December of last year and mentioned that it's often said that professional wrestling is about the moments. This was based on Sting's surprise All Elite Wrestling debut, a truly stellar moment that saw snow fall from the sky as "The Icon" made his way on-screen for the TNT network for the first time in nearly two decades. In an era where everyone knows everything and information is instantly available via social media, the former WCW champion's appearance was kept quiet until he emerged from the tunnel of the AEW set.
Depending on the ripple effect it has, TNT viewers might've witnessed another very pivotal moment in the history of the sport on Dynamite last night.
Kenta, former WWE and current New Japan star, attacked Jon Moxley following the TV main event, a segment that has the wrestling world buzzing, both for what it means now and what it could lead to in the future.
The circumstances that brought this all together fit into one of those "only in pro wrestling" categories. After he signed with AEW, the former Dean Ambrose inked a deal with New Japan, which gave him a lucrative contract with the Japanese league, while he maintained a full-time schedule with AEW. There was reportedly some hostility from New Japan towards AEW because of the mass exodus that occurred prior to the formation of the Khan-owned organization so any discussion of a working agreement wasn't an option, but basically, Moxley was a big enough star to make his own deal, which is the same thing Chris Jericho did when he worked a series of memorable matches in Japan as well. The only restriction Moxley had was that his NJPW appearances had to be kept exclusive to Japan to avoid any conflict or competition with All Elite, especially with the New Japan North American expansion with its LA dojo.

That arrangement worked well for everyone and Moxley won the relatively new IWGP United States championship during his trips to Japan in 2019 and then again in 2020. He had a great match against the legendary Minoru Suzuki in February of last year, before the pandemic shut down the entire world. For several months, New Japan halted its schedule and even when it resumed live shows with limited attendance, travel restrictions prevented some of the roster from being able to get to the country. Basically, the IWGP championship was stuck in the US because Moxley would have to quarantine for two weeks when he entered Japan and then another two weeks after he returned to the United States. Considering that he was still the AEW champion for the majority of this time, the company couldn't have him off of television for over a month just to drop the belt. At the same time, if NJPW simply stripped him of the belt, the storyline they had with Kenta for the number one contender spot would've been pointless.

Last week, Moxley showed up on the NJPW Strong show to challenge Kenta to a IWGP US title match that is scheduled to take place later this month at the LA dojo. Since Kenta still lives in the United States, most assumed this was booked as a way to get the belt back to Japan without Moxley traveling there and thus stuck with the extensive quarantine process. All things considered, it's a good strategy because it brings something unique to NJPW Strong, which is a scaled down version of a New Japan show based in America.
That being said, I don't think anyone expected this feud to be taken onto Dynamite and saw it as more of a maintenance booking to get the title back to Japan until travel restrictions are lifted. However, Kenta's surprise AEW debut adds a completely new layer to the entire situation and brings more of a buzz for everyone involved. With Kenta already in the United States, it opens the door for something more long term to make the entire Kenta/Moxley feud more meaningful for both promotions. New Japan Pro Wrestling has one of its main stars on one of the major networks in America, Impact is talked about more now than it has been in years, and AEW can promote its show with an "anything can happen" atmosphere.
The latter is probably the biggest part of this scenario because it gives All Elite its own status among the pro wrestling landscape in the United States. Granted, it has to continue to create brand awareness and avoid some of the pitfalls of other groups in the past, but one of the main ways for AEW to find its place in the market, especially on a long-term basis is to establish itself as different from the WWE. Make no mistake about it, regardless of any criticism, Vince McMahon is still the king of sports entertainment, but as I've written several times before success for AEW isn't competition with McMahon, it's being a profitable venture. When Tony Khan inked the TNT contract extension last year, it made AEW a profitable project so from a business prospective, All Elite is already successful. That said, to maintain that, All Elite has be the alternative because "WWE lite" has a limited draw to it, which was proven with the Dixie Carter era of TNA. Advertisers and sponsors don't need to invest their ad dollars into secondary WWE because the primary WWE is already a stronger option in terms of its market share and the McMahon empire will have the ad space with the Network move to the Peacock streaming service.
WWE has its critics, the same way AEW has its naysayers, but I would guess that almost everyone would agree that All Elite should try to differentiate itself from WWE. The fact that someone from the biggest promotion in Japan showed up on TNT is something completely different than anything someone would see on Raw. As we know, Vince McMahon is very strict on retaining everything within the WWE realm and owning the copyright to as much material within his empire as possible, which isn't necessarily a negative, but it also doesn't allow for much flexibility of sports entertainment philosophy.
#AEW Exclusive
We caught up with @KennyOmegamanX & @KENTAG2S moments after the shocking conclusion of #AEWDynamite, and Kenny issues a challenge. pic.twitter.com/EyvL9sMnao

— All Elite Wrestling (@AEW) February 4, 2021

There was a video posted on AEW social media following the show to explain that Omega and Kenta will be involved in a tag match against Moxley and Lance Archer so it looks like there will be more to this than just a one-off to further promote Moxley's NJPW Strong title defense. Assuming the door will be open for more crossover appearances in the future, it's another unique aspect of AEW because a working agreement would allow for several possibilities for each promotion and most importantly, it would provide more fresh content for AEW. Obviously, there are still travel restrictions, but the possibility of a feud between the Bullet Club factions, an Okada/Omega rematch at an AEW pay-per-view, or any Omega return to New Japan are beneficial to everyone involved.
As for Kenta, you have to give him credit because he went from one of the most well-known wrestlers in Japan for his great work with Pro Wrestling NOAH to his career being completely derailed by injuries in the WWE, which had him lost in the shuffle on 205 Live, a show that those in the witness protection program could be booked for and still be safe. He showed up in New Japan and there were questions about if he could recapture the form that made him so well-known in NOAH. Kenta rejuvenated his career during his current run in New Japan and made headlines during this feud with Moxley. The direction this situation goes within the next few months should be very interesting and it could be an indication of another shift in the industry.
What do you think? Comment below with your thoughts, opinions, feedback and anything else that was raised.
Until next week
-Jim LaMotta
E mail drwrestlingallpro@yahoo.com | You can follow me on Twitter @jimlamotta