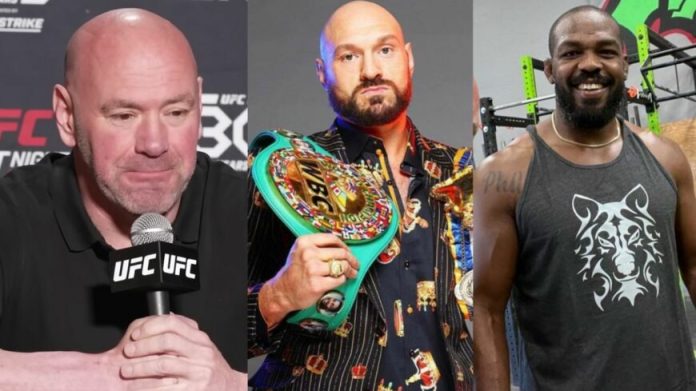 If Conor McGregor and Floyd Mayweather can fight, why can't Jon Jones and Tyson Fury?
UFC President Dana White talked up a possible mega fight between Fury, the WBC Heavyweight (boxing) champion, and Jones, the UFC Heavyweight champion, after UFC Fight Night last week.
But there are two major issues: the UFC paying Fury, and the venue: Fury's boxing ring or Jones' octagon.
"We all know if Jon Jones boxed Tyson Fury, Tyson Fury wins. All these boxing guys want to talk about this and keep it in the ring. I'm telling Tyson Fury, who I respect very much: If you really want to find out who the baddest man on the planet is, I will make that fight," said White. "I will make Jon Jones vs. Tyson Fury in the octagon. And we'll figure it out. We figured out how to pay Floyd (Mayweather), we'll figure out how to pay you too, Tyson."
A fight between Fury and Jones would be one of the biggest sports events in years and that means BetMGM Sportsbook would produce a full menu of odds for the encounter like final result, round-by-round performance and other props.
Fury, 34, is 33-0 with one draw in his boxing career. He's said on social media he'd prefer any clash with Jones to be in a boxing ring. Jones is 27-1 in his UFC career, with that one loss coming by disqualification.
In 2017, UFC legend Conor McGregor clashed with boxing icon Floyd Mayweather in a boxing match with Mayweather winning by a TKO in the 10th round. McGregor reportedly made close to $100 million for the fight.