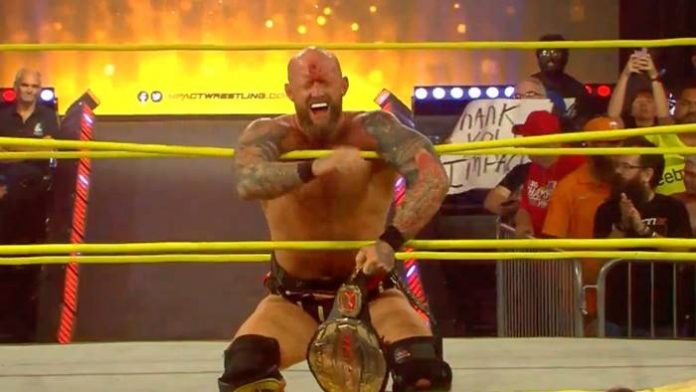 Coming off the heels of Slammiversary, Josh Alexander successfully defended his Impact World Championship against Eric Young. In the match, we saw an incredible display of wrestling between the two men, that gave a nod to the older TNA/Impact days. After Alexander's title defense, one question remains, who is next?
1. Ace Austin
On Sunday's show, Ace Austin defended his X-Division Championship in an Ultimate X match. This match was a staple in TNA/Impact Wrestling history and didn't disappoint. Ace Austin faced off against Kenny King, Andrew Everett, Alex Zayne, Mike Bailey, and Trey Miguel.
#ANDNEW @IMPACTWRESTLING X Division Champion!@SpeedballBailey #Slammiversary pic.twitter.com/wt2IUqKT0L

— IMPACT (@IMPACTWRESTLING) June 20, 2022
Ultimately, Austin would lose the X-Division Championship on that night. Mike Bailey was able to retrieve the championship from the cable to become the new X-Division Champion. The match was everything we loved about the X-Division and showed why the X-Division is some of the best wrestling around today.
In 2020, Austin became the new number one contender for the Impact World Championship by defeating Rhino, Hernandez, and Zachary Wentz. Austin wouldn't go on to win the championship, however.
Impact Wrestling's one true "Ace" has had his opportunity to become the Impact World Champion before, but unfortunately was never successful. Austin is arguably one of the best wrestlers on the Impact Wrestling roster today, and before all is said and done, he should be given a true Impact World Championship reign.
2. Sami Callihan
Number two on this list is Sami Callihan. On Sunday's Slammiversary show, Callihan would go on to defeat Moose in a "Monster's Ball" match. This match ultimately put an end to the rivalry between Moose and Callihan. Callihan could be next in line for a match with Alexander.
TACKS!!!@TheMooseNation @TheSamiCallihan #Slammiversary pic.twitter.com/BMFIneFj2v

— IMPACT (@IMPACTWRESTLING) June 20, 2022
Callihan is no stranger to Impact Wrestling gold. He is a former Impact World Champion, after all. Callihan would go on to beat former Impact World Champion Brian Cage in a Steel Cage match on Impact Wrestling.
He would go on to have a respectable reign, holding the Impact World Championship for four months. Ultimately, Callihan would drop the belt to Tessa Blanchard at Hard To Kill in January of 2021.
In September of 2021, Callihan would suffer a broken ankle. He recently made his return, taking out Moose in the process. With his rivalry with Moose most likely coming to an end, Callihan could be next in line to become an Impact World Champion again. His first reign, while it was short, showed only a glimpse of how good he is.
3. Chris Sabin
This last name is a bit of a dark horse. This past Sunday, Sabin took place in the five-on-five match, between the Impact Originals and Honor No More. Sabin would end up hitting the cradle shock on PCO for the three-count to win the match for his respective team.
.@TheTraciBrooks is here!, @PCOisNotHuman just got dropped by @FrankieKazarian! #Slammiversary is INSANE!#IMPACTWRESTLING pic.twitter.com/LNZFKLCYHz

— IMPACT (@IMPACTWRESTLING) June 20, 2022
Following Slammiversary, Sabin could easily be thrown in the Impact World Championship picture. He has all the credentials to be in the conversation, and is arguably one of the best wrestlers to ever come out of TNA/Impact Wrestling.
Over the course of his career in TNA/Impact Wrestling, Sabin has won the TNA World Heavyweight Championship once, the World Tag Team Championships twice, with Alex Shelley, and has been X-Division Champion a total of eight times. Sabin is also the sixth ever TNA Triple Crown Champion.
Sabin has yet to accomplish something pretty big, something that could cement his legacy even more. Sabin has yet to become the Impact World Champion. Sabin could very well be next in line to challenge Josh Alexander for the Impact World Championship, and if that is the case, we could be in store for a major upset.
What do you think? Share your thoughts, opinions, feedback, and anything else that was raised on Twitter @PWMania and Facebook.com/PWMania.