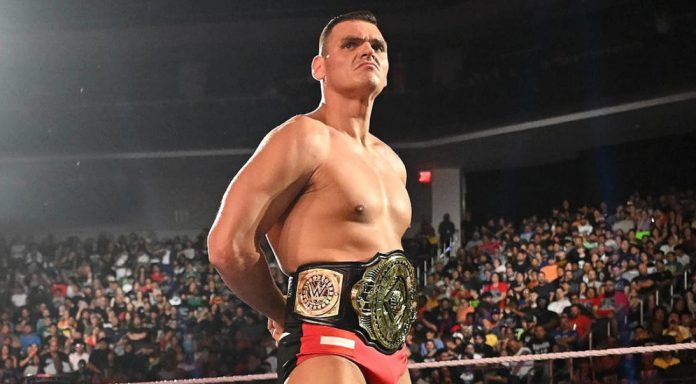 As GUNTHER is rapidly approaching both one year and the longest reign as Intercontinental Champion ever, it's time to have a conversation that has truly not been this realistic in many, many years: who is the greatest Intercontinental Champion of all time? Now, that is a tall task to discuss, for many different reasons. This title has seen so much ebb and flow around it since its inception in 1979 in the infamous fictional tournament in Rio de Janeiro that we can have a whole separate conversation over that, and many have for years. Now though, in the midst of a truly all-time great reign, we need to identify who some of the greats to hold the title are, and whose reigns lead them to be considered an all-time great with the workhorse's title!
Of course, some legends have held this title, but their reigns didn't resonate as all-time greats, such as the likes of Rey Mysterio's and William Regal's, among others. Others held them for very short reigns that are jumbled amongst many extremely short reigns in the title's history, which is attributed to the likes of Zack Ryder and Dean Douglas. Then there are some that held the title for extremely long periods of time but were more of a hindrance to the title than a benefit, such as the reigns of Shinsuke Nakamura, and yes, even the Honky Tonk Man. Then, there are the ones we're looking at today, the ones who we all look back on fondly, whether they were men who held the title multiple times and became synonymous with the gold, had lengthy reigns that defined the title's workhorse status, had a ton of great matches as champion, or some combination of the 3 together. Let's get down to the best of the best!
Honorable mentions: "Macho Man" Randy Savage, Shelton Benjamin, Triple H, Seth Rollins, Pedro Morales, and Don Muraco
For the likes of Savage, Morales, and Muraco, their reigns simply took place in a different era, making it harder to compare their reigns to the more modern ones that have had much global exposure. Morales was the first multi-time IC Champion, while Savage had one of the greatest IC Title matches (and one of the greatest professional wrestling matches, to boot) ever for the title at Wrestlemania 3. Both are 2 of only 3 men (to this point, look out for the Ring General) to hold the title for over 400 days, but both are more remembered for their reigns as WWE Champion rather than the IC Title. Triple H is in a similar vein to that, as once he had broken into the main event scene in late 1999, his final few reigns as IC Champ are largely forgotten as they were mixed in within his 14 world title reigns that began piling up at the time. Hunter is a 5-time champion though, so we cannot underscore that significant number. Benjamin held the IC Title 3 times and was a guy who seemed poised to use it as a stepping stone to the main event scene as so many had done before him, including a 200+ day reign at a time when that title didn't see many even reach triple digits in the first place. Alas, that did not pan out. As for Rollins, he is a guy who has excelled in every facet of the card in WWE. He has held every title there is to hold: a 2 time WWE Champion, 2-time Universal Champion, 2-time US Champion, 6-time Tag Team Champion, the current and inaugural World Heavyweight Champion (under the new name and reintroduction), and of course, a 2-time Intercontinental Champion. Rollins 2 reigns as IC Champion were fun, and featured some fantastic matches with the likes of Miz and Dolph Ziggler (who we will hear from shortly), but also were undercut in the sense that it was surrounded by other things and the IC Title felt like an afterthought while Rollins tended to other business, so it'll just keep him off the top of the list.
Chris Jericho
Of course, the record holder in terms of overall reigns has to be here. While some of his reigns were short and somewhat forgettable, this record will stand the test of time, and unless The Miz or Dolph Ziggler climb to the record, as they are among the closest. The reason for Jericho's inclusion is not simply for the fact he reigned 9 times, but the quality of work when he was champion was top-notch. Whether he was working with Rey Mysterio, Chyna, Chris Benoit, Christian, or any others, the quality was at a very high level. The matches were entertaining and enjoyable, the product on TV came across as fun and unique, and he continued to elevate himself and the title as much as he possibly could. In doing so, he created a legacy for himself as the Intercontinental Champion that will be remembered just as much as his reigns as World Champion in WWE. Now having been one of AEW's standard bearers, however, Jericho's legacy as Intercontinental Champion seems likely to have reached its apex in the history books.
The Miz
The next closest man on the list in terms of overall reigns in WWE history, the Miz's time as Intercontinental Champion is mostly defined by a 2+ year run between 2016 and 2018 where he was THE Intercontinental Champion. His summer 2016 reign may not have been as groundbreaking as some remember it to be, but it provided some of the best matches of 2016 against the likes of Cesaro, Kevin Owens, Sami Zayn, and Dolph Ziggler. The Fall 2016 feud between Miz and Ziggler actually elevated the IC Title to the main event of No Mercy 2016 (even if WWE will tell you the "main event" opened the show, it went on last, therefore making it the main event). Miz's subsequent reigns and feuds with Dean Ambrose, Seth Rollins, Roman Reigns, and Finn Balor all firmly established the title on some of WWE's biggest stars, and Miz always made everyone look like a million bucks when in there. Miz truly is one of the all-time great Intercontinental Champions, and that cannot be overlooked.
The Rock
Many people may forget the Rock's time as Intercontinental Champion in the late 1990s, but it's a shame that many do. His feuds with Triple H, Ken Shamrock, and a pre-main event scene feud with Stone Cold, all elevated the title in many ways and were the proving ground for a young Rock (no pun intended on the show's name) to come into his own in the main event scene. Entering 1998 as the IC Champion, he closed out the year as WWE Champion (the Corporate Champion), moving right up to the top of the card seamlessly. His IC Title reigns, coupled with his heel run in the Nation of Domination, elevated both man and title to new heights. Though the title would soon get hot potatoed around a lot in the coming 5 years or so after this, Rock was truly the last to use the IC Title as the stepping stone to the main event scene, as it had been seen for much of its first 20 years in existence.
Cody Rhodes
Looking back on the 2011 version of Cody Rhodes, it's almost like another lifetime ago that he was either "Dashing" or "Disfigured" Cody Rhodes, but man was he great at those gimmicks. Cody has proven that he needs no gimmick other than his passion, his ability, and his star power to become a worldwide megastar in the last 7-8 years, but in 2011, Cody was blazing a path that seemed initially destined for the world title, and a true throwback to a champion who elevated the IC Title while using it to catapult to the main event scene. What followed his IC title reigns was disappointing, but did lead to Cody's indie run, the creation of AEW, and his subsequent WWE return, which has been outstanding. When Cody won the IC Title in 2011, it wasn't that the quality of matches for the title drastically improved, nor did the quality of Cody's opponents (after all, he won the title from Ezekiel Jackson…that shows where the scene was at overall), but it was the importance that felt like was now attached to the title again. Cody made you believe it was a big deal again, he brought back the classic design with the white strap, and he competed at a high level as champion in both the Royal Rumble and Elimination Chamber. Cody's time with the title felt special, something the title had lacked for some time, and has lacked for a majority of the time since.
Dolph Ziggler
Dolph is definitely a guy who gets much less credit than he deserves. He has always been a consistent performer for WWE, and his time as IC Champion has proven that. In his 6 reigns with the title, which all happened at very different times in his career, as well as different times for the title and the company around him, Ziggler excelled in his role every single time. In 2010, his first reign saw him coming into his own as a performer, then he had some shorter reigns in 2014 that were largely forgettable, but he had the unforgettable 2014 Survivor Series performance mixed in there for balance. The already aforementioned 2016 feud with the Miz was some peak WWE TV, and similarly, the 2018 feud he had with Seth Rollins saw the same type of scenario play out as it did with Miz, only now Dolph was a heel again. For a guy who has seen it all, done it all, and won many titles in his WWE career, many will likely associate Dolph's time as IC Champion as one of the greatest feats in his career.
Finally…the greatest Intercontinental Champion of all time…GUNTHER
I said what I said. GUNTHER has transcended the IC Title back into what has always deserved to be: the title everyone wants to have. Having this reign simultaneously to Roman Reigns' extended absences from TV allowed the IC Title (and the US Title as well) to be viewed in a main event spotlight as they have always deserved, and GUNTHER has done an exceptional job of this with his IC Title. Look at the track record he has put together as the champion, the devil is in the details of his defenses. Sheamus, Drew McIntyre, Ricochet, Mustafa Ali, Braun Strowman, and Shinsuke Nakamura have all experienced the wrath of the Ring General, and the stars have been flying out for his matches. Clash at the Castle's encounter with Sheamus is still one of the greatest matches I have ever seen, and rightfully so it is 5 stars. Couple all of that with his absolutely otherworldly performance in the 2023 Men's Royal Rumble Match, where he lasted over one hour and 11 minutes in there, going from number one all the way to the final two, nearly eliminating the eventual winner Cody Rhodes on several occasions. Not only was this the record for the longest entry in a standard 30-person Royal Rumble Match, but he did it all while holding the Intercontinental Championship, making both himself and the title look all that much better! GUNTHER is on track to hit one year this week (at the time of writing) as champion, and by September (if he stays champion through the summer) he would eclipse the Honky Tonk Man's all-time record of 453 days. Truly, the era of the Ring General is upon us, and this record may just be the first of many that GUNTHER looks to achieve by the time he exits the sacred mat for the final time.
What do you think? Share your thoughts, opinions, feedback, and anything else that was raised on Twitter @PWMania and Facebook.com/PWMania.