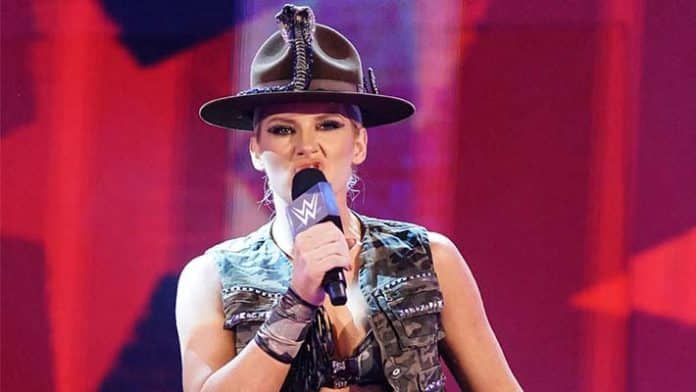 Lacey Evans was released from WWE, a puzzling conclusion to a puzzling for years for her on the sports entertainment landscape. Evans, a real-life former marine, inked a developmental deal in 2016, but despite several attempts to push her, it never quite panned out.
In many ways, the sum total of Evans' WWE career was the difference between a concept in theory and a concept in application.
First, it should be mentioned that WWE brass, as much as they looked to utilize her military service into a good PR spin, did her absolutely no favors with how her character was randomly switched from baby face to heel with little to no explanation multiple times in the span of just a few years. Evans turned heel or baby face almost as many times as The Big Show, which indicated that again, as much as the office wanted that traditional All-American hero to promote to its corporate sponsors, there seemed to be no direction for where they wanted the character to go or to accomplish. That makes it very difficult for the fans to invest in a character, and that's why none of her stints in the company gained any traction or really had a chance to get off the ground.
That being said, Lacey Evans, while athletic, never looked like she was going to be the next Lou Thez or Dynamite Kid in the ring. She wasn't going to get a match rated 38 stars on a fictional scale that Dave Meltzer uses to cover for some of AEW's own booking blunders. Still, given Evans' background, it made sense for the WWE to want to invest in her. Again, she wasn't going to have the caliber of matches of a Trish, Bianca, Becky, or Bayley, but a real-life marine on the roster is great for the sponsors. From a PR perspective, Lacey could speak on female empowerment and based on her military service, a good representative for the organization at events.
The problem is two-fold, as far as the company never got behind her long enough for any particular gimmick to get over, and eventually the bell has to ring and there wasn't any indication that she was ready for national television.
There are two prime examples of this that show how the office, and Lacey herself, missed the mark at key points during her WWE tenure. In 2019, "The Sassy Southern Belle" gimmick, while cringe worthy, received a lot of television time and the argument could be made that it generated heat with the audience. The biggest hurdle was during her feud with Becky Lynch, who reached a level as one of the most over performers in the organization at the time, Evans just wasn't up to par in the ring. During a pay-per-view match for the Women's title, Lynch looked visibly frustrated when Evans botched a few spots. In 2021, when the office was going to try to get behind her again, Lacey was booked to feud with the most featured female grappler at that point, Charlotte. The storyline was based around Evans being pregnant by Charlotte's famous elderly father, Ric Flair. Taking into account that Ric was more than twice Lacey's age, the angle was not only gross, but outlandishly ridiculous. It had Vince McMahon's fingerprints all over it, and the audience didn't buy it. Thankfully for everyone involved, the angle was dropped when Lacey became pregnant in real life and she went on leave for about a year from the organization.
When she was ready to return to action in April of last year, a series of vignettes aired on WWE programming that highlighted her military service, positioning her as the All-American baby face again. It might've been generic, but given the failed experiments with her in a heel role previously, prehaps a straightforward gimmick would be more successful. For whatever reason, despite the impression that was given by the video packages, promoting the patriotic grappler, Evans emerged on television as a heel. It was such an odd contrast and there was a disconnect for the audience. Somehow, management took a very simplistic gimmick with a very plain narrative and diluted it to the point that it wasn't going to get over with the crowd.

An undisclosed injury put her on the shelf in late-2022 and she made some extremely ignorant comments about Autism on social media. Her Alex Jones type of conspiracy theory rightfully received backlash online and it was an indication that despite her background, maybe PR wasn't going to be a place for her to shine either.

Finally, she was repackaged again with a Sgt. Slaughter gimmick at the start of 2023, but only worked a handful of TV matches so far this year. If this was supposed to be an attempt to rejuvenate her career, it wasn't given a realistic chance with the total lack of television time to try to get it over with the audience.

At 33, Lacey Evans could theoretically explore her options elsewhere, but I doubt she will continue her pro wrestling career. It was reported that she plans to open a cafe in her hometown. Granted, anyone with a former WWE contract is seemingly offered an Impact deal if they want to continue to wrestle so that would probably be the most logical choice, but the odds are still against it. Lacey was a WWE project, and without that machine behind her, she doesn't have the cache or in-ring skills to make a major impact outside of the WWE scope. The reason she failed after a considerable amount of television time is a reflection of the WWE office and the mismanagement of her push. She was brought to the main roster because it was great PR to put a former marine on television, not because she was ready for the stage of national television. She didn't have the in-ring skills to compete with a Women's division that arguably has the most depth of any division in the company. The fact that she was booked for the terrible angle with Ric Flair didn't do her any favors either. If Lacey could've been successful if she was given the proper time to evolve as a performer is a moot point, but the bottom line is, her lack of success was mostly based on the decisions of the management of the company.
What do you think? Share your thoughts, opinions, feedback, and anything else that was raised on Twitter @PWMania and Facebook.com/PWMania.
Until next week
-Jim LaMotta
E mail drwrestlingallpro@yahoo.com | You can follow me on Instagram, Facebook, & Threads @jimlamotta89