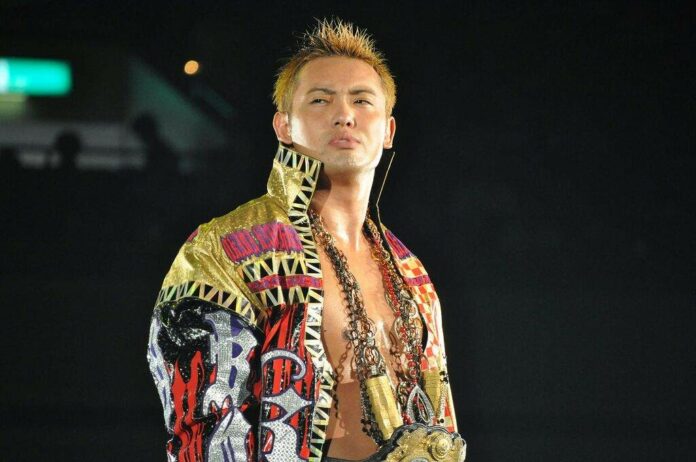 Last weekend, New Japan Pro Wrestling held its annual Dominion card, which became one of the biggest events on its calendar in recent years, second behind the Tokyo Dome show in January. Speaking of this year's Wrestle Kingdom, it was more or less the end of an era for the company when Cody, The Young Bucks, Adam Page, and arguably the most important foreigner at the time for the promotion, Kenny Omega departed in preparation for the launch of All Elite Wrestling. Plus, one of the group's most popular Jr. heavyweights, Kushida left after several years there to sign a WWE deal to work NXT. It goes without saying that the Japanese league lacked some depth after that many established stars left at the same time. Fortunately for the Bushiroad-owned group, some of the shifts in the genre and more specifically, the timing of them proved to be very beneficial. Aside from a stacked card, Dominion might be known as an important transitional event for the Japanese landscape. Since the show went over four and a half hours, instead of trying to discuss the details of each bout, let's focus on some of the most important aspects that can have an impact going forward for New Japan.
Just a few days prior to Dominion and less than two weeks after his surprise appearance at AEW's Double or Nothing pay-per-view, Jon Moxley made his New Japan debut at the Best of the Super Jr. Finals event to challenge another former WWE superstar, Juice Robinson for the IWGP US championship. It should be noted that Juice, who was completely disregarded during his time in NXT, found himself in NJPW and proved the skills he brings to the table. At a time when the company will need to establish as many wrestlers as possible to maintain depth, Juice has shown that he can deliver quality bouts in a featured spot. Moxley defeated Juice to win the championship for what was probably his best in-ring performance in at least two years. As detailed on the Jericho podcast, the former Dean Ambrose left the WWE very frustrated, and it seems like he wants to prove what he's capable of when given the opportunity. This run in New Japan and eventually AEW when the organization goes full-time in October is a chance for him to rejuvenate his career and start a fresh chapter to progress his career. It's almost unanimous that WWE brass missed the boat on fully utilizing Moxley's ability, but his run outside of the sports entertainment empire might show how misguided management was when he was under contract. While the addition of Moxely on at least a semi-regular basis adds to the previously mentioned depth to the roster, following his victory against Shota Umino at Dominion, he declared that the will enter the G1 tournament that starts next month. Jon Moxley as a participant in the tournament sets up for the possibility of several major bouts, but another key is that he will be advertised for the opening event of the G1 series that will be held at the American Airlines Center in Dallas. Keep in mind, many of the American stars that were associated with the NJPW expansion into the north American market left for the AEW project so promoting Jon Moxley fresh from WWE TV might be an important selling point for the Dallas event if an American crowd buys tickets for a familiar star on the card.
OH MY GOD YES!!! #njdominion pic.twitter.com/APZZu1sRvd

— Smark to Death (@smarktodeath) June 9, 2019
Another interesting announcement for the G1 saw Katsuyori Shibata, who works as a trainer after a serious injury from a head butt put him on the sidelines, introduce Kenta to the crowd. Kenta got on the mic to enter the tournament, which again adds another familiar name to an American audience ahead of the Dallas event next month. Kenta made his name with several stellar matches in Pro Wrestling NOAH and Ring Of Honor in the mid-2000s. He was also one of the competitors that kept NOAH afloat after the founder, Misawa passed away in 2009. After he inked a WWE deal in 2014, there were lofty goals for him based on his prior work, but ultimately injuries completely derailed any chances he had of establishing himself as a major star in the United States. Maybe the physical style he worked throughout his early career began to take its toll? Either way, it wasn't really his or even WWE's fault that his run on American television was lackluster, as it was basically injuries that kept him from getting any momentum at all. That being said, despite the injuries as the reason, the biggest exposure of his career was more or less a flop. So, similar to Moxley, Kenta has a chance to wipe the slate clean and get a fresh run in his career under the New Japan banner. The G1 is known for its grueling schdule and top-tier standards for match quality so it will be interesting to see if the 38-year-old grappler had the chance to fully heal and can keep pace with the others in the tournament.
AHHHHHHHHHH!!

KENTAAAAAAAAAAAAAA!! #NJPW #njdominionhttps://t.co/IKsQw9WMvw pic.twitter.com/c4HTJS9WpO

— LARIATOOOO!! (@MrLARIATO) June 9, 2019
The Kota Ibushi/Tetsuya Naito match was very similar to their match at Madison Square Garden, as it had a lot of fast-paced action and some insane risks. Particularly, there was a German suplex spot on the apron where Ibushi landed awkwardly and clipped his head off the apron before he hit the floor. I legitimately thought he broke his neck and I was very surprised that he continued the match. As of now, no injuries were reported, but it must be said that this match took things too far and it appears to be another major injury waiting to happen. There's a difference between pushing the envelope and just being dangerous. The risks in this match were simply foolish because two athletes as talented as Ibushi and Naito don't need to devolve into a stunt show to deliver compelling matches.
OH MY GOD!!!!!!!!!!!!!!!!!!!! @s_d_naito #njdominion #NJPW https://t.co/d63mH2znnlhttps://t.co/hW3vzscrhK pic.twitter.com/djeP4pCsxQ

— Italo Santana (@BulletClubIta) June 9, 2019
Chris Jericho returned to NJPW to challenge Okada for the IWGP Heavyweight championship, and while the result was mostly obviously because Jericho wouldn't have the schedule to work full-time for New Japan, his involvement still adds depth to these events. One of the few criticisms I will say about the Okada era is that I think Jay White dropped the belt way too early. He either shouldn't have won it yet or held the title for a lengthy run. At this point, regardless of Okada's incredible in-ring skill, he's had matches against almost every legitimate contender on the roster so where are his opponents for this run? Again, Jericho isn't necessarily in the championship conversation since he only works New Japan on a semi-regular basis, but his name value gives Okada a big time match on one of the company's marquee events. Post-match, Tanahashi made the save when Jericho attempted to use a table to set up an eventual bout. As mentioned several times, Jericho's ability to reinvent himself and stay relevant throughout different eras speaks volumes to his ability as a performer. While he can still go in the ring at 48, he's smart enough to know that trying to work high spot matches on a card that has some of the best aerial wrestlers in the world wouldn't stand out. Instead, he uses a physical style as a brawl to add a new dynamic to his matches. All things considered, this recent run and his full-time status for AEW puts Jericho in a very rare league with some of the most versatile wrestlers in the history of the industry. Similar to how Terry Funk continued to evolve, Jericho has done much of the same for the modern era.
At the start of the year, there was much speculation about the direction of New Japan after the AEW exodus, but quality bouts, a few key signings, and some wise booking provide stability for the organization. It helped add more depth to the roster and it certainly sets the stage for an interesting tournament in a few months.
What do you think? Comment below with your thoughts, opinions, feedback and anything else that was raised.
Until next week
-Jim LaMotta
E mail drwrestlingallpro@yahoo.com | You can follow me on Twitter @jimlamotta