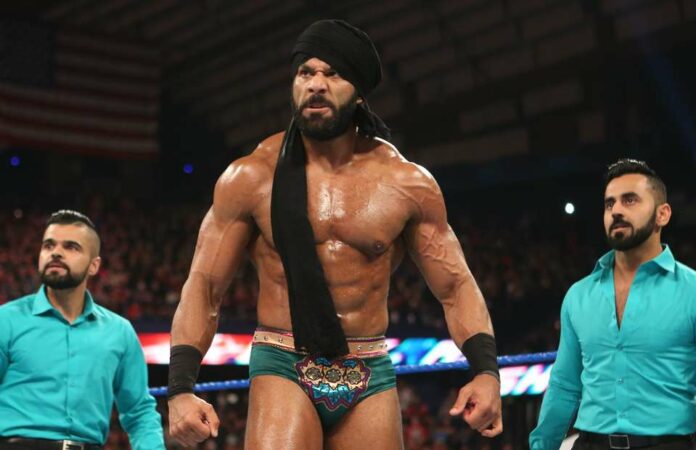 This past Monday night, Jinder Mahal wrestled his first match on Raw since June 18 and actually scored a win over Braun Strowman, albeit via count-out.
Stemming from Strowman's decimation of Mahal and Sunil Singh on Raw last week, the match began as you might expect — with Strowman heading toward a beatdown of "The Modern Day Maharaja." Kevin Owens appeared shortly after the match started by stealing Strowman's Money in the Bank briefcase and leading "The Monster Among Men" on a mad chase that gave Mahal a count-out win.
Mahal's victory over Strowman doesn't mean that WWE is going to start giving the former WWE Champion a renewed push since his run as a main event player is over. This was only done to further Strowman's feud with Owens, and Mahal has credibility as a former WWE Champion.
A lot of people believe WWE's failure to successfully expand into India led to the end of Mahal's push, but it's actually because they're blaming him for having a poor feud with Roman Reigns.
After being at each other's throats for weeks, Mahal and Reigns settled the score on June 17 at WWE Money in the Bank. Mahal seemed to be nearing victory when he rolled Reigns up through the ropes, but "The Big Dog" kicked out and revved up into a match-ending Spear to end the match and their feud.
WWE officials held a meeting after the pay-per-view ended and felt that the match was a disaster. However, it was determined that the reasoning for this was because they made a mistake in pairing Reigns up with Mahal … and Mahal is getting all the blame.
WWE officials felt Mahal wasn't a believable enough opponent for Reigns, leading to the conclusion that Mahal has failed to establish himself as a main event performer, despite their giant investment in him.
In defense of Mahal, his lengthy WWE Championship reign ended abruptly because AJ Styles was believed to be the stronger opponent for Brock Lesnar at Survivor Series. He also wasn't given a lengthy run with the United States Championship to bounce back, as he dropped it to Jeff Hardy just one week after capturing it at WrestleMania 34. So his position in WWE dropped to where he's now just a mid-carder.
On the flipside, Mahal's momentum was unsustainable since he was given a rapid push into the main event scene without proving himself first.