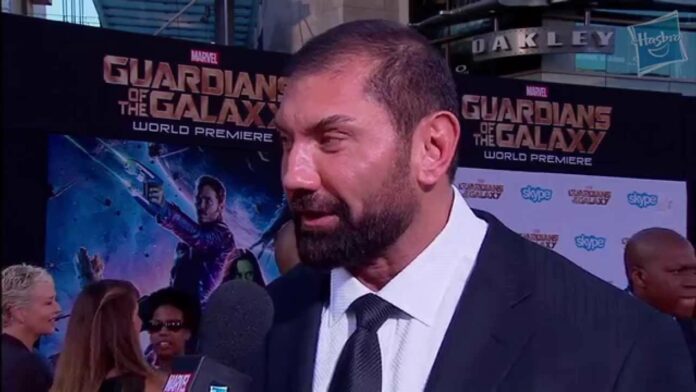 Former WWE World heavyweight champion, Batista made headlines recently when he confirmed on the Jim Ross podcast that he would consider a return to the company. At this point, it was somewhat surprising to hear that the grappler might be back, considering that his last run was rocky, and he has several other projects outside of professional wrestling.

Once told by the WCW Power Planet that he would never make it in the business, Dave Bautista originally trained at the Wild Samoan center before he was recruited to OVW in the early 2000s. Already over 30 when he entered the developmental system as a novice pro wrestler and with the look that inherently dictated a particular role, Batista was given a steady push to the top of the card after he debuted on television. In 2005, he began his main event run after he defeated Triple H at Wrestlemania 21 to win the championship. In all fairness to him, the criticism of his early work might be a little unfair when his experience level and age are factored into the situation. With roughly five years of time in the ring, he was asked to carry the Raw brand as the top star. That said, despite some of the unnecessary criticism at the time, the fact is Batista probably did get his initial spot because of the look he had, not necessarily his in-ring ability.
However, after working with ring generals like Eddie Guerrero, Rey Mysterio, and The Undertaker, Batista's work did drastically improve, both from a persona and in-ring presentation. Perhaps, the best example of this is his heel turn in 2009 that set up a memorable series with Mysterio. The presentation of the typical baby face more or less made him a generic big man with limited character development, but the heel run added much more depth to his on-screen persona. Batista as the bully complimented Rey's underdog character very well from a storyline perspective. Plus, Rey can make anyone look good in the ring so that was a benefit to his opponent as well. I think it would be fair to say that Batista "found himself" as a character during the original heel run.

In mid-2010, an injury and dissatisfaction with the creative direction led to his exit from the company. Away from wrestling, he pursued and won an MMA fight at a regional show, but it was clear that at 40, it wasn't realistic to launch a full-time mixed martial arts career. But, he did find continuous success within film, as he worked in several roles during his WWE hiatus.

In fact, it might've been his success in movies that brought him back to professional wrestling. In 2014, Batista appeared on-screen as Drax The Destoryer in the popular, "Guardians of the Galaxy" film. Vince McMahon looked to capitalize on buzz around the release of the film and booked Batista to work the Wrestlemania 30 main event against Randy Orton, who wrestled in one of the worst main events in WM history just a few years earlier. The prospect of a Batista/Orton main event seemed stale, as the two played a major role in the main event scene of the promotion for years during their initial title push. More importantly, Daniel Bryan had organically connected with the audience to become the most over athlete on the roster, prompting the audience to demand that he be given as chance to main event the biggest show of the year. The infamous Royal Rumble match in 2014 will be known within sports entertainment history as the night that the WWE audience launched a mutiny against WWE brass. Unfortunately, Batista was the one that was put in the position to be subjected to the heat that was directed more at management than him. In retrospect, the writing team put the returning star in a no win situation. In the past, who the crowd wanted to see dictated, not a corporate agenda, but with no competition, Vince McMahon can decide what narrative he wants to project to the audience. The audience wanted Daniel Bryan in the main event, but Vince wanted Batista so that was the plan. It took weeks of chants and ultimately the fans interrupting live TV with boos during any WM promos for Daniel Bryan to get a chance. Finally, Bryan won the championship in an epic moment at Wrestlemania 30. Again, it took a heel turn for Batista to find success because of the generic way his return was booked. An Evolution reunion to battle The Shield provided some entertaining matches, but it was clear that the stable was booked after he was rejected as a baby face. Quite frankly, when the planned Batista/Orton feud needed to be scrapped, it seems as though management had no idea what to do with one of their biggest stars of the previous decade. Just six months after his return, Batista left the company.
All things consider, Batista wasn't given a fair chance to have a fresh run because of how he was booked. Ironically, he said in an interview a few years ago that when he inquired about a possible WM feud with Triple H, the office didn't attempt to book it. There were also the rumors that he was contacted to appear at WM last year, but declined. From the comments he made on the JR podcast, it seems as though he still wants to work another WM angle with Triple H, which would make sense because his exit from the company in 2014 was based around a promo with The Authority.
If Batista made a comeback as a baby face against Triple H, it would probably be much more success than his 2014 stint because of his opponent, and his continued popularity as Drax in the Guardians of the Galaxy series. At the same time, WWE gets to capitalize on that popularity if Batista worked pay-per-view events. It appears that it would make sense for everyone involved to work a deal, but it might be something as simple as timing that could prevent it. The rumored Kurt Angle/Triple H WM match seems to already be set up, as Triple H attacked him at Survivor Series. At Kurt's age and history of injuries, now might be the only opportunity the WWE has to promote him in another match at WM. Granted, it's wrestling so there are different ways to work an angle, but Batista himself is almost 50 so if he's going to make another run in pro wrestling, it would realistically have to be sometime in the near future.
If I had to guess, I would say that Batista will return to the WWE at some point, possibly as the post-WM Raw surprise that has become an almost annual tradition. I don't see management trying to shoehorn another major angle into the build for WM 34 because of the amount of storylines that will need to be established with the brand extension. The bottom line is, with the popularity of Drax and his history as an established star, there's money to be made for Batista back in the WWE so that might be an indication of his eventual return to the company.
What do you think? Comment below with your thoughts, opinions, feedback and anything else that was raised.
Until next week
-Jim LaMotta
E mail drwrestlingallpro@yahoo.com | You can follow me on Twitter @jimlamotta