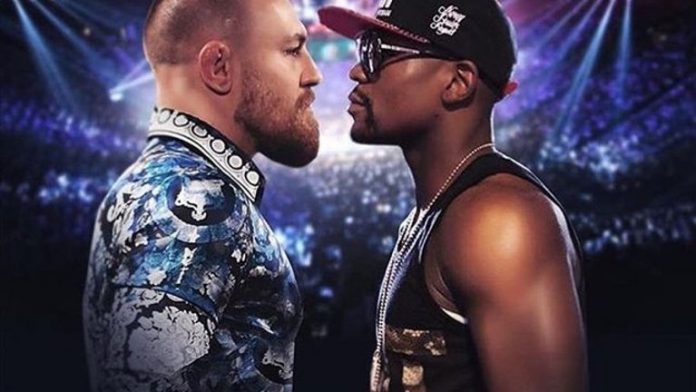 Tomorrow night, a truly unprecedented spectacle will take place when undefeated boxer, Floyd Mayweather steps into the ring to fight Conor McGregor, the UFC Lightweight champion. This contest quite literally took a page from the Rocky vs. Thunder Lips playbook, both from an entertainment and promotional aspect. Very similar to Stallone's battle with Bollea on screen, this clash of the top trash talkers from two different combat sports is purely an entertainment venture. There was much hype used to entice highly-priced ticket sales and for home viewers to spend $99.99 to watch it live. But, did these two bombastic personas overplay their hand? Did they push the hype machine so far that the public will roll their eyes instead of reach into their wallet?

As is the case with any prize fight, the point is to "sell" the fight in order to maximize profits. That's capitalism, and even during the down years of boxing, big time fights drew at the box office. However, there was always more substances to it than just dollars and cents. There was a legacy on the line or the prospect of elevated status that promised an even bigger payday in the future. For example, when savvy veteran, Bernard Hopkins dodged father time to become one of the oldest champions in the history of the sport a few years ago, he eventually ran into Sergey Kovalev, the Russian power puncher who sent "B-Hop" tumbling to the canvas en route to a one-sided decision in 2014. Since that time, Kovalev, with his increased profile after a win over a legend, went on to rack up more victories before a pair of thrilling pay-per-view bouts against Andre Ward in recent years.
Another example involved Floyd himself, including when he fought former gold medalist Oscar De La Hoya in 2007. The split decision win for Mayweather in what was one of the highest-selling pay-per-view events in history put him on another level in terms on public perception. De La Hoya was one of the most accomplished and popular champions on his generation, but that victory for Floyd ushered in the era of "Money" Mayweather. Oscar retired the following year, while Mayweather generated some of the biggest purses in the history of boxing.
However, this McGregor contest has neither legacy nor status on the line.
If Conor chooses to fight again, it's not as though he will suddenly pursue a boxing career, especially while he's still the 155 LBS title holder and under contract to the UFC. So, even a long shot victory does nothing to propel his status as a boxer. With a record of 49-0, even the probable win that will edge Mayweather ahead of the legendary Rocky Marciano's record will do zero for his legacy. Boxing purists and even casual fans will recognize that Floyd literally fought a boxing amateur to obtain his 50th professional win.
So, essentially the selling point of this entire project is entertainment value, and more specifically, can Conor McGregor shock the world for the biggest upset in sports history?
So far, the collaborative effort of the UFC, Showtime, and Mayweather Promotions have used every smoke and mirrors trick in the book to attempt to create the perception that this will somehow be a competitive fight. Most recently, the approval of 8 oz gloves, smaller than boxing's usual 10 oz mitts, but bigger than the 4 oz MMA gloves, was added to the list. In theory, this would suggest that Conor would somehow have an advantage because he usually fights with small gloves. In reality, it will make no difference, as the key to the entire bout is that McGregor might not be able to land anything because of the masterful defensive skills of his opponent. The size of the gloves is irrelevant, especially if the UFC star can't land those gloves in a boxing match against one of the most defensive boxers in the history of the sport.

The other narrative that was pushed in an attempt to create the illusion of competition was that "Money" Mayweather might not be able to match his younger opposition. At 40, Floyd certainly isn't at the start of his career, but to suggest that his skills plummeted since his last bout less than two years ago is a stretch, especially when you consider that because of his defense, the former five-division world champion took minimal damage during his two decade career.
The concept that this match-up will be competitive was such an unbelievable possibility that the two athletes went into hype mode to try to push sells, but did they push the envelope too far?
In a promotional tour that spanned four cities and three countries, Mayweather and McGregor put on a pro wrestling type display that resembled more of a circus than a grudge match. The profanity, slurs, and dollar bills flew as they ranted toward each other. At the conclusion of the press tour, most analysts saw the lame attempt to generate buzz as an indication that this fight was less about sport and more about dollar signs.

The over-the-top push to sell the fight might've given the audience a hint that all this manufactured sizzle was there simply to camouflage the lack of any real substance of a fight. The brash Dublin native is a charismatic and dynamic mixed martial arts fighter, but the striking of MMA compared to boxing is apples to oranges. The different angles, timing, and rules make it a completely different skill set. Keep in mind, McGregor has no professional boxing experience.
Are fans really going to pay $100 to watch an amateur fight an undefeated boxer with a record of 49-0?
Chances are, yes, the general public probably will spend the cash just to see the sideshow. But, I think it's also fairly obvious that this is a money grab so it shouldn't automatically be assumed that this will break the record for the best-selling pay-per-view. I'd guess that it will rank within the top three events based on the loyal fan following of each athlete, which is still a tremendous success. Despite the blatant money grab, you can't blame Floyd or Conor for taking the money offered. Floyd doesn't want to fight someone as dangerous as Gennady Golovkin so fighting McGregor brings him the most money he's going to be paid from boxing at this point in his career. For the UFC champion, his biggest pay check from the octagon was $3 million, and it's rumored that he will make at least $50 million to fight Mayweather so this sideshow fight gives him financial security for the rest of his career. Most importantly, it gives the Irishman options for the future. Assuming he doesn't foolishly squander the mega cash from boxing, he has the security to retire before the age of 30 if he doesn't want to return to the UFC. Again, you can't blame either of them for taking the money on the table.
Floyd's 0 has got to go. Get 49/1 on me to win with @betsafe:https://t.co/LVBJF8bfjG #49to1 pic.twitter.com/htMuaEdjD7

— Conor McGregor (@TheNotoriousMMA) August 24, 2017

The being said, the reality of this fight is simple, it's money for everyone involved. While the circus atmosphere might've soured some purists on the bout, the causal fans will tune in to look for the surprise upset win. Those same causal fans will be disappointed when Floyd artfully dodges McGregor's punches and ends the fight relatively earlier or coasts to an uneventful decision. The odds that anything other than a definitive Mayweather victory happens is almost comical. The bottom line is, the results of this bout will do nothing to improve the legacy of Floyd Mayweather or to hinder the status of Conor McGregor, it's just a venture to make as much money as possible.
If anything, this is an opportunity for Conor McGregor elevate his status because even if he doesn't win the fight, there's still a moral victory if he makes it through twelve rounds against Floyd Mayweather. It will definitely be interesting to see the buy rate for this event and if the public will pay to watch it.
What do you think? Comment below with your thoughts, opinions, feedback and anything else that was raised.
Until next week
-Jim LaMotta
E mail drwrestlingallpro@yahoo.com | You can follow me on Twitter @jimlamotta