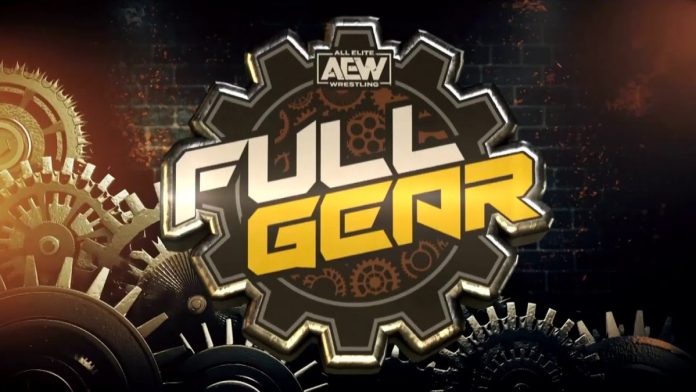 Ahead of tonight's Full Gear pay-per-view, and after a relatively busy PPV schedule for All Elite the past few months, as well as the addition of another pay-per-view scheduled for the end of December, you have to wonder, is there enough meat on the bone to sell Full Gear?
I actually planned to pen this article after Dynamite last week, but my computer decided to tap out after a power surge at my house, and the 2017 machine tanked faster than WCW ratings in 2000. The computer was wished well in its future endeavors as a recycled mail box. Of course, trying to reassemble programs and files is TNA-level frustrating, but at least we're back to cover the current wrestling news as the industry nears the conclusion of the year.
When you look at the card on paper, I'm not sure if there's a specific match that stands out as "must see," but truth to told, given how dedicated the AEW core audience is that usually orders these shows, I'm not sure if there will be a major dent in the usually 140,000 buys that most AEW pay-per-views generate. Reportedly, the Wembley show drew 200,000 buys. The good news is, 200,000 buys for pro wrestling in the modern era, especially when only a select few boxing or UFC cards will draw better numbers on traditional PPV, is an accomplishment for the organization. Sure, they got a boost from the historic nature of the event, but the point is, there are definitely more viewers than the usual fans that are willing to spend money on an AEW broadcast under the right circumstances. The flip side is, among those fans that were willing to purchase the London show, a portion of them aren't usually willing to pay for AEW pay-per-views.
Despite the Wembley success on pay-per-view, there might be a ceiling for the All Elite PPV audience, and theoretically, that might be a concern because it puts a limit on the realistic revenue that the organization can garner from its fan base. While capturing a portion of the market and generating a fan base are key aspects of success on the national level in the sports entertainment business, the ability to translate the TV audience into PPV customers is also very important, at least until a streaming deal offers a more affordable option to a wider demographic of viewers.
As it stands now, Tony Khan has the task to book a show that fans think will be worth the $50 to order the event. Again, I'm not sure there's anything on paper for Full Gear that accomplishes that. An encouraging aspect is that unless he floods the card before bell time tomorrow, there are eight matches scheduled for the event so hopefully, it won't become a tedious viewing experience. I understand the premise of Zero Hour, but as I've mentioned several times, I just don't need to sit through a five hour wrestling show. Before broadcasts were scheduled for at least for hours, there was a purpose for a preview show, especially in a prior era when it was much more difficult to sell the audience on a purchase when there were usually two other wrestling groups on pay-per-view that month. Keep in mind, All Elite Wrestling had a three-hour block of live programming last night, is there really a need for Zero hour when Full Gear will probably conclude around midnight?
Obviously, the biggest selling point, at least as it was implied to be on television, is the reveal of the mysterious attackers and the "leader" in the devil mask. Some have speculated that it might be CM Punk, and the former AEW champion even posted some teases to it on social media, but I think that's very doubtful. Don't get me wrong, Punk back with a stable by his side to go to war against AEW would be tremendous since it would finally take the real-life heat and use it to draw money, which is why they should've done originally, but I truly believe neither side wants anything to do with the other. Punk trolling on social media isn't anything new, and if the reveal falls flat, the heat will be on Tony Khan, not him.

I've also said several times how I think the entire MJF/Adam Cole angle makes them both look like dorks, not stars so I'm not going to retread any of that, but rather to point out that if Adam Cole, who was out of action from a foot injury, is revealed as the one under the devil mask, it makes the world champion look incredibly dumb. Again, MJF, even when it resorted to cheap heat, made a name for himself by being the ultimate villain. That's not something you can go half way with either, and he committed to it, but this current angle dilutes a lot of what he established for his persona previously.
Another suggestion is that MJF might be the one revealed under the mask, which is possible, but technically wouldn't make sense since MJF was in the ring when it was implied that an attack happened live backstage. However, I could see the reveal being MJF and his reign as world champion being used as the primary selling point for the pay-per-view at the end of December, with the angle being based on if MJF retains, he will potentially take the belt with him during "the bidding war of 2024" assuming his contract actually expires at the end of the year.
Hikaru Shida/Toni Storm should be solid, the six man tag should be fine, but it's definitely a match based on sizzle, not substance. Orange Cassidy vs. Jon Moxley already happened twice so I don't think there's a reason for another rematch, at least not right now. Adam Page vs. Swerve Strickland is a feud that I just don't think can get into second gear and it seems like it's more to keep both of them busy than anything else so the match is more or less cannon fodder on the card. Chris Jericho and Kenny Omega vs. The Young Bucks should be decent. The three-way TBS title bout will probably be the bathroom break match to help pace the card. The tag team title ladder match will be the car crash segment so let's hope nobody gets hurt, especially with the current injury rate in the company.

I think the main event will be a really solid in-ring segment, but again, much of the success of not only the title match, but the pay-per-view as a whole will probably be based on the reveal of who is under the devil mask. Jay White is a top-notch performer and definitely a credible world champion, but so much of the focus of the feud spotlighted the person under the devil mask, a Jay White victory might be lost in the shuffle of the post-match angle.

Unless there's a monumental reveal of who is under the mask. this pay-per-view might fall flat, but it will be interesting to see the direction of the organization, especially as the company continues to expand with the addition of more PPV events.
What do you think? Share your thoughts, opinions, feedback, and anything else that was raised on Twitter @PWMania and Facebook.com/PWMania.
Until next week
-Jim LaMotta
E mail drwrestlingallpro@yahoo.com | You can follow me on Instagram, Facebook, & Threads @jimlamotta89