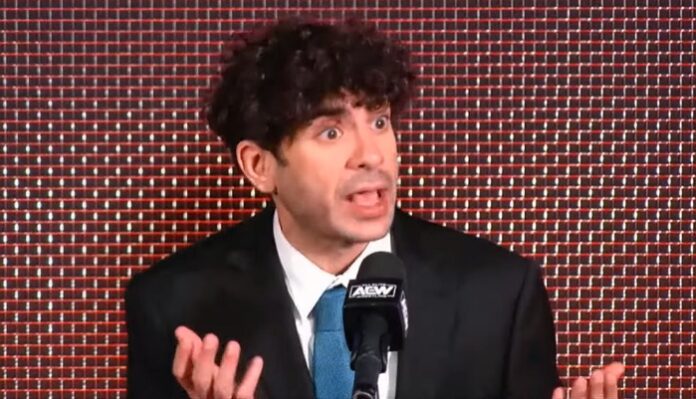 Ahead of this weekend's Wrestle Dream pay-per-view, All Elite Wrestling's third PPV in the span of just five weeks, the rumor mill began to stir up speculation that prehaps the event, which is advertised as a tribute to New Japan founder, Antonio Inoki, might be more than just another co-promoted card. In truth, it was rather odd that the event popped up more or less out of nowhere, as it was originally announced at the All Out post-PPV press conference, but the annual Forbidden Door show, had just taken place two months earlier and would've been a more fitting place to pay tribute to the Japanese founder. If anything, it seemed somewhat random that Tony Khan wanted to host an event in honor of the New Japan founder, but some of the top NJPW names are already booked for events in Japan. It is really an Antonio Inoki tribute without Okada and Tasnahashi on the card? Perhaps, some cameos from other Japanese legends, such as Jushin Liger?
More than anything, this all appears to be a reason for Tony to run somewhat of a New Japan card, and maybe that's why there are rumors that this pay-per-view is actually going to be used as a platform to announce that he bought the company.
Obviously, it must be recognized that any of this must be taken with a grain of salt. However, it does create different scenarios and how each might affect both promotions. First, we all know that Tony is from a billionaire family so he undoubtedly has enough capital to purchase the organization that Inoki founded in 1972. The question is, would Bushiroad, the parent company of New Japan, be willing to sell the organization that it purchased from The Yuke's video game company in 2012. Make no mistake about it, without Bushiroad, New Japan probably wouldn't exist today and much of the surge in popularity that the company had in the modern era was directly because of not only the investment, but also the merchandising from Bushiroad. Reportedly, NJPW was sold for $6.5 million in 2012, which was the conclusion of an extremely rocky period for the organization that began years earlier when Inoki still had ownership. As mentioned, Bushiroad put money into the company that brought back more foreign talent and thus the foundation of the Bullet Club was put into place. That along with the emergence of top tier native talent like Okada gave New Japan big success until the pandemic halted much of its momentum.
As with almost everything, New Japan lost money during the pandemic because of the shutdown and then limited attendance for events. The exit of key talent in recent years, and the possibility that Will Ospreay might departure the promotion to join All Elite in 2024, puts the Japanese league in somewhat of a difficult spot, as it must look to establish the next group of stars that will draw for the company. It goes without saying that there are no guarantees in that process, and in some ways, this is uncharted territory in the Bushiroad era.
According to The Wrestling Observer's Dave Meltzer, New Japan generated $36.4 million in revenue and $1.6 million in profit last year. Assuming that's correct, because of the reasons mentioned earlier with the pandemic and the rebuild that was in progress the past few years, the organization has a rather thin profit margin. That means that any dip in business could put them at risk of losing money. If or how much money Bushiroad would be willing to lose is anyone's guess, but given the current climate of the industry, it might be possible that Bushiroad would look to "cash out" on New Japan if Tony Khan offered the right number. If Khan offered $50 million for the organization, it might be tough for them to turn it down, given the slim profit margin from last year. Granted, Asia TV owns 10% of the organization, but that has more to do with their TV deal and is basically cannon fodder in the grand scheme of things.

While I doubt that New Japan would actually sell the company, I think Tony Khan would definitely be willing to offer major cash for it because it would essentially stamp him in pro wrestling history books. Keep in mind, All Elite Wrestling is still a relatively new project, but ownership of NJPW would solidify Khan's position in the industry. However, just as some might say that booking an E-fed online didn't qualify him to launch AEW, just because Tony is a longtime subscriber to The Wrestling Observer, that doesn't mean that he would have any idea about how to run the Japanese organization. Sure, there's a niche group of American fans that follow New Japan and in some cases, there can be a profitable niche, but the product must be tailored to the Japanese audience. There's a different presentation and psychology to the Japanese product so Khan wouldn't be able to attempt to book it like an AEW event.

The bottom line is, the argument could be made that Tony Khan can't consistently book quality segments for one weekly show so there's no reason for him to attempt to purchase another organization on the other side of the globe. As I said, I doubt there's much to the story, even with the difficult financial aspects New Japan had to endure during the pandemic. Bushiroad has a very popular trading card series in Japan so theoretically, they have the capital to keep New Japan stable throughout the downturn in business.
Tony Khan claimed that there will be a "new era" of All Elite Wrestling for Wrestle Dream, but such announcements have fallen flat, well below expectations, or both in the past so it's doubtful that the pay-per-view will be the start of a shift for the company. Outside of the New Japan rumors, the bigger story is the fact that Tony Khan is running yet another pay-per-view, and outside of the Bryan Danielson/Zack Saber Jr. and Christian/Darby Allin matches, there's nothing truly "PPV worthy" on the card. The vast majority of the bouts were thrown together with only a week or two of build up, and outside of the two previously mentioned contests, there's not much of a selling point that would give fans a reason to spend another $50 on an AEW pay-per-view in the span of just five weeks.
The bigger problem might be that with the increase of the number of pay-per-views and the addition of another two hours of television for Collision, it's very possible that there's an over saturation of AEW content that could eventually hinder the expansion of the audience.
What do you think? Share your thoughts, opinions, feedback, and anything else that was raised on Twitter @PWMania and Facebook.com/PWMania.
Until next week
-Jim LaMotta
E mail drwrestlingallpro@yahoo.com | You can follow me on Instagram, Facebook, & Threads @jimlamotta89