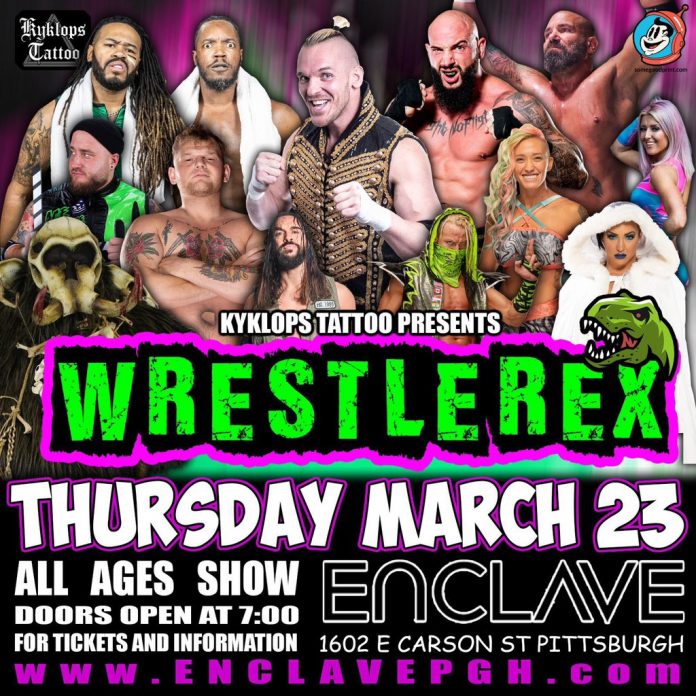 This past weekend, globetrotting grappler, Sam Adonis found himself in Guadalajara alongside longtime veterans Christopher Daniels and John Morrison as a part of the AAA World Cup tournament. The trio representing the United States defeated Team Japan in front of a rowdy crowd.
💥 El segundo Team VICTORIOSO de @LuchaWorldCup es para USA
🇺🇸 avanzan a las semifinales. 💥@TheRealMorrison, @RealSamAdonis y @facdaniels

🔴 EN VIVO #LuchaLibreWorldCup por @FiteTV 🔛 https://t.co/ciUGKHEIrQ pic.twitter.com/2bs3yb4Vot

— Lucha Libre AAA Worldwide (@luchalibreaaa) March 20, 2023

Professional wrestling is in Adonis' DNA, as his family promoted local cards around their hometown of Pittsburgh for years before his brother landed at the Raw desk as Corey Graves, and Sam went on to achieve international notoriety inside the ring ropes. A mainstay in AAA now, Adonis was no stranger to lucha libre, as he worked extensively for CMLL earlier in his career between tours of All Japan. Plus, he learned his craft in his formative years in the sport with an accomplished tenure in England.
The squared circle has taken Sam Adonis quite literally around the globe, but his hometown of the steel city will always be linked to his passion for the sport. The iconic Bruno Sammartino still maintains mythical status for Adonis' family and many in the region. That's why, despite the international travels that often take Sam across several different time zones at any given time, he still makes it a point to perform for his hometown anytime the opportunity presents itself.
Less than two days after he lands back at Pittsburgh International Airport from his AAA World Cup bout in Mexico, Sam will be back in the ring in front of his hometown fans when WrestleRex, the project that Adonis launched a few years ago to bring a new flavor of sports entertainment to Pittsburgh, returns to The Enclave, a revamped concert venue that made a comeback after the struggles of the pandemic, this Thursday.
"I want Wrestlerex to be a genre of its own. We are not going to be a touring wrestling company. We don't want to compete with anyone on TV or be 'the next ECW.' We use the highest quality independent and unsigned talent available, but we don't aim for the wrestling crowd, we aim for everyone. Anyone and everyone is welcome to the events and I think there's the perfect balance of wrestling, theater, art, and music to be enjoyed by all. The production setup alone is out of this world. I want people leaving not being able to compare it to anything else they've seen. The way I see it, we are not indy wrestling. We are Wrestlerex," Adonis commented previously.
This Thursday's line-up delivers on the WrestleRex philosophy of bringing together stellar international talent and some of the best athletes that the steel city has to offer. Facade, an aerial artist that has competed in dozens of countries, brings his unique style to the ring against Johnny Patch, one of the premiere high fliers in Pittsburgh. Former Impact star, Lady Frost, who recently made waves with her debut in Mexico, will be in action. Game Changer Wrestling standout, Matt Justice, brings his brand of chaos to The Enclave as well. The Mane Event, Ganon Jones Jr. and Duke Davis, regarded by many as the best tag team in Pittsburgh, will make their way to WrestleRex.
#WrestleRex is 8 Days Away!!!

Get Your Tickets!⬇️https://t.co/Ccygm3K6DG

Featuring:@RealSavageGent @RealSavageGent @1FACADE @Ray_lyn @wantedmv @DukeDavisTME @GanonJonesJr @dErEk_DiLLiNGeR @ThrashJustice @beastmanhusk @SouthSidePgh @MarkMaddenX @JPollsBeard @wrestlerex412 pic.twitter.com/ik6joY3JXs

— Sam Adonis (@RealSamAdonis) March 16, 2023

"My traveling has definitely made my perspective on wrestling different to almost everyone. I've been able to learn through trial and error of not only myself, but of other wrestlers and promotions in many different countries and cultures. That's why I feel what we are doing at The Rex works. It's a melting pot of all of it. WrestleRex is unique because there's something for everyone. I believe wrestling has become too much of a niche and only appeals to diehards. Wrestle Rex is standing room only with a party atmosphere, featuring some of the top talent on earth for everyone to enjoy," Sam said previously.
Of course, Adonis will lace up his boots, but it's a rare hometown appearance for the fans in attendance at The Enclave, and Sam's return will be brief, as he will be back on a plane to Monterrey less than twelve hours after the final bell of the evening. Friday night will see him back in action for AAA before he travels to Las Vegas for another bout on Saturday.
Despite the long hours of travel and the often late-night work put into the planning of the WrestleRex events while Sam is usually outside of the United States, the WrestleRex series garnered praise from its audience for the blend of a rock concert atmosphere with the athletic presentation of pro wrestling. Adonis cites his ability to coordinate with the local crew as key to not only the success of the project so far, but also the event this Thursday. It's not uncommon for Adonis to confirm WrestleRex plans via text message while he unravels his wrist tape in the locker room after a stellar performance in Mexico.
Considering the numerous options within pro wrestling in the modern era, it's difficult to find something that truly stands out as a unquie product, but WrestleRex has done that and looks to continue its success this Thursday at The Enclave.
For more information you can follow Sam on Twitter @RealSamAdonis or go to EnclavePGH.com
What do you think? Share your thoughts, opinions, feedback, and anything else that was raised on Twitter @PWMania and Facebook.com/PWMania.
Until next week
-Jim LaMotta
E mail drwrestlingallpro@yahoo.com | You can follow me on Twitter @jimlamotta