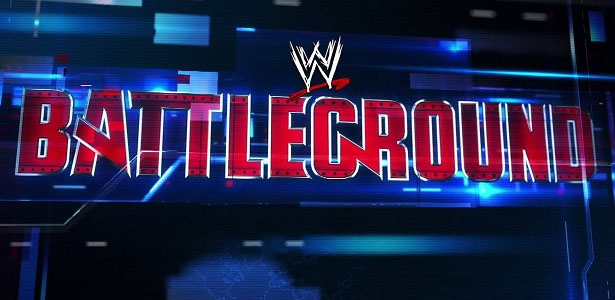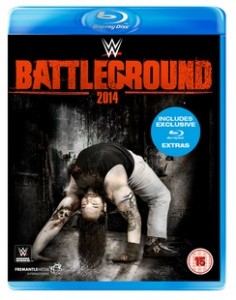 WWE Battleground 2014 DVD and Blu-ray Review
THE USOS VS. LUKE HARPER & ERICK ROWAN
Now this is how you do a tag team match! Though the first two falls came quite quickly, the familiar practice of giving both participants a win each helped to add to the excitement of this opening bout which was thrilling from start to finish. With the right opponents, The Usos are one of the WWE's best tag teams, but it was Rowan and Harper who stole the show here with the former's double superplex a truly epic highlight. After Money in the Bank, it would have been nice to see The Wyatt Family get their hands on the titles however.
WWE DIVAS CHAMPIONSHIP MATCH: AJ LEE VS. PAIGE
AJ Lee beating Paige here was an unexpected surprise, and while some complained that it made Paige's initial title win look like a fluke, this was a competitive match which continued a mostly compelling storyline that's still playing out each week on Raw and SmackDown as we write this. For a Divas contest, this was a hard hitting match and the non-submission finish made for a nice change of pace.
JACK SWAGGER VS. RUSEV
Jack Swagger's face turn was handled perfectly, and the crowd were behind the Real American 100% as he took on Rusev here. Though he failed to beat the Bulgarian Brute, WWE were smart to have Swagger lose by count out as it meant he saved face and still looked strong as this feud progressed. These two hosses really went at it, and there were some great moments of drama as it appeared as if Swagger had him beat a number of times. Extra props go to Rusev for selling the Patriot Lock so well too.
DEAN AMBROSE VS. SETH ROLLINS
As many fans predicted, Dean Ambrose and Seth Rollins didn't actually end up facing off at Battleground because the match was instead saved for SummerSlam. Regardless, this segment progressed the feud nicely and built excitement to an all-time high for their eventual clash, so whole we didn't get the match, we did get some great storytelling. The fact that there was a brawl between the two also helped make up for any disappointment in regards to the lack of an actual match between the former members of The Shield.
CHRIS JERICHO VS. BRAY WYATT
Chris Jericho is still fantastic to watch, but his bout with Bray Wyatt ultimately felt like nothing special. Having Wyatt lose cleanly to Y2J did him no favours whatsoever after coming out on the losing end of a feud with John Cena and the match itself was underwhelming, particularly when you look back at some of the other recent matches that both of these competitors have had. It's watchable, but ultimately forgettable.
BATTLEGROUND BATTLE ROYAL FOR THE VACANT INTERCONTINENTAL CHAMPIONSHIP
Your enjoyment of this match will largely depend on how much of a Battle Royale fan you are, and though it had its moments – Kofi Kingston would once again provide some YouTube worthy highlights – it was largely ruined by the fact that the ending was so predictable and obvious. The Miz's disappearance from the ring was well noted, so him returning to steal the victory was not a surprise ending.
FATAL 4-WAY MATCH FOR THE WWE WORLD HEAVYWEIGHT CHAMPIONSHIP: JOHN CENA VS. ROMAN REIGNS VS. RANDY ORTON VS. KANE
Let's be honest, depending on which side of the "Lets Go Cena, Cena Sucks!" chants you fall on will ultimately be the decision maker when it comes to your enjoyment of this match. Despite what all the signs were pointing to, this wasn't Roman Reigns' night, and Cena once again overcame the odds. Overall however, this was a solid fatal fourway with some moments which really did feel like a title change could be imminent. Unfortunately, it was let down by a silly ending which you have to imagine could have been handled in a million better ways. An underwhelming main event to an only ok PPV.
Special Features
As well as the Kickoff matches (Fandango vs. Naomi and Naomi vs. Cameron) and a number of interviews – including one with The Miz which is exclusive to this release – we get a number of Raw and SmackDown bouts and promos which help fill in the gaps between Money in the Bank and Battlground. It's a solid collection and the Blu-ray has a number not included on the DVD.
Though it may not be 2014's best PPV, Battleground is enjoyable enough if not essential purchase.
3/5 ***.5