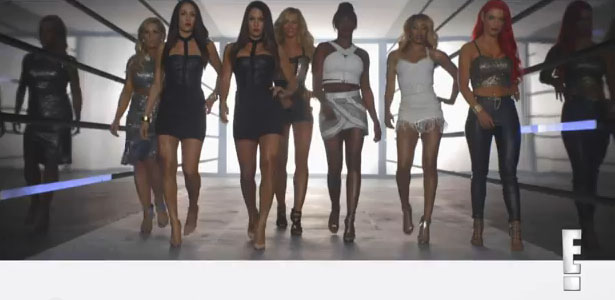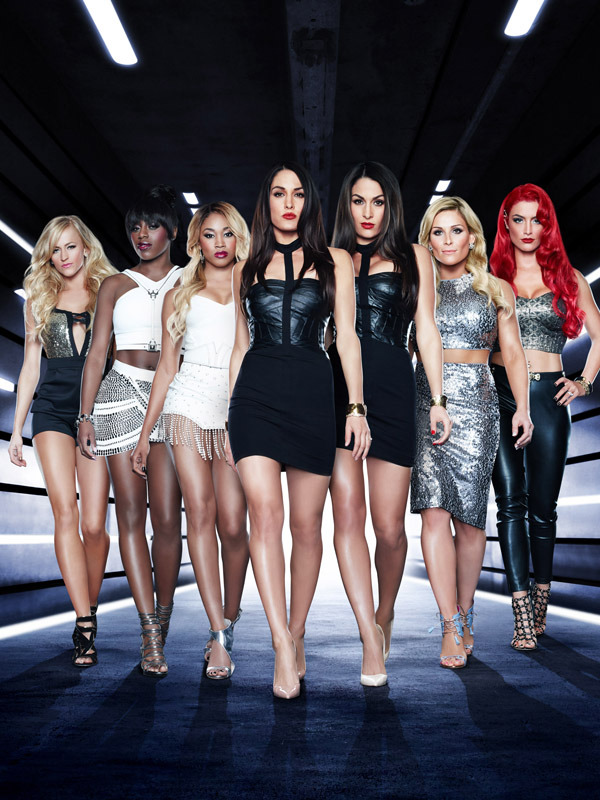 Women's wrestling has gone through numerous phases in WWE. From the days of The Fabulous Moolah holding a title for almost 30 years, to having Alundra Blayze face off with Bull Nakano, in matches that seemed to come out of no where, to a complete disappearance of meaningful wrestling throughout The Attitude Era, we never knew what was next. After a period of evening gown matches, and Sable putting paint on herself, the early 2000's saw Trish, Lita, Victoria, Molly, Gail Kim, and Mickie James establish themselves as not only eye candy, but really good wrestlers.
The period after that, saw a hybrid of the previous two eras, when WWE replaced wrestlers with models that they taught to wrestle. Somehow they never really got the Wrestling part right. There was only so much Beth Phoenix could do to save the division. In the early 2010's WWE began the process of replenishing the talent pool, while turning to a few established acts to aid them.
What is happening in 2014 is the culmination of all previous eras. WWE is taking what worked in each of these eras, and leaving out what didn't as much as possible. The women on this list each bring something unique to WWE, and are staking claim to as much precious television time as anyone.
10.Alicia Fox

Alicia Fox is one of the aforementioned models from the post mid-2000's who initially struggled to find her niche. For years she floated from face to heel seemingly by the week. She dyed her hair Red, in what can only be WWE's attempt to have a woman that looked like Rihanna, and looked a bit dangerous in the ring in the wrong way. Fast forward to 2014, in her feud with then Divas Champion Paige, she usurped all the hype Paige had received over the previous year, and made it her own.
By attempting to run the pockets of ring announcers and personnel, and pouring soda on herself while declaring herself The New Queen Of England, all while wearing Jerry Lawler's crown. She may have permanently carved her place in WWE lore in the UK.
She was referred to on Twitter as, "Stone Cold Alicia Fox." Her "crazy woman" antics became one of the highlights of Raw, and coupled with her improved wrestling ability, Alicia could feasibly stick around as long as she wants to. She's come a long way from jobbing to Kelly Kelly. We just have to write in a petition to get her some new entrance music.
9.Lana

Ok I'll say it, there are times when Lana nearly convinces me to turn on the USA and join Russia. She's just that good. Until Rusev started using the jumping super kick, she was the sole reason his entire act was tolerable. Her acting background has led to her being masterful on the microphone, and we've probably never a business suit/skirt combo worn better.
It's safe to say whenever the Rusev thing runs dry, she'll be more than okay. It's hard to be cheered while blasting the USA but somehow she does. Lana has been part of the resurgence of managers in WWE, and could continue to build her legacy there. However, Lana is a developing wrestler, so it'll be interesting to see if she can become the total package and REALLY dominate the division. We just have to sit through 10483921 more Rusev squash matches, to find out.

8.Vickie Guerrero

Although she just recently departed WWE, Vickie more than made her mark during her 9 years on screen. All future divas should take notes on how to draw heat from her. Some didn't like the way she was written out of the story, but honestly it's perfect for the character that she established.
Its safe to say, Vickie couldn't solely rely on her appearance to get over so she had to develop other aspects of game to stand out, while she caught up physically over the years. And yes she did catch up. Who would have ever thought she would be more than Eddie Guerrero's wife? Vickie proved to be the ultimate comedic foil, or butt end of any joke.
She was so detested, The Rock got away with calling her a "B*tch on a nationally televised PG rated show, and no one said a word. We just all laughed at her expense. Vickie was a great utility character, that shined in every situation she was thrown in. Some felt she had "go-away" heat, but do you think Vince McMahon cares at all about that term? Anyone drawing that many boos was going to be a prominent fixture on screen.
7. The Bellas

Honestly, the return of Nikki and Brie Bella may have saved women's wrestling in WWE. Lets take a look at all the things surrounding their departure, and return. The depth of the division was in the tank. Beth Phoenix was gone, Kharma never showed back up, and Eve was in an authority role. Their departure left the rest of the division to Layla, (who promptly was welcomed back with bad entrance music, and silence from the fans) Natalya who wasn't being used right, (shocker) and a ton of younger divas who weren't ready.
When the twins reemerged, they became the focal point of the show Total Divas, which will be entering it's third season, and became largely improved in ring workers. It's like a light went off in both of their minds like "We've got to get better." Nikki shows the power game of a Beth Phoenix, while Brie is the faster, more athletic sister. They now get to work in the top story lines like AJ before them, without their role being centered around being crazy.
The shocking thing about them however, is how they became faces simply because of Total Divas…AND IT WORKED. Nikki and Brie were detested by fans on a level just under Vickie. Total Divas humanized them, and allowed fans to see the people behind the mean girls gimmick they played for so long. It's been for the better thus far.
6. Natalya

There has to be someone to prepare the new generation. Natalya is one of the best women's wrestlers of all-time. She's been around WWE through the Kelly Kelly era, but always found a way to shine through the crap she's been given. Seriously, she survived a flatulence gimmick. Natalya is someone who all new divas coming up have to wrestle at some point to be legitimized. She was matched against Charlotte simply because people will often look their best against her. There are other divas with more personality, but Natalya commands your attention with her style and wrestling ability.
Even her husband is getting the biggest rub of his career off of her. Tyson Kidd's last shot at becoming a huge name is probably linked to the love of his life. So far they're off to a great start, as his heel turn is taking form in NXT. He may have slipped into something with the jealous husband gimmick Marc Mero perfected in 1998.
Why? Because we all love Natalya.
5.Charlotte

David Shoemaker called her "The Brock Lesnar of The Divas Division." It's hard to disagree. She's at least 5'10 and maybe taller, super athletic, and can do some cool power stuff. WWE has already made her the second NXT Women's champion as a sign of their faith her. She surely is nearing her eventual call up to the main roster, at which point she could step up to competition she's more than ready for.
Charlotte has progressed tremendously fast, from even earlier this year. Having a dad like Ric Flair could have been a gift and a curse for "The Queen". However, she adds in just enough of her Dad's style, while carving something completely original.
Whether a figure four leg lock, or a perfect moonsault, she can make it look effortless. Her athleticism can be attributed to her background as a personal trainer. She'll leapfrog many other divas in the hierarchy with ease.
Look for the Diva's division to be Charlotte's personal playground as she perfects her growing skills in and out of the ring. It's hard to project whether she would be better suited as a face or heel, but either way she'll be loved by fans.
Some things in the Flair family never change.
4. Naomi

Naomi is the most athletic women's wrestler this writer has ever seen. With skills that would be more at home in WCW's cruiserweight division, Naomi types just don't show up everyday.
Now that she is on the verge of breaking out of her Funkadactyls team with Cameron, the world will soon find out what Naomi is capable of. Her split legged moonsault would make Rob Van Dam blush, and who is the last diva that was diving over the top rope for planchas? Lita? How long ago was that?
While we haven't got a chance to hear her talk often, one would imagine that is down the road. She was easily the most likable member of the Total Divas cast from the outset. Some divas can play both roles, but Naomi was born to be the babyface the world is captivated by. Athletically she will be the benchmark for years to come in WWE. Naomi seemed to be on the road to dethroning AJ, until the unfortunate eye injury that cooled her jets. In her show stealing effort against Paige at Money in The Bank, she opened up eyes that previously saw her as one of Brodus Clay's dancers. We just have to hope she's rewarded one day for her efforts.
3.Paige

Before Paige debuted she was hailed as the savior of Women's wrestling in WWE. Well she wasn't that, but she's very talented. As the first ever NXT women's champion, which could be argued is "the workhorse" title for divas, it was clear she could hold her own between the ropes. However, WWE has to do a better job bringing out her personality.
After a puzzling debut, she captured the title on her first night to begin a reign that was doomed from the start. She never really got to wrestle the TOP divas as champion aside from Naomi, and many divas shined at her expense. There are shortcomings on the microphone, but people have to remember, she's only 21 and is just getting on global television for the first time. She's probably the future of the division whether as a face or heel. Hopefully it's as a heel.
As a heel, her wrestling would be allowed to shine more, and her screaming would be more at home. Let's hope WWE gives her a better storyline to shine in rather than being a vulernable champion that has to prove she's no fluke.

2. AJ

AJ Lee just recently rolled out of bed and reclaimed the Diva's championship, very much in the manner she lost it. Upon her return the crowd gave her a heroine's welcome, and quickly turned on Paige. AJ has been built up since 2011, and WWE's faith in her has been rewarded time and time again.
Her management of Dolph Ziggler, Big E, and Daniel Bryan allowed her to share screen time with Kane, CM Punk and John Cena. Rather than buckle, she played a great sympathetic character as well as a "Crazy" one. At one point she was the Raw GM, and wasn't a train wreck!
When the manager thing ran dry, she refocused on the Divas championship, and started cutting some of the best promos on the roster. AJ like Paige gets rallied around by fans online who are resentful of the Total Divas, and she was able to reach into their souls much like CM Punk grabbed the fans who were tired of seeing John Cena. Even in-ring she's improving, as that was a question mark for a time.
Where AJ goes from here is tricky. She's over enough to be a face, but she's electric as a heel. Also as a heel she could elevate divas like Naomi, Charlotte, or any of the talented ladies in NXT. (Looking at you Bailey)
Whatever road WWE take's with her, it's sure to be interesting. Really, where has AJ ever been bad?

1.Stephanie McMahon

Since last summer, Stephanie McMahon has defined being a woman in power on WWE Television. She's a hybrid of Vince and Triple H as a heel, with ALL-TIME great promo skills. Meaning, anywhere you want to put her in the top 10 is fine by me. She allows people to get their comeuppance, and legitimately sounds and acts evil. Fans used to hate Stephanie a lot back when Triple H was cheating to win every match in the early 2000's, but that was mere child's play compared to her level of heat in 2014.
Stephanie isn't just a heel to faces, she's a heel to everyone. Imagine going to work and your boss was Stephanie McMahon? Wouldn't you hate how she treated you? Stephanie has the ability to play this character until the end of time. How can someone who looks that great be that evil? She can directly effect WWE programming than almost anyone.
Conversely, too much of anything can grow tiresome. Over the past few months we've literally seen her in 3-4 segments a night. Wrestling stories move twice as fast as they did say, 20 years ago. 2011 feels like 6 years ago, so with that added exposure WWE will have to find ways to use her effectively.
Not to worry, every time she reemerges, she comes back better than ever. We aren't supposed to like Stephanie, and the thing is… PEOPLE DON'T! As long as she's trolling the internet fans, being hated will come very easily for the principal owner. The only people that enjoy Stephanie, are wacky folks like me who are looking for historical context in everything.
There's never been a hotter female heel in the business than 2014 Stephanie. The longer she keeps it up, the longer the future of women in WWE is in good hands.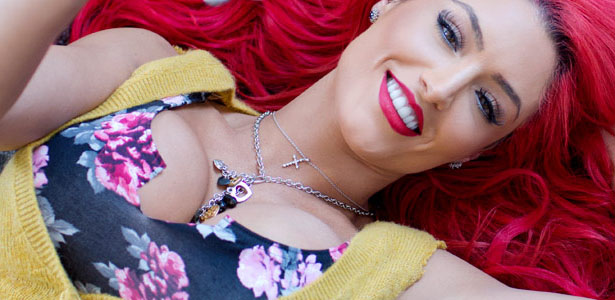 Also…Eva Marie is coming. You've been warned….
What do you think? Comment below with your thoughts, opinions, feedback and anything else that was raised.