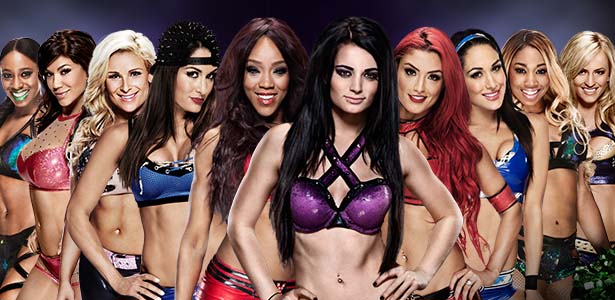 – One night after the WWE Divas had predictably the shortest match on the WWE Fastlane PPV featuring Paige vs. Nikki Bella for the WWE Divas Championship, an even shorter segment aired on RAW that seemed to send some fans of the WWE Divas and women's wrestling over the edge.
After Paige came to the ring, WWE took a commercial break as Emma made her entrance. RAW returned to a long video package recapping Sting's career, the Bella Twins then made their entrance after the in-depth video package. The Divas match eventually began a full 10 minutes after Paige made her entrance. Brie knocked Paige off the ring apron and hit her facebuster finisher on Emma for the three-count, ending a match that lasted a grand total of 30 seconds. The Bellas attacked Paige after the bell and walked out (to extend the segment by maybe another 45 seconds).
Following the segment, fans took to Twitter and got the hashtag #GiveDivasAChance trending. The hashtag reached as high #3 worldwide, being tweeted over 24,000 times.
While some fans still see the WWE Divas matches as "bathroom breaks," the tide of that opinion appears to be shifting. It certainly seems like the excellent work done by the NXT Divas, including the Women's Fatal 4-Way Title Match at NXT TakeOver: Rival, is one of the reasons for the recent change. Some in the wrestling media even pointed to this example of a double standard in WWE directly. Scott Fishman of the Miami Herald wrote:
Sad if divas want to wrestle in #WWE and get time to showcase their abilities they have to look to developmental. #Raw #GivaDivasAChance

— Scott Fishman (@smFISHMAN) February 24, 2015
It will be interesting to see if WWE ever does start to close the gap between the quality and length of their NXT Diva matches vs. their main roster Diva matches. One thing is for sure though, fans have definitely taken notice.