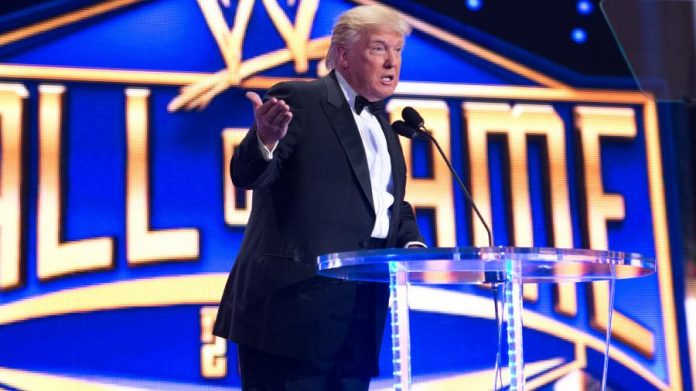 A group of WWE fans held a protest outside of the Barclays Center in Brooklyn this evening to protest US President Donald Trump being in the WWE Hall of Fame, according to Gothamist. The protest was led by 30 year old Brooklyn resident John Stevens, who is a big wrestling fan. Stevens and his friends are calling on WWE to "reject racism by tossing Trump from an honored spot with the company."
Stevens was joined by fans who are in town for SummerSlam, which will be held at the Barclays Center on Sunday. Stevens told Gothamist:
"We were talking about how Trump gave that crazy press conference, and then thought about how he's in the WWE Hall of Fame even though Hulk Hogan got kicked out over racism. What Trump has done is remarkably worse than what Hogan did, since he's dividing the country by siding with neo-Nazis and white nationalists."
"I was sickened by that press conference, and his response to Charlottesville. Basically WWE is endorsing those comments by having [Trump] in their hall of fame. I can't wrap my brain around the fact that they'd leave him in there, take Hogan out and claim they say they care about racism."
Stevens also runs a website, racistwwe.com. He noted that some of his supporters attended a signing with WWE Champion Jinder Mahal on Thursday night to hand out flyers for the website and protest. Stevens says despite Linda McMahon acting as Trump's Small Business Administration head, WWE needs to make a choice or face the backlash. He added:
"It's kind of a gut-check moment for the WWE. If they want to put their fans in this position, especially minority fans, and insult them to their faces by supporting someone who supports white nationalists, they can do that. But the backlash, I think, will be severe."
Fellow early-30's Brooklyn resident Stephen Miller, who describes himself as a wrestling nerd, was also involved in the protest and says this is an important moment for the company. He said:
"They have two options; leave someone who defends neo-Nazis and white supremacists in the Hall of Fame and accept that their fans will look at them as hypocrites the next time they take a stand about racism, homophobia or other forms of prejudice, or have a spine and stand up to racism. If they choose to leave him in the HOF I will question whether or not I'll continue to watch their product."
Stevens and Miller both were worried about weather hurting the turnout at today's rally but they have other rallies planned for the WWE NXT "Takeover: Brooklyn III" event on Saturday and SummerSlam on Sunday. Stevens is aware that the company can just ignore the group outside of the arena but they have a back-up plan:
"We might protest during the shows, we've got prime seats," he told Gothamist. "Where our seats are, you'd definitely see it, you'd hear the chants. WWE could take care of this problem now, or they could have it come up during one of their biggest pay-per-views of the year and have it be on the WWE Network forever."
Stevens said removing Trump from the WWE Hall of Fame would be the "ultimate act of being a star" and "standing up to bullying and racism," referencing WWE's "Be a STAR" anti-bullying efforts.
The group describes itself like this on the official website:
"This group is a collection of wrestling fans from all across the United States who were saddened and sickened by the divisive language of the President. WWE has a long history of on and off air racism and we are asking them to take a stand against hatred and racism."
Their Mission Statement reads like this:
"In short, our goal is for the WWE to remove Donald Trump from their Hall of Fame after his defense of white nationalists this past week.

The WWE removed Hulk Hogan from it's Hall of Fame because of racist comments he made. We are asking the WWE to remove President Donald Trump from it's Hall of Fame, effective immediately, because of his words defending white nationalists and Neo-Nazis. WWE claims to be an inclusive company. We are asking them to put their money where their mouth is and stand up to intolerant hate speech."
WWE is aware of the protests as Gothamist reached out for comment but received nothing back as of press time. We will keep you updated on any more information that becomes available.