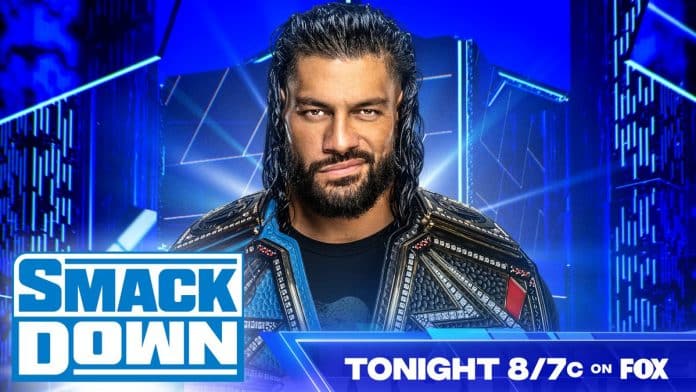 WWE Friday Night SmackDown is back.
The weekly two-hour WWE on FOX program emanates from the Secours Wellness Arena in Greenville, South Carolina, featuring the fallout from the 2023 WWE Royal Rumble pay-per-view from over the weekend.
On tap for tonight's show is the follow-up to the epic Bloodline story line that closed out the aforementioned PPV, as well as Braun Strowman & Ricochet vs. Imperium (Ludwig Kaiser & Giovanni Vinci) and a SmackDown Women's Championship, with Charlotte Flair defending against Sonya Deville.
Featured below are complete WWE Friday Night SmackDown results from Friday, February 3, 2023. The following report was written by PWMania.com reporter Matt Boone (@MattBoone0709) as the show aired live from 8-10pm EST. on FOX.
WWE FRIDAY NIGHT SMACKDOWN RESULTS (2/3/2023)
This week's post-Royal Rumble edition of Friday Night SmackDown kicks off with the usual "WWE Then. Now. Forever. Together" signature narrated by John Cena. We go straight from that into an elaborate video package showing the end of the Roman Reigns and Kevin Owens match at the Royal Rumble pay-per-view, and the subsequent angle with Sami Zayn turning on Reigns and getting attacked by The Bloodline — all except Jey Uso.
Kayla Braxton Tries To Approach Roman Reigns, Paul Heyman
We shoot live outside the Secours Wellness Arena where Kayla Braxton is shown in the parking lot. She welcomes us to the show and informs us that she is waiting on the arrival of Roman Reigns and The Bloodline. She catches up with Roman Reigns and asks for his thoughts on Jey Uso and his status within The Bloodline. He ignores her and walks off. Paul Heyman stops and talks with her briefly, saying it was a ruthless question to ask. He thanks her for wearing The Bloodline's black-and-red colors and walks off. The SmackDown opening video and theme airs.
Roman Reigns To Address The Bloodline Tonight
After it wraps up, we shoot inside the arena and Michael Cole and Wade Barrett welcome us to the show. The camera pans the crowd and then Cole and Barrett inform us of a segment later in the show where Roman Reigns will address The Bloodline.
SmackDown Tag-Team Title Contender Tournament
Ricochet & Braun Strowman vs. Imperium
We hear the theme for Braun Strowman and out comes "The Monster of all Monsters" and his partner for tonight's opening match, which will feature action in the ongoing SmackDown Tag-Team Title Contender Tournament.
Ludwig Kaiser and Giovanni Vinci make their way out accompanied by fellow Imperium member, WWE Intercontinental Champion Gunther. As they head to the ring, we see highlights of Gunther's performance in the Royal Rumble match over the weekend, calling it a star-making performance.
Strowman and Vinci start things off for their respective teams, as the bell sounds to get this match off-and-running. We see some back-and-forth action until finally things spill out to the floor, and Imperium hit a nice top-rope spot to take out Strowman on the floor as he was distracted with Gunther.
When we return from the break, we see Imperium still in control of the action in the ring. Strowman starts to fight back, but is taken down by Kaiser and controlled. We see footage of Gunther shouting orders from ringside as Strowman tries making his way to his corner to make a much-needed tag to Ricochet.
Ricochet takes the hot tag and starts to shift the momentum immediately into his team's favor. He works over both Vinci and Kaiser and then Strowman hits the ring and launches Ricochet over the top-rope, where he soars and splashes onto both guys.
Gunther ends up getting in Ricochet's face on the floor and after he shoves him, we see the referee in the ring catch this. He ejects Gunther from ringside. Back in the ring, Kaiser works over Ricochet and nearly gets a pin. Ricochet kicks out at two-and-a-half, however, and we head to another mid-match commercial break.
As we settle back in from the break, we see Ricochet working over Kaiser, beating him down in the corner and then turning to the crowd and letting out a war-scream. Kaiser makes the tag to Vinci and the two start to work some double-team action over Ricochet.
Strowman ends up tagging in for his side and now things shift right back into their favor. Strowman hits the monster bomb on Kaiser and then holds Ricochet on his shoulders after tagging him in for a super splash for the pin fall victory. With the win, these two move on to challenge The Usos for the tag-team titles next week.
Winners of the SmackDown Tag-Team Title Contender Tournament: Ricochet & Braun Strowman
Looking Back At Rhea Ripley's Royal Rumble Performance
After the match wraps up, the camera pans over to Michael Cole and Wade Barrett at ringside, who mention that not only did Gunther have a good performance in the Men's Royal Rumble, but Rhea Ripley had one in the Women's Rumble as well. An elaborate video package showing highlights of her performance and match victory is shown. Also shown are highlights from Raw where she announces her intentions to face Charlotte Flair for the SmackDown Women's Championship at WrestleMania 39.
Charlotte Flair Ready For Rhea Ripley & Sonya Deville
Once the match wraps up, we shoot backstage to the interview zone where Kayla Braxton is standing by with the SmackDown Women's Champion Charlotte Flair. "The Queen" says WrestleMania is going to be epic, but says her focus is on tonight when she defends her title against Sonya Deville. She continues to talk but in walks Deville. She admits being in Flair Country in South Carolina. She dogs the city and then explains why she's going to win the title tonight and take it to defend against Ripley at WrestleMania. Charlotte laughs. Sonya asks what is funny. They agree to see what is funny in the ring.
Rey Mysterio vs. Dominik Mysterio In NASCAR Race
After this, Michael Cole teases a WWE and NASCAR video package coming up after the break. As we return from the commercials, we see some quick still images of various happenings from Royal Rumble. We then return to the SmackDown commentary desk where Cole and Barrett mention Joe Lagano and his NASCAR race at LA Coliseum. Rey Mysterio and Kofi Kingston are shown attending the event and being confronted by The Judgment Day. Dominik and Rey Mysterio talk trash to each other and then get in cars and race. They talk trash over the headsets throughout the race, quoting a lot of Will Ferrell lines throughout, and then Rey Rey gets the win. Dom says Rey cheated and that if "Mami" Rhea Ripley was there things would have been different. There's a big pull apart and the segment ends.
SmackDown Women's Championship
Charlotte Flair (C) vs. Sonya Deville
Once the WWE and NASCAR segment wraps up, we head back inside the Secours Wellness Arena where the theme for Sonya Deville hits. She makes her way down to the ring, as her match against Charlotte Flair with the SmackDown Women's Championship on-the-line is up next. On that note, we head to a pre-match commercial break.
When we return from the break, Sonya is still in the ring wrapping up her entrance. The music dies down and then the familiar sounds of Charlotte Flair's theme fills the Secours Wellness Arena in Greenville. The fans "WOOOO!" and out comes "The Queen" for her latest SmackDown Women's Championship defense.
The two settle into the ring and the ring announcer handles the formal pre-match ring introductions. The bell sounds and we're officially off-and-running with this one. We see some good back-and-forth action in the early going, and then Charlotte Flair starts to pull ahead.
She hits a nice splash off the middle rope for a near fall but after that, misses a splash in the corner. From there, Deville starts to take over and is dominating the action as we head to a mid-match commercial break.
As we settle back in from the break, we see Deville still very much in a commanding offensive lead. This continues for a while and just when it looks like Charlotte is going to fight back into competitive form, Deville comes off the middle rope with a clubbing knee to the jaw of the champ.
Deville goes for a figure-four or figure-eight but can't finish it because Deville is countered into a pin attempt by Charlotte. Deville kicks out but Charlotte remains in control of the match. Deville fights back and hits a moonsault but Charlotte kicks out of the follow-up pin attempt. Charlotte rolls Deville up for the figure-eight moments later and Deville taps out. Charlotte Flair wins and retains the title via submission.
Winner and STILL SmackDown Women's Champion: Charlotte Flair
Roman Reigns Wants Answers About Jey Uso's Whereabouts
We shoot backstage to The Bloodline locker room when we return from the break. Roman Reigns is shown upset and grilling Jimmy Uso, asking if he's talked to his brother, Jey. Jey has his head down for the most part. Reigns loses his cool a bit and says he hasn't heard from him in a week. He says you don't walk away from your obligations. "I'm gonna ask you" again, Reigns says to Jimmy. "And I'ma tell you again," Jey replies, making it clear he didn't hear from him. Reigns then asks Solo Sikoa if he has heard from him. Solo doesn't answer. Jimmy chimes in again and says if he hasn't, no one has. Reigns asks Paul Heyman if it's WrestleMania season. Heyman confirms it is. Reigns tells Solo and Jimmy they ain't gonna find him on the couch. He orders them to go look for him. They get up and do exactly that.
Ridge Holland & Butch vs. The Viking Raiders
We head back inside the arena and the theme hits to bring out the The Brawling Brutes. Ridge Holland and Butch make their way down to the ring and settle inside. They will be in tag-team action against The Viking Raiders — Ivar and Erik. As they continue to settle in the ring, we head to a pre-match commercial break.
As we settle back in from the break, we see The Viking Raiders, accompanied by Valhalla, making their way down to the ring for this scheduled tag bout. As they head to the ring, we see their recent attack on last week's SmackDown on Sheamus and Drew McIntyre.
The bell sounds and we're off-and-running with this one. We see Butch on the wrong-end of a one-sided beatdown early on, as Erik and Ivar take turns utilizing frequent tags to a keep a fresh man on him at all times. He ends up fighting back and buying enough time to make it to his corner for the tag.
In comes Ridge "The Fridge" who showcases his power straight out of the gate with a big suplex. He tags Butch in and the two pay homage to Sheamus with a stereo ten beats to the bowery spot. Barrett calls them tougher than a woodpeckers lips. Alright then!
From there, the action spills out to the floor where The Viking Raiders start to gain the upper-hand after Erik and Ivar hit some nice double-team spots. They roar like beasts into the camera afterwards and we fade into a mid-match commercial break as the action continues.
When we return from the break, we see Butch still being worked over by Erik and Ivar, however he makes it to his corner and tags in Ridge. Holland takes the hot tag and enters the ring like a man possessed, taking it to Erik and Ivar by himself. We see Ridge nearly picked up for a pile-driver, however he counters with an Alabama Slam.
Butch tags in again, but so do The Viking Raiders. We see Butch handed up to Ivar on the middle rope. Erik heads out and slams Holland into the barricade. Butch counters off the ropes and takes Ivar down with a vengeance with a hurricanrana into a close near fall.
Butch ends up getting beaten down by both members of The Viking Raiders. Ivar takes out Ridge on the floor again and then tags back in. The two both enter the ring and hit their double choke slam for the pin fall victory.
Winners: The Viking Raiders
Sheamus & Drew McIntyre Get A Measure Of Revenge
After the match, The Viking Raiders celebrate their victory and then begin heading up the ramp to the back. Near the top of the stage, their music cuts off and the theme for Sheamus and Drew McIntyre hits. They come out and beat down Erik and Ivar all over the top of the stage. Their music hits again and they pose to the crowd to end the brief post-match segment.
Bray Wyatt Gets A Visit From Uncle Howdy
From there, we head over to Michael Cole and Wade Barrett at the commentary table. The two set up a video package that looks back at Bray Wyatt vs. LA Knight in the first-ever Mountain Dew Pitch Black Match and the post-match angle with Uncle Howdy.
When the segment ends, we see Bray Wyatt sitting in a rocking chair. He rocks back-and-forth and then someone, Uncle Howdy presumably, walks up and taps him on the shoulder. Wyatt turns and looks at him as his rocking chair stops rocking.
Women's Elimination Chamber Fatal-4-Way Qualifier Match
Shotzi vs. Shayna Baszler vs. Zelina Vega vs. Natalya
Shotzi comes out in her tank and heads to the ring after that. Michael Cole plugs the Women's Elimination Chamber Qualifier Fatal-4-Way match coming up next. We then head to another commercial break.
When we return from the break, we see Natalya finishing up her ring entrance for this match. Already in the ring is Shotzi, who came out before the break, as well as Zelina Vega and Shayna Baszler, both of whom came out during the commercials.
The bell sounds and all four women collide. Shotzi and Nattie are left alone in the ring and they duke it out as Vega and Baszler battle on the floor. Zelina yanks Shotzi out and rams her into the barricade. She enters the ring and goes at it with Natalya.
Nattie battles it out with her but then Baszler gets in the ring and she starts to take control of the offense. Zelina brings her out to the floor but Shayna just rag-dolls her down with a lariat. She re-enters the ring and blasts Nattie with a huge knee. Cole says it's the same one that broke her nose in the past. She goes for the cover, but only gets two.
As the match continues, we head to another mid-match commercial break. When we return from the break, we see Shayna and Shotzi going at it in the ring. Shotzi lands some big kicks that drops "The Queen of Spades" and knocks her out to the floor.
She hits a big dive through the ropes and splashes onto her on the floor. Vega climbs up to the middle rope and connects with a moonsault that takes them both out. Nattie comes by and starts to pick the pieces of what is left.
She takes Shotzi into the ring and locks her in the Sharpshooter, but Vega comes from behind with a bulldog to break it up. Moments later, Nattie gets Vega in the Sharpshooter and she taps out. With the win, Natalya will advance to the Women's Elimination Chamber match in her home country of Canada.
Winner and ADVANCING to the Women's Elimination Chamber: Natalya
Roman Reigns Talks To The Bloodline Some More
We shoot backstage where Roman Reigns is shown with Paul Heyman. Heyman says he's sorry to Roman but Jey Uso's phone goes straight to voice mail. In walks Jimmy Uso and Solo Sikoa, who both say they haven't seen him either.
Reigns talks about how this is the worst time for something like this to be happening. He says he apologizes for talking to Solo and Jimmy how he did earlier. He says the wise man Heyman had a bunch of sushi and steaks delivered to the car.
He tells them to go have a good meal and wait for him, he needs to go to the ring. He tells them to enjoy and says he'll get with them later. They get up and exit as Reigns leans back in his chair. Michael Cole says Roman Reigns is up next. We head to another commercial break.
Roman Reigns Addresses The Status Of The Bloodline
When we return from the break, the theme for Roman Reigns hits and "The Tribal Chief" emerges accompanied by "The Wise Man" Paul Heyman. The two head to the ring as the commentators talk about it looking odd to see such a slimmed version of The Bloodline going to the ring.
A graphic airs promoting Reigns vs. Cody Rhodes for the Undisputed WWE Universal Championship at WrestleMania 39 and then he settles into the ring and his music fades down. He waits out some chants and begins. "Greenville, South Carolina … acknowledge me!"
Roman Reigns says he guesses he knows who the people want to hear him talk about. He says he'd rather talk about Cody Rhodes, the guys who won the Royal Rumble and deserves his attention. "But you simple folks want me to talk about the past." The fans react with a loud "Sami! Sami!" chant for Sami Zayn.
"The Tribal Chief" reminds everyone that there are two sides to every story. He says it's time to hear his. His story starts all the way back at War Games. He says he told the world he saw everything he needed to see when he looked in Zayn's eyes that night. He saw greed. He says he sees it everywhere.
He continues, saying all people think when they see him is they want something. He says Zayn was the same. He just wanted to use him and his Bloodline and the Island of Relevancy. As he continues talking, he is attacked from behind by someone who came through the crowd wearing a hoodie.
It's Sami Zayn!
Zayn beats Reigns down briefly, but then Reigns starts to fight back and beat down the former "Honorary Uce." He tells "The Wise Man" Paul Heyman to hand him a steel chair. Heyman obliges. Before Reigns can use it, he turns around and is blasted with a big Spear by Zayn.
Now we see Sami Zayn pick up the chair. He goes to homerun whack Reigns with it, but Reigns slides out of the ring. He is joined by Heyman. Zayn gets on the mic and says Reigns was wrong about him. He says he never wanted anything from him — until now. Because now he's coming after him and the Undisputed WWE Universal Championship.
The crowd goes bonkers but then we see Jimmy Uso and Solo Sikoa emerge from behind him and take him out with a super kick and Samoan spike. Reigns sees this and smiles. He joins Jimmy and Solo in the ring as they wear out Zayn. They put a chair around the neck of Zayn and then Solo goes to run and smash it until out of nowhere, Reigns steps forward and stops him.
Reigns looks down at Zayn and says, "You want something, huh? You want something from me?" The fans chant "We want change!" Reigns asks a lifeless Sami if he hears them. He points out they're chanting about change, but mentions he has no change for them because Sami broke up his family.
He tells Sami that he wants him at Elimination Chamber in his hometown of Montreal. Because he wants to beat down Sami in front of his mother and family and friends so he can show him what happens when you mess with his family. The show goes off the air with Reigns holding both titles up high chanting, "Sami Who?!" as his theme plays again. Thanks for joining us!