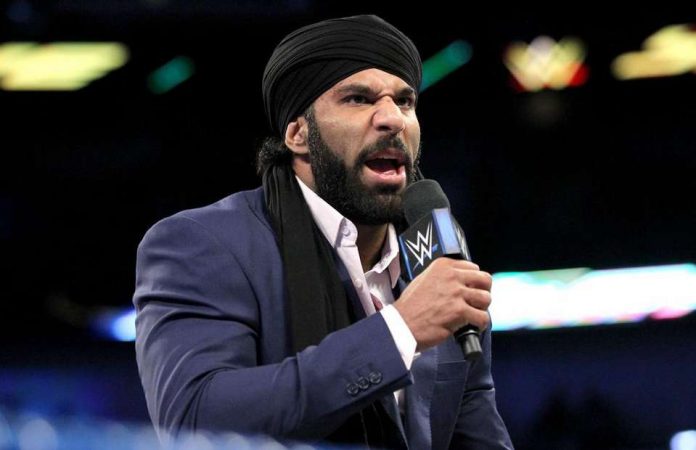 – Above is video of WWE announcer David Otunga talking to TMZ Sports about the short film he created with his son for Father's Day earlier this month. Otunga reveals that they put his son, David Jr., through training and fight choreography for the project. Otunga says he's received offers from producers wanting to make the project into a full-length film.
– Hideo Itami and WWE NXT Women's Champion Asuka are currently on the road with the RAW brand for the quick international tour. Itami defeated Chris Jericho at today's live event in Singapore while Asuka teamed with Sasha Banks and Bayley for a win over Emma, Nia Jax and RAW Women's Champion Alexa Bliss. They will work shows on Friday and Saturday in Tokyo, Japan before returning to the United States on Sunday.
– As noted, the third Punjabi Prison match in WWE history will take place at the July 23rd Battleground pay-per-view with WWE Champion Jinder Mahal defending against Randy Orton. WWE posted the following on the match, going over the history and confirming the rules:
What is the Punjabi Prison Match?

The Punjabi Prison Match, a relatively obscure match stipulation — there have only been two in WWE history, and the last was 10 years ago — makes its comeback at WWE Battleground as the site for Jinder Mahal and Randy Orton's WWE Championship clash. The modern WWE Universe is probably only familiar with the bout as a curiosity coined by The Great Khali, but that doesn't entirely do justice to the intricacies of the stipulation, or just how brutal the match itself really is.

For starters, while matches like a Steel Cage, Hell in a Cell or even the Elimination Chamber typically trap a Superstar within one enclave, the Punjabi Prison surrounds them with two: First, there are four walls of bamboo that immediately surround the ring in the fashion of a traditional cage. Outside of that stands another, larger, octagonal structure, topped with a series of razor-sharp bamboo spikes.

To win, a Superstar must escape both cages, a prospect that is far easier said than done. The interior structure contains four doors, all of which are attended by a referee. When a Superstar calls for the door to be opened, they have one minute to walk through it and into the outer structure. If they don't make it through in time, the door is shut and locked for good. If a Superstar fails to make it through all four of the doors in the allotted time, they must climb out of the inner structure. It makes for good practice, as the only way to escape the outer ring is to climb up and over it. The first Superstar whose feet touch the ground wins the match. That means a Superstar cannot achieve victory inside the Punjabi Prison by something as ordinary as a pinfall or a submission, but must fight his way out.

So, that's what Randy Orton is getting himself into at WWE Battleground. And even though The Viper has never once shied away from a stipulation he knows little about, this one is going to be difficult even by his standards. Jinder Mahal clearly did his research, or he wouldn't have chosen the match in the first place. Furthermore, it provides him with a connection to the homeland he has proudly represented throughout his run to the WWE Title. Plus, he has The Singh Brothers at his side and a No Disqualification environment in which to utilize them. Randy Orton loves a match without rules, but a three-on-one situation is a tall order even for the 13-time World Champion.

There you have it. That's the Punjabi Prison. And on Sunday, July 23, we will see which Superstar is truly brave enough to survive this most harrowing of battlegrounds.