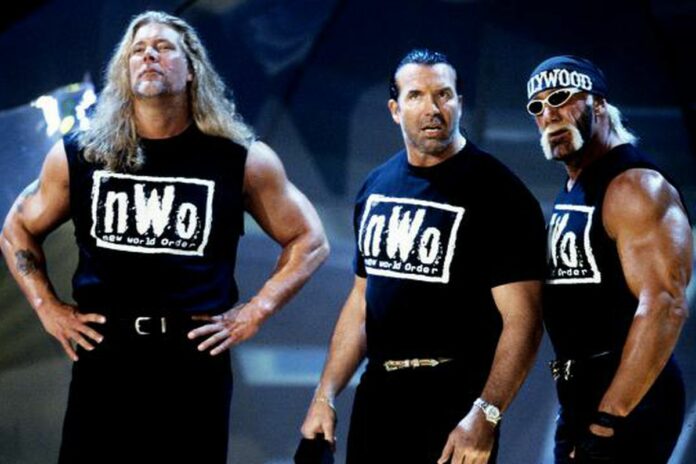 – With Hulk Hogan back in the fold, WWE officials are apparently thinking about reuniting the nWo in some fashion.
While a return to the ring is pretty much out of the question for Hogan, Scott Hall, and Kevin Nash, it's quite possible that we see the trio reunite on a WWE Network program and/or for a one-off live appearance.
This rumor comes from @TicketDrew on Twitter, who is a ticket broker with connections to people in WWE. He's broken a lot of stories, such as the site of next year's WrestleMania before it was announced, and he said on Wednesday that a New World Order reunion could take place in WWE.
I'v been asked a couple times if I think the nWo is coming back with Hogan/Hall/Nash. No, I don't think they will have another run on the roster as active wrestlers BUT you might see them on the network or a one off sometime soon.

— 17ABay ? (@TicketDrew) August 1, 2018
– Scott Hall recently paid his third visit to the WWE Performance Center to mentor the next generation of NXT Superstars. In this video below, the WWE Hall of Famer proudly talks about passing his wisdom to the up-and-coming talent at the WWE Performance Center.
– The WWE Network has been uploading VHS releases from the 1980s and 1990s this week and a Coliseum Video on Brutus "The Barber" Beefcake from 1988 was posted today. "Mean" Gene Okerlund hosts the video, which features matches and segments from the first few years of Beefcake's WWE career. You can find the video in Home Video Classics page in the Vault section.