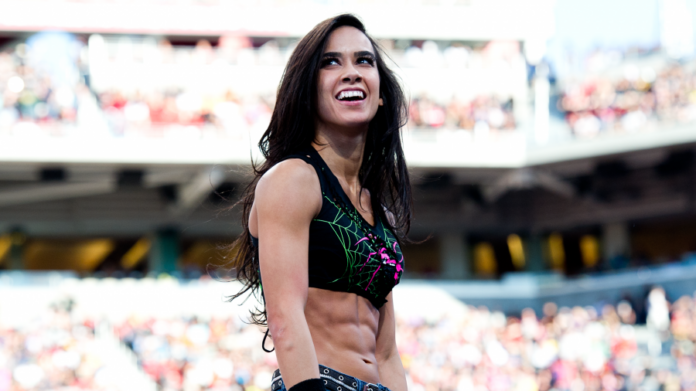 As if WWE Evolution, the groundbreaking all-women's pay-per-view, wasn't already historic enough, Alexa Bliss will face seven-time Women's Champion Trish Stratus in what is sure to be a match for the ages.
WWE announced on Saturday that the "The Goddess" will battle the WWE Hall of Famer for the first time at the pay-per-view event set for Sunday, October 28, at 7 ET/4 PT. Not only will this be Bliss and Stratus' first match against each other, but it will also mark Stratus' first match since competing in the first-ever Women's Royal Rumble Match earlier this year.
WWE Evolution could also see another huge return as organization officials have asked AJ Lee to appear at the WWE Network event.
A few days after the announcement of WWE Evolution, a poll was put up on WWE.com asking fans which one of 12 former female Superstars they would like to see return to the ring at the show. Lee dominated the poll with 70 percent of the vote.
WWE contacted Lee a few months ago and then once again after the poll took place. WWE officials specifically told their website editors that Lee should be in the poll since they were sure she would win.
Born and raised in New Jersey, Lee — real name April Jeanette Mendez — began her professional wrestling career on the state's independent circuit in 2007. She was signed by WWE in 2009 and spent two years in their developmental branch, Florida Championship Wrestling, before she was promoted to the main roster. In 2012, she rose to prominence through storylines with her "mentally unstable" character, such as high-profile relationships and a three-month stint as the General Manager of Raw. In subsequent years, she won the Divas Championship a record-tying three times and held the title for an overall record of 406 days. She also won the Slammy Award for Diva of the Year in 2012 and 2014 and was voted Woman of the Year by readers of Pro Wrestling Illustrated from 2012 to 2014. She retired from wrestling in 2015.
Mendez has since focused on writing. Her 2017 memoir, Crazy Is My Superpower: How I Triumphed by Breaking Bones, Breaking Hearts, and Breaking the Rules, was a New York Times Best Seller.