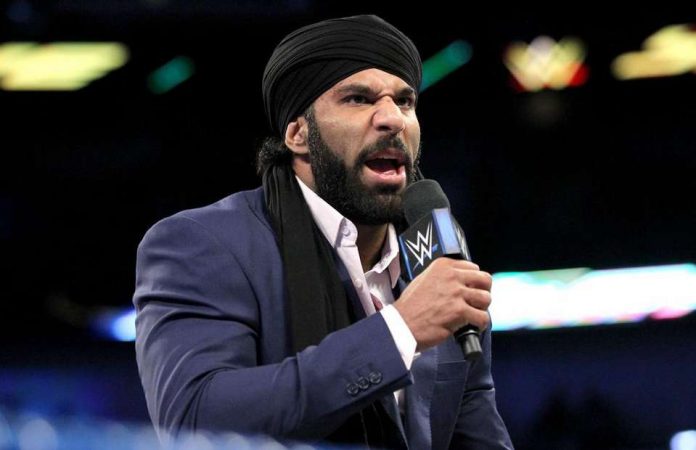 – Above is new video of WWE Champion AJ Styles celebrating in the ring with a fan after the main event of the weekend WWE live event in Milan, Italy.
– As noted, Triple H and Jinder Mahal had a back & forth on Twitter this weekend to set up a possible match at the December 9th WWE live event in India. WWE covered the exchange with the following:
Triple H asks if WWE Universe wants to see him battle Jinder Mahal in India

Jinder Mahal lost the WWE Championship in the United Kingdom this week, but he may have gained a new opponent when WWE Live comes to India this December.

Triple H took to social media Saturday night and, while acknowledging the year Mahal has had, asked the WWE Universe in India if they would like to see The King of Kings go one-on-one against The Modern Day Maharaja in New Delhi on Saturday, 9 December.

.@WWEIndia…@JinderMahal…I only have one question for you… pic.twitter.com/LhNmfmES8J

— Triple H (@TripleH) November 12, 2017

After finishing a WWE Live Event in Padova, Italy, Mahal replied in a video, expressing his respect for Triple H, but cautioning that if the match were to happen, The King of Kings would bow to The Modern Day Maharaja. Confident that he cannot be defeated in India, Mahal made it clear that he relishes the idea of the match and spoke to the WWE Universe to make their thoughts known.

.@TripleH not only the biggest match in Indian History, but also of my career. Consider the challenge accepted by me, now @wweindia and #wweuniverse India let's all make this happen. pic.twitter.com/6Wv62HnWFg

— The Maharaja (@JinderMahal) November 12, 2017

Will Triple H and Jinder Mahal battle in New Delhi's Indira Gandhi Indoor Stadium on Saturday, 9 December? It's up to the WWE Universe in India to decide, but the prospect of a match between The King of Kings and The Modern Day Maharaja sounds too good to pass up. Post your comments below or on twitter.com/WWEIndia and weigh in with your opinion.
– It looks like the issues between The Hype Bros have been put on hold as Mojo Rawley wrote about putting the team with Zack Ryder back together as they look towards a SmackDown Tag Team Title shot. He wrote the following after wrapping the European tour:
Successful tour for the #HYPEBros. Rebuilding the team in hopes to regain our #1 contendership. Ready for @WWE #SDLive tomorrow. But first 16.9 hours of travel left. Here we go! #ChooChooPlayboy @zryder85 #ZacksLuckyLeatherJacket