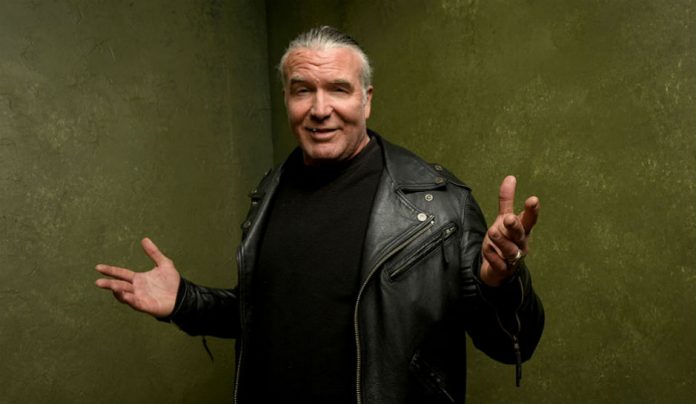 – Above is video of new dad Daniel Bryan talking about fatherhood after he and Brie Bella welcomed Birdie Joe Danielson into the world last month. The SmackDown General Manager admits that fatherhood has its ups & downs, and says his favorite thing about his daughter is how she smiles when he plays with her. Bryan also apparently has issues with changing diapers.
Bryan jokes that he's been teaching Birdie various wrestling holds when he's trying to keep her awake. He demonstrates the moves on their dog Winston. Bryan promises to check in with another fatherhood vlog in one month.
– 45th President of the United States and WWE Hall of Famer Donald Trump is celebrating his 71st birthday today. Today would have been the 58th birthday of Buzz Sawyer, who passed away in 1992 at the age of 32.
– WWE Hall of Famer Scott Hall received some attention on social media this week after posting a photo showing how in shape he is at age 58. The former Razor Ramon noted that he's not partying or traveling as much.
WWE even covered the photo on their website and wrote, "Hey, yo … Scott Hall is ripped! The WWE Hall of Famer and nWo cofounder turned heads on Twitter this past weekend when he showed off his incredibly transformed body. Hall, who credits much of his transformation to Diamond Dallas Page's DDP Yoga, had struggled with weight and health problems over the past several years, but has clearly turned the corner in a major way. WWE.com wishes him continued success."
You can check out the photo below:
Mote recent pic. Not partying or traveling as much pic.twitter.com/0iDhRj1bpn

— Scott Hall (@SCOTTHALLNWO) June 5, 2017