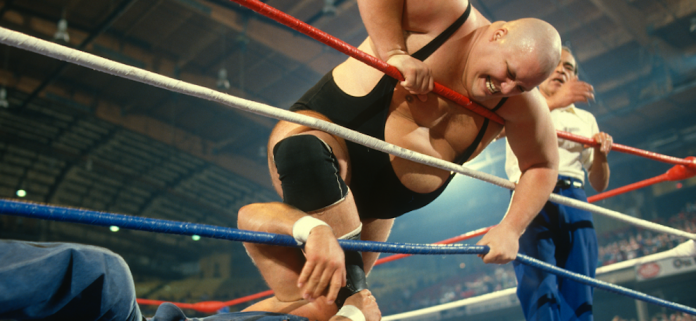 King Kong Bundy, one of the most prominent WWE Superstars of the 1980s and 90s, died this past week.
Wrestling promoter David Herro, a longtime friend of Bundy made the announcement Monday night on Facebook.
"Today we lost a Legend and a man I consider family. Rest in Peace Chris. We love you. Thank you for believing in me," Herro wrote.
The New York Times' obituary on Bundy says he passed away on Monday at his home in Glassboro, New Jersey. His death was confirmed by his sister, who did not specify a cause.
Considering that Bundy died at his home, his death appears to have been sudden. Furthermore, this tweet was sent out on Monday night at 9:27 p.m. promoting an appearance he was scheduled for next month in New York City.
I will be with @TheRealAlSnow at @wrestlecon at the @COLLARxELBOW booth. Advance autographs and photo ops at https://t.co/tBgyyvvKsI or contact @DavidHerro #FIVE #WWE #raw pic.twitter.com/LDUpHmwFcP

— King Kong Bundy (@RealKKBundy) March 5, 2019
While that tweet was probably sent out by someone other than Bundy, it's worth noting that his account 'liked' a number of fan tweets on Monday and in the days prior. A lot of the tweets were about him not being in the WWE Hall of Fame.
Bundy's age at the time of his death has been widely reported as 61-years-old (due to his listed age on Wikipedia, which is not sourced). However, according to his sister via The New York Times, he actually died at the age of 63 (born Christopher Alan Pallies on November 7, 1955, in Woodbury, New Jersey). Furthermore, their obituary is titled "King Kong Bundy, Gargantuan Professional Wrestler, Dies at 63."
There's no word yet on the circumstances behind Bundy's passing, although Mike Johnson of PWInsider.com said that "he had been dealing with some health issues of late." Dave Meltzer also said on Wrestling Observer Radio that Bundy "had major health problems over the years." He didn't elaborate on Bundy's health issues but indicated that it had to do with his weight, saying that he was still "very, very heavy."
At 6-foot-4-inches tall and weighing 458 pounds, Bundy was aptly nicknamed the "walking condominium" by Gorilla Monsoon. He was also known for demanding a five count, rather than a three count after he splashed his foes.
Bundy is best known for his two stints with WWE (1985 through 1988, and 1994-1995, which was then known as the World Wrestling Federation). He most notably wrestled in the main event of WrestleMania 2 in 1986, facing Hulk Hogan in a Steel Cage Match for the WWF World Heavyweight Championship. Hogan would win the contest, but Bundy's mammoth girth and devastating splashes came close to putting "The Hulkster" away for good.
After acknowledging Bundy's death with a graphic on SmackDown LIVE, WWE released this tribute video today looking back at his career.
According to The New York Times, his father was a railroad freight agent, and his mother worked part-time at a department store. He grew up in Washington Township, New Jersey and graduated from Washington Township High School before embarking on a career in professional wrestling.
Bundy started his career in 1981, wrestling for WWE — then known as the World Wrestling Federation — under the name Chris Canyon. He worked as a jobber before relocating to Texas the following year, where he adopted the moniker King Kong Bundy. He lost to Fritz Von Erich in Von Erich's retirement match at Texas Stadium in 1982. He then went to Mid-South Wrestling, adopting a gimmick where he would demand a five count instead of the normal three when pinning an opponent. He attributed the idea to Bill Watts, although it was actually Jim Ross while working for Watts, who came up with the idea.
Bundy joined the World Wrestling Federation in March 1985 and was given a monster push upon arrival. He dominated at the first WrestleMania event at Madison Square Garden in March 1985, defeating S.D Jones in just nine seconds (it was actually about 24 seconds). This remained the shortest match in WrestleMania history until March 2008 when Kane defeated Chavo Guerrero in a legitimate eight seconds at WrestleMania XXIV.
Another notable match in Bundy's career took place in March 1987 at WrestleMania III. Bundy was involved in a mixed six-man tag team match, teaming up with midget wrestlers Little Tokyo and Lord Littlebrook against Hillbilly Jim, The Haiti Kid, and Little Beaver. During the match, after being pestered by Beaver (which included Beaver elbowing Bundy in the stomach, delivering a dropkick which had no effect and later slapping Bundy in the face with his moccasin), Bundy finally caught him and body slammed Little Beaver and then delivered a big elbow causing his team's disqualification and his own tag partners to turn against him.
Bundy also formed a tag team with Big John Studd — largely to feud with Andre the Giant — and had another program with Hogan. In November 1987, Bundy defeated Hulk Hogan via count-out on Saturday Night's Main Event but lost to Hogan in a rematch on the next episode. Following the loss, he stopped appearing on the WWF's syndicated TV shows but continued working house shows until February 1988 (mostly losing to Bam Bam Bigelow), at which point he left the company.
After leaving the WWF, Bundy largely disappeared from wrestling until resurfacing in 1993 on some Eastern Championship Wrestling shows. Vince McMahon caught wind of Bundy's return to wrestling and brought him back to the WWF in the fall of 1994 as a member of Ted DiBiase's Million Dollar Corporation. Setting his sights on The Undertaker, Bundy stepped into the ring with "The Deadman" at WrestleMania XI. While the massive grappler proved to be a worthy adversary for Taker, he lost the match and became another victim of "The Phenom"'s legendary WrestleMania streak.
McMahon originally planned on giving Bundy a bigger push, but he was much slower and less impressive. His role was deemphasized following WrestleMania as he lost frequently on television, which rarely happened before. He left the company in October 1995.
After leaving the WWF, he often wrestled on the independent circuit as he headlined countless shows in the Northeastern United States (the number is probably in the hundreds). He continued wrestling through 2007, at which point he just stopped (apparently without having an official retirement match). His last match is thought to have been at the Pulaski County Fair in Somerset, Kentucky in a loss to "Hacksaw" Jim Duggan.
Bundy continued to make public appearances in recent years, with his last one taking place late last year at WrestleCade. He also attempted a post-wrestling career as a standup comedian.
Bundy is also known for some acting roles. In 1986, Bundy appeared in television commercials and print advertisements for the Vendex HeadStart personal computer. Bundy appeared on two episodes of Married… with Children, as the creators had named the lead characters "Bundy" as an homage to him. In 1987, he played Uncle Irwin, the brother of Peggy Bundy. In 1995, he appeared as King Kong Bundy, teaching Bud Bundy how to wrestle. In 1988, he appeared in the Richard Pryor film Moving as Gorgo, part of a trio of ex-cons who are insolent and careless movers. He also appeared as King Kong Bundy on a 1996 episode of Weird Science.
Bundy was part of a 2016 class-action lawsuit filed against WWE charging that wrestlers had received neurological damage from their work and had not been properly treated. The case was dismissed by a federal judge.