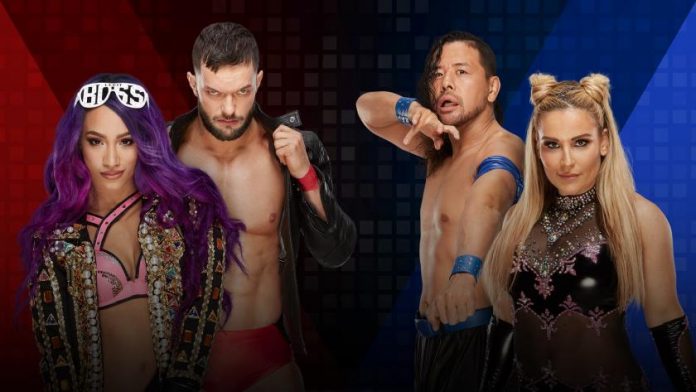 Now that all of the teams for the tournament have been announced, WWE has revealed the Mixed Match Challenge bracket and schedule.
Teams from Raw and SmackDown LIVE will face off against each other in the first round. It will begin with Finn Balor and Sasha Banks taking on Shinsuke Nakamura and Natalya, with one match scheduled for each episode. There will also be a "second chance fan vote" during week 11 where an eliminated team will get to re-enter the tournament during the semifinals.
Mixed Match Challenge debuts on Facebook Watch at 10 p.m. Eastern time next Tuesday. Each episode will be 20 minutes long, and Michael Cole, Corey Graves, and Beth Phoenix will be on commentary for the series.
Here's the bracket for the tournament:
Finn Balor & Sasha Banks vs. Shinsuke Nakamura & Natalya (week one)
The Miz & Asuka vs. Big E & Carmella (week two)
Winning teams face each other in week seven
Braun Strowman & Alexa Bliss vs. Sami Zayn & Becky Lynch (week three)
Goldust & Alicia Fox vs. Jimmy Uso & Naomi (week four)
Winning teams face each other in week eight
Elias & Bayley vs. Rusev & Lana (week five)
Apollo Crews & Nia Jax vs. Bobby Roode & Charlotte Flair (week six)
Winning teams face each other in week nine
The two semi-finals matches will take place in weeks 10 and 11 before the tournament concludes on the twelfth week.
You can also check out the bracket in this video.