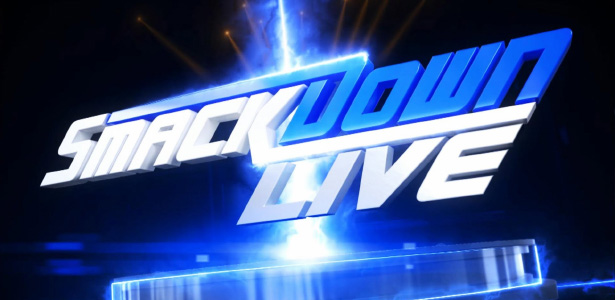 WWE SmackDown Results – January 17, 2017
– Tonight's WWE SmackDown opens with a promo for Becky Lynch vs. SmackDown Women's Champion Alexa Bliss in the steel cage.
– We're live from Memphis with Mauro Ranallo as we see the steel cage hanging high above the ring. Mauro is joined by David Otunga, JBL and Tom Phillips.
– We go right to the ring and out comes SmackDown Commissioner Shane McMahon.
Shane greets Memphis and they chant his name. He hypes the 30-man Royal Rumble main event and some of the participants, including Bill Goldberg, Brock Lesnar, The Undertaker, Braun Strowman, Dolph Ziggler, The Miz and others. Shane announces that the WWE Title will be defended inside the Elimination Chamber in Phoenix, AZ at the February 12th Chamber pay-per-view. The winner will go on to defend at WrestleMania 33.
WWE Champion AJ Styles comes out and he's not happy with Shane's announcement. He's never been in a Chamber match and now the title will be on the line. Shane points out how AJ still has to defend at the Royal Rumble against John Cena, before the Chamber. AJ threatens to take the title and go to Japan for good. The music hits and out comes John Cena to a mixed reaction. Cena goes to speak but AJ shuts him up and mocks him for his brother-in-law giving him a title shot. AJ tells Cena to stand there and shut up. AJ wonders who's coming to steal his spotlight next. The music hits and out comes The Miz with Maryse.
Miz rants on going to the main event of WrestleMania and walking out with the WWE Title and the Intercontinental Title. AJ says Miz hides behind his wife. AJ warns Miz to stay away from the title and the Chamber match. Miz says while AJ was in Japan growing his hair to look like the World's Next Top Soccer Mom, he was beating up John Cena at WrestleMania before beating up John Cena was cool. Miz goes on about what he's done in WWE. Cena says it sounds like Miz thinks he's better than AJ. AJ says last time they were in Memphis he knocked Miz's teeth out. AJ cracks a joke at Maryse and Cena eggs Miz on. They have words but Shane gets in between them. Shane makes AJ vs. Miz for right now. Shane's music hits as we go to commercial after a plug for King's Court.
– Back from the break and Shane McMahon runs into WWE Intercontinental Champion Dean Ambrose backstage. Ambrose says he should be in the Elimination Chamber and Shane says they will talk about it. Ambrose says he needs a new title belt because this one smells and is sticky because of The Miz. Ambrose brings up The Wyatt Family and says he wants Randy Orton tonight, just for fun. Shane makes the match.
The Miz vs. AJ Styles
We go to the ring and this non-title match starts. John Cena is on commentary. They lock up and fans chant for AJ.
Back and forth to start as they trade holds. They run the ropes and AJ nails a dropkick. AJ poses and taunts Cena. AJ takes Miz to the corner now. AJ with a backbreaker for a 2 count. AJ ends up going for the Calf Crusher but Miz makes it to the rope. AJ keeps control and goes for another pin attempt. Miz runs into boots in the corner. AJ goes to springboard in but Maryse gets on the apron and talks trash. Miz takes advantage of the distraction and knocks AJ to the floor. We go to commercial.
Back from the break and Miz takes control. He mocks Daniel Bryan with the corner dropkicks and a clothesline. Miz goes to the top but AJ catches him on the way down. AJ goes for a Styles Clash but Miz counters. AJ rolls him up for 2. Miz blocks another Clash attempt with a kick to the head. Miz gets in a cheap thumb to the eye and goes on to drop AJ with a DDT for a 2 count.
More back and forth and pin attempts. AJ sends Miz to the apron and nails the pele kick, sending Miz to the floor. AJ with a knee to the face from the apron. AJ grabs Miz and throws him into Cena. Cena runs in as the referee calls for the bell.
Winner by DQ: The Miz
– After the bell, Cena chases AJ out of the ring and stands there. Miz attacks from behind but Cena scoops him for the Attitude Adjustment. AJ springboards in for a Phenomenal Forearm but Cena counters and drops him. Cena's music hits as he hits the corner to pose. The referee checks on AJ as Maryse tends to Miz on the floor. Cena raises the WWE Title and hands it to the referee before leaving.
– Still to come, the steel cage title match. Nikki Bella is shown heading to the ring as we go to commercial.
– Back from the break and we get a quick look at female WWE Superstars in a new music video from Sophia Grace.
– Nikki Bella makes her way out to the ring to address Natalya. Nikki calls Natalya to the ring to finish what they started last week.
Natalya appears in the crowd and has something she wants Nikki to see. She tells Nikki to watch the big screen. Natalya goes back into the concourse and finds a WWE merchandise stand. She takes down some of Nikki's merchandise and refers to Bret Hart as her ex-uncle when she sees one of his shirts. Natalya gets upset because none of her merchandise is out there. She says Nikki and Bret are going to die alone. She picks up a bunch of Nikki's merchandise and starts throwing it in the trash. Nikki comes through a door and attacks Natalya. They brawl until security tries to break it up. Nikki slaps one of the guards and the brawl continues until they're separated.
– Still to come, Ambrose vs. Orton. Back to commercial.
– Back from the break and SmackDown Women's Champion Alexa Bliss is interviewed backstage. She's confident going into tonight's main event and calls Becky Lynch a human Chucky doll.
– The announcers lead us to Kurt Angle's 2017 WWE Hall of Fame video package.
Dean Ambrose vs. Randy Orton
We go to the ring and out comes WWE Intercontinental Champion Dean Ambrose for this non-title match. Back to commercial.
Back from the break and out comes Randy Orton with Luke Harper and Bray Wyatt. We see video of the issues between The Wyatt Family from last week. The bell finally rings and Ambrose goes for a roll-up. Orton kicks out at 1. They go at it and Ambrose nails a crossbody, then pounds on Orton. Orton goes tot he floor for a breather. Wyatt tells him to get back in. Orton regroups as Ambrose taunts him from the corner. Orton comes back in and they trade holds.
More back and forth. Ambrose takes control but Orton turns it around and starts stomping. Orton with a weak pin attempt as Harper and Wyatt look on. Ambrose fights out of a hold but Orton knees him in the gut. Orton runs into an elbow, then a boot. Ambrose goes to the top and nails a big elbow for a 2 count. Ambrose goes for Dirty Deeds but it's blocked. Orton goes to the floor but Ambrose follows. Orton kicks him. Ambrose comes back with a big clothesline on the floor. Ambrose warns Harper and Wyatt. Orton takes advantage and sends Ambrose into the ring post. Orton slams Ambrose's head into the announce table now. Orton slams Ambrose on top of the table as we go to commercial.
Back from the break and they're going at it. Ambrose floors Orton with a clothesline. Wyatt yells at Orton to get up. Ambrose comes back with forearms. Ambrose with another clothesline and a swinging neckbreaker for a 2 count. They trade shots in the middle of the ring now. Orton with a European uppercut and then a powerslam for a 2 count.
Wyatt calls for Orton to finish it with the RKO. Orton takes Ambrose up for a superplex but Ambrose knocks him to the mat. Ambrose jumps off the top but rolls through. The RKO and Dirty Deeds are blocked. Ambrose with the Lunatic Lariat for a 2 count. Orton blocks the bulldog and takes Ambrose to the apron for the second-rope draping DDT but it's blocked. Ambrose sends Orton to the floor. Harper helps him up but Ambrose nails a big dive on Harper. Orton catches Ambrose coming in and hits the draping DDT. Wyatt yells at Orton to finish Ambrose. Orton readies for the RKO but Harper comes in with his eye on Ambrose. Orton and Wyatt argue with him and he walks out of the ring. Ambrose takes advantage of the distraction and rolls Orton up for the win.
Winner: Dean Ambrose
– After the match, Ambrose retreats to the ramp as Orton looks on from the mat. Wyatt stares Harper down at ringside. Ambrose's music stops as he leaves. Fans chant for the RKO as Harper comes in the ring. Wyatt also come sin. Orton and Harper have words but Wyatt is between them. They still start brawling but Wyatt separates them. Harper comes back over but Wyatt punches him in the mouth. Harper says Orton did this. Wyatt backs Orton into the rope. Orton raises his hands and Wyatt turns back to Harper. Fans are still chanting for the RKO. Harper leaves the ring and points at Orton. Orton and Wyatt stare at each other to end the segment.
– We see the steel cage hanging above the ring.
– Dasha Fuentes is backstage with Becky Lynch. She's never ran from a fight and knows exactly who she is but tonight, we'll find out who Alexa Bliss is and it won't be a champion.
– Still to come, King's Court with Dolph Ziggler. back to commercial.
– Back from the break and out comes WWE Hall of Famer Jerry Lawler to a hometown pop. Lawler welcomes us to the first-ever "King's Court" on a SmackDown. Lawler goes on before introducing his guest and out comes Dolph Ziggler.
Lawler says he's known Ziggler for a long time but lately his goodness has faded more than the bleach in his hair. Ziggler just looks angry. Lawler goes on and believes Ziggler has been frustrated at not winning matches, and is hoping that his new attitude will win some matches. Lawler asks if that's what Ziggler is thinking but he still won't respond. Lawler shows us video of Ziggler attacking Kalisto with a steel chair last week after their match, then taking out Apollo Crews with a chair. Lawler asks Ziggler what happened. Ziggler raises the mic but doesn't speak. Ziggler walks off as fans boo. Lawler says he could've interviewed an oil painting and it would've been better than this. Lawler wants Ziggler to come talk.
Ziggler says he wasn't going to come out and play Lawler's game. He knew Lawler would try and make him look bad, try and dirty his name. Ziggler knew Lawler would try and do this because he brought some footage himself. He shows footage from a September 2012 RAW where Ziggler dropped elbows on Lawler before he had his heart attack. Ziggler says he knows Lawler blamed him for the heart attack and he should have. Ziggler says it took years for Lawler to be able to face him man to man but if he doesn't stop with the questions, Ziggler will finish what he started in 2012. Fans boo him. Fans chant for Lawler. Lawler says that's too bad because he has one more question… how does it feel to know you will always be a loser, no matter how many times you change your attitude? Ziggler turns around and superkicks Lawler in the chest. Ziggler leaves the ring as JBL runs in to help Lawler up. Lawler yells at Ziggler to get back in the ring if he has any guts. Ziggler walks to the back.
– We see Becky and Bliss backstage warming up.
– The announcers lead us to a preview for the new XXX movie. Back to commercial.
– Back from the break and The Wyatt Family graphic flashes. Bray Wyatt appears and announces that The Family will be in the Royal Rumble. He also announces Orton vs. Harper for next week. He says one will stand and one will fall but The Wyatt Family will be stronger.
Steel Cage Match for the SmackDown Women's Title: Becky Lynch vs. Alexa Bliss
We go to the ring as the cage is lowered. Becky Lynch is out first to a pop. SmackDown Women's Champion Alexa Bliss is out next as we go to commercial.
Back from the break and we get the bell. Bliss goes to escape but Becky stops her. Becky takes control but Bliss fights back. Bliss goes for the door again but Becky stops her. Becky runs into an elbow and then a boot. Bliss climbs up but Becky brings her back down. Bliss fights back and drops Becky. Bliss catapults Becky but she jumps on the turnbuckle and climbs the cage. Bliss grabs her leg. Bliss brings Becky down but misses a clothesline. Becky with arm drags and a dropkick. Bliss sends Becky into the turnbuckles and takes her corner to corner. Bliss with kicks in the corner now. Becky counters a move and rolls Bliss up for 2. Fans chant for Becky now. Bliss counters and climbs the cage but Becky comes after her. They end up on the mat as we go to commercial.
Back from the break and Bliss is in control. She works Becky over and covers for a 2 count. Becky goes for the door but Bliss stops her. Becky counters and slams Bliss into the turnbuckle. Becky ends up nailing a dropkick for a 2 count. Becky climbs to the top of the cage but Bliss grabs her leg. Becky comes back over to the top rope and they trade shots.
Becky kicks Bliss on the top rope. Becky nails a huge Bexploder suplex from the top but Bliss still kicks out at 2. A "this is awesome" chant starts up now. The door is opened but Becky stops Bliss from escaping. La Luchadora appears in the doorway and stops Becky. Bliss takes advantage but Becky gets her in the Disarm-Her. Luchadora enters the cage and hits Becky. Bliss nails a DDT for the pin.
Winner: Alexa Bliss
– After the match, Bliss takes her title from the referee as her music hits. Bliss yells at the referee to get out of the ring as we go to replays. The music stops and they double team Becky. Becky fights back and drops them both. Becky grabs the mask and reveals Mickie James. Becky is shocked. Mickie smiles and laughs. Bliss comes from behind and they attack Becky again. The music hits again as Bliss stands tall with Mickie and we go to replays. SmackDown goes off the air with Bliss and Mickie together.