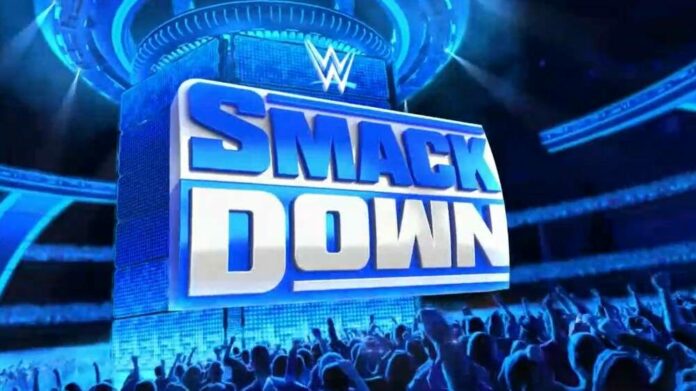 WWE SmackDown Results – January 27, 2023
Tonight's episode of WWE SmackDown aired live from the Sames Auto Arena in Laredo, Texas.
– The show opened with a recap of Monday's Trial of Sami Zayn, ending with Roman Reigns verdict.
– The Usos and Solo Sikoa were shown arriving at the arena, with Sami Zayn meeting Jey Uso before he entered the arena. Sami told Jey that he won't forget what he did on Monday and that if he ever needs anything, he can ask for it.
Rey Mysterio vs. Karrion Kross
They locked up with Kross, immediately slamming Rey onto the mat. Rey knocked Kross off his feet with a headscissors takedown, only to receive a lariat afterwards. He avoided a shot into the ring post, driving Kross head first into it. Rey hit Kross with a sliding sunset flip powerbomb into the barricade, as SmackDown went to commercials.
Back from break, Kross planted Rey with a backbreaker for a two count. During commercials, Kross caught a suicide dive, dropping Rey on the apron with a chokeslam. Rey blocked an avalanche back suplex, but Kross tripped him before he could follow up. Kross missed a shoulder strike in the corner, hitting the ring post. Scarlett grabbed Rey's leg, but he was still able to send Kross into the middle of the ropes. Rey blasted Kross with the 619 and a diving splash for a close nearfall. Kross nailed Rey with a Northern lights suplex, but he countered the follow-up with a crucifix pinfall for the win.
Winner: Rey Mysterio
– A recap of Austin Theory and Bobby Lashley's match with Brock Lesnar's interference aired. Theory made his way to the ring, as the show went to an ad break.
– A digital exclusive aired, with Damage CTRL declaring themselves for the Royal Rumble match.
– Back in the ring, Theory gloated about his title retention before claiming he would win the Royal Rumble. The New Day interrupted, with Kofi saying the only Austins he respects are Creed, Stone Cold and the city in Texas. Woods called Theory out for wasting time in the efficient show that SmackDown is. Kofi and Woods laughed at Theory's claim that he would win the Rumble, saying they would win it for everyone. Theory called himself the biggest star in WWE, only for The Miz to interrupt. Miz put over how much experience he has over Theory, saying he would win his first Royal Rumble.
– Miz and Theory attacked the New Day, only for Bobby Lashley to make the save. Lashley knocked Theory and Miz down before turning on the New Day. Lashley planted Miz with a flatliner and Theory with a Spear. He said that he would terrorize everyone after Lesnar cost him the title. Brock Lesnar appeared behind Lashley to drop him with an F5 and say he would see him at the Rumble.
– A digital exclusive aired, with Rhea Ripley saying 2023 is her year and she would win the Royal Rumble match.
Lacey Evans vs. Jazmin Allure
Evans tossed Allure across the ring before smashing her head on the mat. Evans knocked Allure down with a pump kick, followed by a strike to the leg on the ground. She kicked out of a roll up, immediately finishing Allure with the Woman' Right and the Cobra Clutch.
Winner: Lacey Evans
– After the match, Lacey Evans said she would throw 29 other women over the ropes. Evans dropped Allure over the ropes and out of the ring.
– At backstage, Kayla Braxton interviewed Drew McIntyre and Sheamus. Both insisted the other would win the Royal Rumble match while chopping their chest. Sheamus finished by saying they would send Hit Row back to Skid Row. 
– A video package aired, showcasing Cody Rhodes' recovery and training for his return at the Royal Rumble.
– The Viking Raiders attacked Sheamus and Drew McIntyre from behind as they made their entrance to the ring. They smashed both of their opponents into the barricade before blasting them with knee strikes and low crossbodies. Agents and referees arrived to check on Drew and Sheamus, as SmackDown went to a commercial break.
– Back from break, it was revealed that Sheamus and Drew McIntyre ran to the back to find the Viking Raiders. Adam Pearce informed Hit Row that they would face a replacement team. The replacement team was Braun Strowman and Ricochet.
Tag Team Title Tournament Quarterfinals
Braun Strowman & Ricochet vs. Hit Row
Ricochet nailed Adonis with an uppercut and a chop, followed by a running crossbody. Ricochet took Adonis out of the ring with a headscissors takedown and a dropkick. Dolla got in Ricochet's way, until Ricochet responded with an enzuigiri. B-Fab grabbed Ricochet's leg, allowing Adonis to nail him with a dropkick. Dolla pressed his knee on Ricochet's back, setting him up for a kick from Adonis and a punch from B-Fab. Adonis planted Ricochet with a body slam and an elbow drop, only for him to respond with a roll up. 
Ricochet evaded a back suplex, finally reaching Strowman for the hot tag. Strowman knocked Dolla off the apron and clocked Adnis with a big boot. Strowman hit Adonis with a splash in the corner before clotheslining Dolla out of the ring. Ricochet took Dolla down with a Tope con Hilo while Strowman finished Adonis with a Powerbomb.
Winners: Braun Strowman & Ricochet
– At backstage, Kayla Braxton interviewed Kevin Owens about his match tonight. Kevin said that he wanted to right a wrong from two years ago and would take care of as many Bloodline members as he could. The Usos tried to get into a fight with Kevin, but agents separated them, with Pearce telling the Usos to leave.
– As the Usos were leaving the arena, Jey made a call to ask for a favor.
– The lights turned off, as Bray Wyatt's old theme played in the arena. LA Knight made his way down the ramp, dressed as the cult leader version of Wyatt. LA talked about his face-off with The Undertaker and Bray Wyatt from Monday. He told Wyatt to better use all the advice The Undertaker gave him because his future would be torn up. Bray Wyatt showed up on the ramp, sitting on his rocking chair. Wyatt said that the time for talking was done and that at the Rumble he would find the man he was looking for. Wyatt told LA to joke all he wants because he'll see tomorrow night when the lights turn off. Uncle Howdy was seen watching from afar in the arena, as the show cut to commercials.
Tag Team Title Tournament Quarterfinals
Imperium vs. Legado del Fantasma
Kaiser and Wilde traded hammerlocks, until Wilde chopped Kaiser's chest. Kaiser planted Wilde with a lariat before giving Vinci the tag. Wilde landed on his feet off a back suplex, finding space to tag Cruz in. Cruz chopped Vinci, only for Vinci to knock him down with a clothesline. Kaiser blocked a diving strike from Cruz with a forearm strike before taking a cheap shot on Wilde. Cruz clocked Kaiser with an enzuigiri, reaching Wilde for the hot tag. LDF managed to send Imperium out of the ring, but they immediately responded with lariats, as SmackDown went to an ad break.
Back from break, Kaiser dropped Wilde with a suplex, following it with a Penalty kick. Vinci hit Wilde with a body slam, but he was able to take Kaiser down with a Tornado DDT. Cruz knocked Vinci down with a high crossbody and a headscissors takedown. Cruz cracked Kaiser with an enzuigiri, followed by a double dropkick on Imperium. LDF crushed Imperium with stereo Topes con Hilo. Cruz struck Vinci with an enzuigiri on the top turnbuckle and an avalanche hurracarrana. Wilde hit Vinci with a top rope splash, but Kaiser broke the pinfall at the last moment. Cruz sent Kaiser out of the ring with a hurracarrana, but he immediately responded with a body slam on the floor. Vinci put Wilde down with an avalanche body slam, setting him up for the Imperial Bomb for the win.
Winners: Imperium
– The latest version of the Royal Rumble: By the Numbers video package aired.
– A digital exclusive aired, with Xia Li threatening to win the Royal Rumble match.
– Earlier today, Sonya Deville interrupted Charlotte Flair's appearance in the Out-Of-Character podcast.
– Charlotte Flair met Adam Pearce in his office to ask for a match with Sonya Deville. They agreed to make the match official for next week.
Kevin Owens vs. Solo Sikoa
To start, Kevin and Sikoa exchanged shoulder tackles, with Kevin getting the upper hand. Kevin hit Sikoa with a senton before brawling into ringside. They smashed each other into the barricade, as Smackdown went to its final commercial break.
Back from break, Sikoa missed a hip attack, allowing Kevin to blast him with an atomic drop and a couple of clotheslines. Sikoa caught Kevin with a headbutt, but he blocked the Samoan Spike, hitting him with a DDT. Kevin climbed the top turnbuckle, but Sikoa stopped him, trying to hit a superplex. Kevin managed to knock Sikoa down and crush him with a Frog Splash, but Sikoa kicked out at two. Sikoa and Kevin traded thrust kicks, with Sikoa getting the upper hand after a Samoan drop. Kevin blasted Sikoa with a thrust kick and a corner cannonball, followed by a Swanton Bomb. Sami Zayn pulled Sikoa out of the ring before the three count, facing Kevin at ringside.
Winner: No Contest
– Sikoa accidentally blasted Sami with a thrust kick, allowing Kevin to smash him into the steel steps. Sikoa nailed Kevin with a steel chair, laying him out on the announce table. Kevin stopped Sikoa before he hit a diving splash, blocking a diving move with a thrust kick. Kevin put Sikoa down with a powerbomb on the announce table before sending him over the barricade with a chair shot. Kevin left the chair in front of Sami, leaving him unharmed. The show came to an end with Kevin Owens staring at Sami Zayn from atop the ramp.
Announced matches for WWE Royal Rumble:
30-Man Royal Rumble Match

Roman Reigns vs. Kevin Owens – Undisputed WWE Universal Championship

Bianca Belair vs. Alexa Bliss – RAW Women's Championship

Bray Wyatt vs. LA Knight – Mountain Dew Pitch Black Match

30-Woman Royal Rumble Match