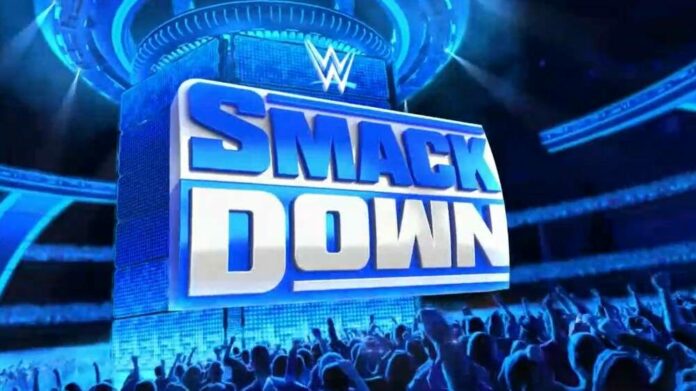 WWE SmackDown Results – November 18, 2022
Tonight's episode of WWE SmackDown aired from the XL Center in Hartford, Connecticut.
– The show opened with the reunited Brawling Brutes and Drew McIntyre making separate entrances. Sheamus grabbed a mic and reminded everyone of his 20-year rivalry. Sheamus called McIntyre a 'brooty' and that there is no one he would rather be in the trenches with than him. McIntyre said that if there is someone he would go to war with, it's his brother. Ridge screamed that tonight is Fight Night and Butch yelled that at Survivor Series is War Games.
-Mcintyre and Sheamus prepared to announce the fifth member of their team, until Sami Zayn interrupted. Sami said The Bloodline don't care about the last member and that they feel pretty ucey. Sami guarantees that The Bloodline will win War Games. He said that he would run through Butch and give him a taste of what will happen at Survivor Series. Sheamus said that Sami is going to crap his pants when he finds out who the last member of their team is.
– A recap of Mustafa Ali vs. Bobby Lashley from this week's RAW aired. A digital exclusive from earlier today followed, showing a doctor and Ricochet advising Ali against competing tonight.
WWE World Cup – First Round Match
Ricochet vs. Mustafa Ali
Ricochet immediately tried to pin Ali with various roll-ups and pinning combinations. Ricochet argued with the referee after attacking Ali in the corner, allowing him to blindside him with a forearm strike. Ali stopped Ricochet before he could go for a top turnbuckle move, and blasted him with an avalanche backstabber, right before a commercial break.
Back from break, Ricochet nailed Ali with a series of kicks to the chest and an uppercut. Ali managed to take Ricochet out of the ring with a headscissors takedown and a dropkick. Ali crashed into Ricochet with a Pescado, but he smoothly transitioned it into a Michinoku Driver. Ricochet climbed the top turnbuckle and went for a Phoenix Splash, but Ali moved out of the way at the last second. Ali immediately trapped Ricochet in a Koji Clutch, but he managed to put his boot on the rope.
Ricochet pulled Ali off the middle turnbuckle and blasted him with a German suplex, followed by a lariat and a springboard moonsault for a nearfall. Ali caught Ricochet with a snap roll through into a pin, but received a kick to the ribs shortly after. Ali dove off the top turnbuckle, hitting a Tornado DDT, only to miss a 450 Splash. Ricochet finished the match with a Shooting Star Press on a standing Ali.
Winner: Ricochet
– At backstage, Jey Uso confronted Sami about his claim that they would win War Games. Jimmy interrupted them, telling Sami to chill out.
– A recap of the Usos beating the New Day on last week's SmackDown aired.
– At backstage, the New Day got interviewed. Woods and Kofi said they were disappointed their record was over. Imperium interrupted, calling Woods and Kofi clowns and saying they would restore the honor of their sacred mat. They compared Gunther to Lurch from the Addams Family before challenging them to a six-man tag match.
– At backstage, Emma met Madcap Moss right before he went to the ring. Moss talked about getting humiliated a few weeks ago by Karrion Kross, while Emma gave him advice.
Karrion Kross vs. Madcap Moss
Moss immediately jumped at Kross with a forearm strike before stomping him down. Moss took Kross down with a suplex, followed by a running back elbow. Moss clotheslined Kross over the ropes before tossing him into the barricade. The moment they returned to the ring, Kross slammed Moss with a butterfly suplex, allowing Scarlett to slap him while the referee wasn't watching.
An angered Moss took Kross off his feet with a series of running clotheslines and shoulder tackles. Moss took Kross out of the ring after a fallaway slam, but got distracted by Scarlett at ringside. Kross nailed Moss with a knee strike as he entered the ring and tried to lock a sleeper hold. Moss slammed Kross down, but he immediately got up and tapped out Moss with the Kross Jacket.
Winner: Karrion Kross
– After the match, Emma ran to the ring to check on Moss.
– Bray Wyatt made his lengthy entrance. Wyatt said he's been conditioned to act a certain way and now change seems impossible. He said he was told that fear means respect, but looking at his path, he sees that it's covered in ash and blood. He said that if he was LA Knight, he would know how to handle this situation. Wyatt said he would like to apologize to LA for having a moment of weakness
– LA interrupted and said that Wyatt's apology leaves him conflicted. LA said that the fact he didn't fear Wyatt gathered him some respect. LA said that respect is worth more than money and that looking at Wyatt, he thinks he respects him. LA approached Wyatt and slapped him before saying that now the apology was accepted. Wyatt said there's a lot he would like to do to LA, but he's fighting his urges. Wyatt told LA that his next decision would be important and offered him a handshake. LA chose to slap Wyatt a second time before going backstage.
– A recap of Shayna Baszler assaulting Shotzi last week aired.
– At backstage, the Usos asked Karrion Kross if he was the fifth man and he would interfere tonight. Kross said that he would only confront them when he took Roman's titles.
Shayna Baszler vs. Shotzi
Ronda distracted Shotzi, allowing Shayna to get the upper hand with a forearm strike. Shotzi caught Shayna in an inside cradle, followed by a clothesline. Ronda tried to grab Shotzi's foot, distracting her and letting Shayna recover control. Shayna trapped Shotzi in an arm lock and slammed her down before she could break the hold. Shotzi surprised Shayna with a series of kicks, but Ronda pulled her out before she could continue.
Ronda tried to distract Shotzi, but she still nailed Shayna with an enzuigiri. Shotzi tried to confront Ronda, but was launched away with a German suplex. Shotzi took Shayna down with a dropkick, an inverted sling blade and an inverted cannonball into the ropes. Shayna drove Shotzi into the ring post and started choking her on the apron. Raquel Rodriguez made her entrance and faced Shayna. Shotzi evaded a stomp to the elbow and rolled Shayna up for the three count.
Winner: Shotzi
– At backstage, LA got interviewed and said he was not afraid of Wyatt before leaving the building. Wyatt's mask was briefly seen through the door before he left.
– Returning from a commercial break, LA Knight was found knocked out and buried under a pile of trash.
– The New Day revealed their partner would be Braun Strowman.
The New Day & Braun Strowman vs. Imperium
A brawl broke out in the ring as Braun made his entrance. Kofi dove off the top turnbuckle with the thrust fall, but Kaiser and Vinci caught him and slammed him on the apron. Gunther chopped Woods before he could dive onto Vinci and Kaiser. The bell officially rang and Gunther retreated to ringside, avoiding Braun in the process as SmackDown went to commercials.
Back from break, Woods tried to tag out, but Vinci slammed him down. Kaiser nailed Woods with a penalty kick and then knocked Kofi off the apron. Woods nailed Kaiser with a series of forearms and chops before finally reaching Braun to tag in. Vinci dove into Braun, but he tanked the strike before sending him out of the ring. Gunther chopped Braun, but it seemingly had no effect, leading to a chase at ringside. Braun slammed Gunther down with a spinebuster, but he kicked out. Kofi took Kaiser down with a high crossbody before tagging Woods. They nailed Kaiser with the Midnight Hour to pick up the win.
Winners: New Day & Braun Strowman
– At backstage, Braun immediately got interviewed and said he would be the one that faces Gunther. Ricochet interrupted and referenced Braun's tweets from a few weeks ago.
Announced for next week's SmackDown:
Braun Strowman vs. Ricochet

Sami Zayn or Butch vs. Santos Escobar

Shotzi & Raquel Rodriguez vs. Ronda Rousey & Shayna Baszler

Drew McIntyre & Sheamus vs. The Usos – War Games Advantage Match
WWE World Cup – First Round Match
Sami Zayn vs. Butch
Butch immediately took Sami down with a wrist lock, setting up a stomp to the elbow. Butch blasted Sami with a penalty kick, but he kicked out. Sami caught Butch mid air with a sit out powerbomb for a two count. Sami tossed Butch out of the ring, starting a face-off between The Bloodline and the Brawling Brutes. Butch cracked Sami with a Tornado DDT, followed by an enzuigiri. Sami shoved Butch off the top turnbuckle and into the barricade, as SmackDown went to its final commercial break.
Back from break, Butch caught a flying move with a forearm strike for a two count. Butch knocked Jey off the apron, but Sami immediately rolled him up. Jey blasted Butch with an enzuigiri while the referee was distracted, allowing Sami to get a nearfall with a Blue Thunder Bomb. The Brutes and the Bloodline started a brawl at ringside, with the Usos standing tall, until Butch crashed into them with a moonsault. Sami smashed Butch with an Xploder into the corner and prepared for the Helluva Kick. Sami couldn't complete his finisher after Jey's body was thrown into the ring. Butch nailed Sami with the Bitter End to advance to the next round.
Winner: Butch
– As soon as the bell rang, Sikoa jumped at Sami continuing the brawl. The Brutes team had the upper hand, until Roman Reigns arrived to make the save. Roman immediately took care of Ridge and Butch before facing McIntyre in the ring. Roman blasted McIntyre with a Spear after a distraction from Sikoa. Sheamus and Roman faced off before starting a forearm exchange, but Sami joined in to give his team the advantage.
– Roman prepared for the Spear, but stopped when Kevin Owens' theme played. Owens knocked both Usos out at ringside before starting a brawl with Roman. Owens started stomping Roman down, until he turned around and faced Sami. Roman nailed Owens with a Superman Punch, but he responded with the Stunner knocking down the Tribal Chief. The Brawling Brutes stood tall in the ring, as SmackDown came to an end.