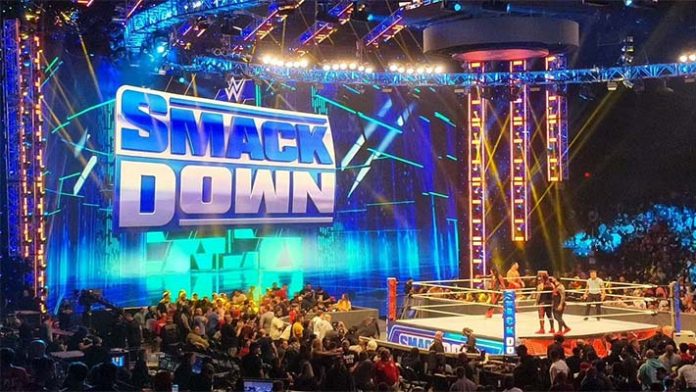 The first Smackdown after SummerSlam is coming to us from Greenville, South Carolina with our usual duo Michael Cole, and Pat McAfee. A recap of SummerSlam is shown, and when that concludes, we see the Usos arrive in an SUV, and they walk towards another SUV where Roman Reigns exits. This leads to a graphic which Roman Reigns will address Drew McIntyre tonight in regards to their Clash of the Castle title bout. Pat is then shown recapping his own match against Baron Corbin, this is pretty hilarious, he is such a great addition to this show! Baron is shown backstage watching the footage, while several wrestlers are laughing. This leads to a confrontation with Ricochet who is told by Corbin that he wants to wipe that smile off his face, in response, Ricochet says lets kick off Smackdown I'll head to the ring and this smile will be waiting for you. I'm happy to see Ricochet get some TV time!
Ricochet versus Baron Corbin
Ricochet comes out with a fury of offense from the start. A couple of punches, an enzurgri gets Corbin knocked out of the ring and Ricochet capitalizes with an over the top rope corkscrew moonsault. Corbin heads back to the ring, and Ricochet attempts a top rope crossbody, but Baron avoids it, does his patented run out of the ring via the turnbuckle and runs back in to deliver a devastating clothesline. Baron is looking at Pat, and Pat is shown clapping to him. Baron continues to dominate, as he does so, the crowd starts chanting McAfee.
Commercial break
As we came back from the break it was shown a pin fall by Corbin, and only a two count. Ricochet is able to land a top rope elbow, then follows that up with a standing shooting star press, a pin is attempted, but only a two count. Corbin takes advantage of the fact that Ricochet has gone aerial too many times and is able to land a neck breaker, he goes for the pin, but he only gets a two count. Corbin goes for a chokeslam Ricochet is able to reverse it for a hurricanrana, goes for the pin, and gets a two count. Corbin heads towards the corner of the ropes misses, Ricochet gets a sunset flip, goes for the cover, and only gets a two count. Ricochet gets thrown towards the ropes, Corbin gets the deep six to connect, and as he gets the cover for a two count he is seen staring at Pat. Ricochet now has Corbin by at the top ropes, he attempts the sunset flip power bomb, but Baron is not budging. Baron is able to use his strength to get Ricochet on the top rope, Ricochet landing some right hands to regain the advantage, when suddenly Baron throws Corbin off the top rope, and Ricochet lands on the top rope, and is seen on the apron while Baron is on the second rope. Baron can't seem to get Pat off his mind and is again seen jawing in the SmackDown commentator's direction, which allows Ricochet to split his legs, which causes Baron to land in between the ropes. Ouch! Ricochet hits the recoil, then immediately hits the shooting star press off the top rope for the victory. Great match to open the show!
Winner: Ricochet
After the match a replay of Pat celebrating is shown, he plays catch with the Ricochet with a football, he then kicks said football into the crowd. Man Pat can do no wrong.
A recap of the Ronda Rousey Liv Morgan match appears on our screen, and we are informed that Liv Morgan will address the controversial finish in that match. This leads to Micheal Cole telling us about Ronda Rousey being suspended for this week's SmackDown.
A graphic appears and it is a Gauntlet Match for a women's championship match at Clash at the Castle. Natalya, Raquel Rodriguez, Shayna Baszler, Sonya Deville, Shotzi, Xia Li, and Aliyah are all in the mix for this huge opportunity.
Sami Zayn is shown backstage approaching the locker room of Roman Reigns. I love him being an honorary uce.
Commercial Break
Images of SummerSlam flash on the screen.
Sami and the Usos are now on screen discussing the unbelievable performance in the tag match. Sami asks how Paul Heyman is after the F5 on the table, Jimmy says he needed a couple more days to recover. Sami wanted to congratulate Roman in person however he was denied by Jey, and saying now is not a good time.
Another segment is focused on the ending of Rousey Morgan. We got it, there was a tap before the three count.
Shinsuke Nakamura comes to the ring and Pat is going crazy for him as usual with the air guitar, humming his theme song. We are given a graphic of the match Nakamura is in against Ludwig Kaiser, and if Nakamura wins, he gets an Intercontinental championship match next week.
Commercial Break
We have the classic SmackDown moment of the week and it is one of my favorites! It shows Stone Cold blowing up the DX Express. I remember that whole episode of Stone Cold preying on DX, oh man that was great television!
Shinsuke Nakamura versus Ludwig Kaiser with Gunther
It was a bit of a stalemate at first then Ludwig gained the momentum beating him from one turnbuckle to the other. Nakamura is able to reverse, and hit the good vibrations. Shinsuke goes to the middle of the ring and tells Ludwig to come on! Shinksuke runs the ropes which Ludwig is able to get a reverse slam on the face of Nakamura.
Commercial break
Shinsuke is able to get back up and get the advantage again, and while he hit the german suplex off the rope, he is confronted by Gunther, they have a bit of an exchange, which Ludwig was able to dropkick Nakamura on the outside, but is able to recover and throw Ludwig back into the ring. Nakamura is looking for a Kinshasa, but instead is greeted by a european uppercut, and the pin, but only a two count. The competitors are back on their feet Ludwig hits a suplex that lands Nakamura on his neck, another pin attempt, and only a two count. Kaiser gets locked in an armbar for a brief moment, Ludwig gets out of it, goes for the pin, and a two count. Nakamura is able to get up, and land in Kinshasa for the victory. It felt like a brief ending to this match.
Winner: Shinsuke Nakamura
After the match Gunther goes into the ring to confront Nakamura, while Shinsuke attempts to touch the Intercontinental belt which is around the waist of Gunther. Gunther swats Nakamura's hand away, and then Shinsuke tells him to come on!
A video package of last week of The New Day versus The Viking Raiders from last week on SmackDown. Yawn!
Kofi is interviewed by Megan Morant backstage, and asks how Xavier Woods is and Kofi's response is that he is good and he is also in good spirits. Kofi also goes on to say that even though The Viking Raiders keep coming for them, they keep getting back up. He also realizes that he is by himself, but he also knows that in time, he'll have both Big E, and Xavier Woods with him. He also says that it is almost time for him to get some payback on The Viking Raiders.
A graphic is shown for Liv Morgan addressing the SummerSlam ending.
Commercial break.
More images of SummerSlam are shown.
Sami is again shown talking to the Usos as he is desperate to talk to Roman, but again is turned away, and is told he should play the role of Paul Heyman. He is told he should go to the production truck to make sure Roman's entrance will be perfect, which he agrees to.
A graphic for Roman Reigns addressing Drew McIntyre is once again shown.
Kayla Braxton introduces Liv Morgan.
Kayla immediately asks Morgan what has been going on in her head since the SummerSlam match ended. Liv tells us that she has been feeling so many different emotions. As she is speaking she is getting booed by the crowd. Interesting. The crowd chants you tapped out. Her response: I appreciate you all calling me out on my shit. She continues to say the belt means everything to her which is why she was able to withstand arm bar, after arm bar, after arm bar. Liv then admits yes that she did tap out, but only after she got the three count. Sonya Deville comes out to interrupt and says you can come out to this sad little innocent spiel which some may believe, cuz they are dumb. Sonya also says we both know you shouldn't be champion. The only saving grace is that Ronda was able to get her hands on her after the match. Sonya also says that Adam Pearce sucks at this job. Deville goes on by saying that she loves to see Liv hurt and heart broken, which is why she'll win the gauntlet match tonight, and beat her at Clash at the Castle and take away the thing she loves the most, the SmackDown championship. That was an absolutely great promo by Sonya. It was very captivating! Aliyah comes to start the Gauntlet match, Liv goes ringside.
Gauntlet match for a chance at the SmackDown women's championship at Clash of the Castle. Aliyah versus Sonya Deville versus Natalya versus Raquel Rodriguez versus Shayna Baszler versus Shotzi versus Xia Li
Sonya gets off to a hot start with a running knee, then goes a submission hold on the ropes and has to break the count to avoid a disqualification. Aliyah attempts a roll up pin, Sonya immediately kicks out. Deville has the upperhand with a spinebuster, which then leads to a chokehold that Aliyah is able to get out of. Aliyah lands a second rope cross body, she goes for the cover, and only gets a two count. Sonya is able to fight back and lands the Deville's advocate for the pinfall victory. Aliyah is eliminated
Raquel Rodriguez is the next opponent.
Raquel picks up Sonya and takes her to the corner and uses her shoulder as a weapon to her stomach, takes her back into the middle of the ring, gets a huge clothes line, the cover and only a two count. Raquel picks up Sonya, Deville is able to get out of harm's way, and does a chop block, plants Raquel face first on the mat, goes for the cover, only a two count. Sonya goes for a couple of headlocks to keep Raquel down. Roridguez is able to turn the headlock into a side slam. Raquel is able to use the ropes to her advantage by performing a spinning elbow splash. Raquel gets Sonya up for the Tejana bomb, and get the pinfall victory. Sonya Deville is eliminated.
Shotzi is out next and is shown walking to the ring.
Commercial break.
Shotzi has Raquel in a Black Widow as we are reintroduced to the action. Shotzi is really good. Raquel, however, is able to perform a fall away slam towards the corner of the ropes. Raquel again hits the top rope spinning elbow maneuver. The tejana bomb proves to work in her favor again as she gets the pinfall victory. Shotzi is eliminated. I need more Shotzi in my life!
Xia Li is next.
Xia wastes no time and hits a barrage of kicks. Li is going for the leg of Raquel so she can't perform her finisher. Xia goes for a cover, and gets a two count. Li has a half crab now. Raquel is fighting back on the hold, however Xia uses her entire body to damage the leg even more. Xia is not one to mess with, geez! I am not sure if Li should be performing/mocking slaps to Raquel to trash talk her as it appears to anger her and she is able to get open on both feet. Li goes for strikes to Raquel's head, both caught under Raquel's arm, and she delivers a headbutt. Li quickly kicks her in the stomach, goes against the ropes, only to be caught by Rodriguez and hits a fall away slam, and is able to connect with the spinning elbow off the top rope, connects with the tejana bomb, goes for the cover and get the pin fall victory. Xia Li is eliminated.
Natalya runs into the ring and goes for the sharp shooter, but Raquel gets out of that easily. Naty goes for a german suplex, but Raquel gets to the ropes and shakes her off to get separation. Natayla goes for the knee and works it real good. Raquel is able to get out of a submission but connected with a solid right hand, gets a vertical suplex in, goes for the cover, and gets a two count. Natalya gets the sharp shooter, Raquel gets to the rope. Rodriguez is against the corner of the ropes, and Natalya goes on the second rope for some fists to the face, Rodriguez is ready for her with the tejana bomb and the pinfall victory. Natalya is eliminated. Raquel is a beast!
Shayna Baszler is all that stands between her and Clash at the Castle.
Commercial break.
Baszler has a pretty good leg lock as the action continues. The leg gets stomped on and Liv's face is of concern. Shayna now has an arm lock, which Raquel gets out of. Rodriguez goes towards the corner, Shayna tries a splash on her, but misses, and Shayna tries to get a quick victory via a roll up pin, but Raquel kicks out. Shayna immediately gets a knee to the face, goes for the cover, and only gets a two count. Shayna is able to catch Raquel as she attempts that spinning top rope elbow, into a Kirifuda Clutch. This is the theme for the next few minutes as Shanyna is able to wear down Raquel, who gets the pinfall victory. Raquel Rodriguez is eliminated.
Winner: Shayna Baszler
After the match Shanya is on the top rope saying something to Liv Morgan, who is holding up her title high above her head, proudly.
Sami just won't quit as he is again shown knocking on the door of the Tribal Chief's door. He tells the Usos that everything is arranged for tonight and he needs to speak with Roman now. Sami is told that it is not going to happen, much to the dismay of Sami. Zayn asks if he is not an honorary member of the Bloodline. Jimmy gets in his face as says, Roman two belts, Usos four belts, and if you don't start pulling your weight around here, we're going to make you take off that shirt. The Usos walk away.
The Viking Raiders versus Jim Mulkey & Tommy Gibson
This was a quick match and it showed The VIking Raiders just dominating from beginning to end.
Winners: The VIking Raiders
After the match Kofi Kingston attacks The Viking Raiders get hit with a kendo stick. This sets up a match between Kofi and Erik
Commercial break.
Kofi Kingston versus Erik
Kofi is getting manhandled to start this match and Erik is treating him like Kofi owes him a large sum of money. Yikes. Kofi is getting back into the match as he hits a high crossbody, goes for a pin, but only gets a two count. Erik uses a full nelson to connect his knee to the back of Kofi's head, he goes for the cover, and gets a two count. Erik swings Kofi into the second rope, which Kingston lands on the second rope, turns around and does a missile drop kick. Erik attacks Kofi and misses and goes through the second rope, Kofi does a move over the top rope so now both competitor's are on the outside. Ivar has a kendo stick in hand, swings it only to connect to the steel stairs. Ivar and Kofi are now back in the ring and Ivar attempts a full nelson once again, this time Kofi gets the reversal and the roll up victory.
Winner: Kofi Kingston
I do NOT understand this, you have The Viking Raiders who look completely dominant in their tag match only to have Erik lose in a singles match. HUH?
It is announced that there will be a tournament to crown new women's tag team champions, which will begin this Monday on RAW. I am definitely excited about this. I love some of the past champions, and hopefully this tournament will get us our next great title holders.
The Bloodline is now out with their 80 minute intro.
Commercial break.
A video package of Gunther, and it advertised the match between him and Shinsuke Nakamura for the Intercontinental championship next Friday. I look forward to that contest.
Roman Reigns and the Usos hold all of their gold high above their heads as we get set to hear from our undisputed universal champion about the man who will be on the opposite side of him come Clash at the Castle. Roman asks for the microphone and asks Greenville, South Carolina to acknowledge him. After he then says you know the deal, we defend these titles, we win the big one, and we come back to SmackDown to brag about what we accomplished. He wants to address a few things before all of that is done. 1. Let's talk about Brock Lesnar. I hate him, but I respect. I hate him because he tried to kill the wiseman (Paul Heyman). He sends prayers to the wiseman and is interrupted by the number one contender for his belts Drew McIntyre. Drew, with mic in hand, states that our tribal queef will not talk until the show's end, and he can't wait to get his hands on him. He then asks the crowd if you want me to get my hands on The Bloodline, let me hear you scream. The crowd roars! Drew takes his shirt off and is ready for business! As he makes his way to the ring we hear the entrance music of Karrion Kross, who attacks Drew from behind as he is watching the titantron. Karrion Kross is back with WWE and Scarlett Bordeaux was at the top of the ramp for the distraction! Holy shit! Karrion Kross is back! Scarlett puts the hourglass in the ring, and turns it upside to symbolize that his time is running out. Tick tock! OH EM GEE!! I am super excited to see where this goes. Thank you Triple H for bringing him back!
This was a great and unexpected way to end the show. Roman has to contend with Drew, but also he has someone new, fresh to worry about. Oh, and Karrion's presentation was perfect! I'm so excited for this in the upcoming weeks!