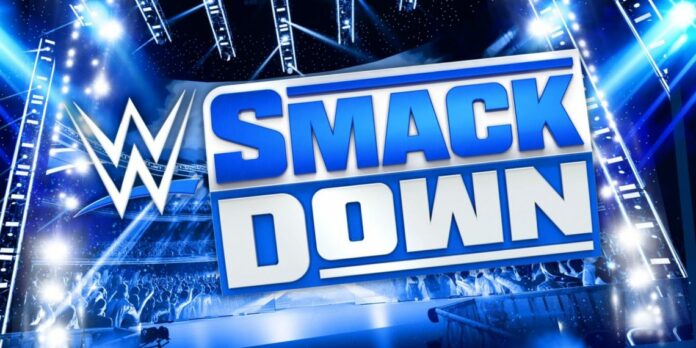 In this SummerSlam "go home" edition of SmackDown, from the State Farm Arena, in Atlanta Georgia (home of the NBA's Atlanta Hawks) the show is being commentated by Michael Cole, and my favorite Pat McAfee. Pat has brought so much to the product since sitting next to the veteran Cole, and it has been so damn refreshing to get some new blood in that chair.
As we're getting the introductions out of the way the opening contest is being announced. "Good Old Fashioned Donnybrook Match". The winner will receive a shot at the WWE Universal Champion at the "Clash of The Castle' premium live event scheduled to take place on Saturday September 3rd 2022 in Cardiff Wales at 1:00 pm est/10:00 am pst. for the first time in 30 years.
Drew McIntyre versus Sheamus "Good Old Fashioned Donnybrook Match"
Prior to the match starting we are shown a setup of what looks like a bar setup complete with a pitcher of beer in the middle of the bar, an Irish flag on the left and right side of the bar, three pictures, a barrel and huge flags along the barricade as well. It seems they are going all out. We are then told that the only way to win is by pinfall or submission, no count outs, no disqualifications.
As Drew McIntyre is making his way to the ring (without Angela which was banned from the match) Sheamus runs and attacks him from behind. I like that tactic, trying to get ahead of your opponent, with high stakes on the line. Brilliant idea! As the two make their way to the ring, they are beating each other up. Finally, they step in the ring for the match to start. They both go back and forth when Sheamus leaves the ring and grabs the shalalie. He attempts to use it, however Drew is able to retrieve it from Sheamus via a back suplex. Sheamus kicks Drew and clotheslines them both out of the ring. Drew gets the upper hand via some right hands and throws Sheamus over the commentator table. Drew hears the crowd's plea for a table, and grabs one from under the ring, however a recovered Sheamus is able to get in some offense to knock the table out of Drew's hand. The crowd is displeased by this and is vocal in their disapprovement. Sheamus mocks the audience, then proceeds to use the steel steps as a weapon against Drew. McIntyre is back in the ring while Sheamus sets up a table then goes back into the ring then proceeds to use the shalalie on Drew. He uses the weapon to perform "Ten beats of the valor" which turned into twenty beats, twenty hard shots. Ouch! Sheamus attempts to put Drew through the table, but Drew suplexes his way out of that predicament, and proceeds to throw Sheamus into one of the barrels. An image of McIntyre with an intense face is where we leave the match, prior to the first commercial break.
Sheamus and Drew are back in the ring as we get back from the commercial break. Sheamus gets his hands on a chair and proceeds to use it. Drew gets his way out of a 'White Noise" and mounts a comeback. McIntyre makes his way to the time keeper's area and retrieves six steel chairs and throws them all in the ring, which backfires as Sheamus throws one to Drew's face. It looked painful! With the advantage in hand, Sheamus again attempts white noise on the chairs, but it is reversed into a future shock ddt, by Drew, he goes for the cover, and only gets a two count. Ridge Holland comes in with the interference, Sheamus with a knee, and he also gets a two count. Holland, now on the outside of the ring, pulls Drew on the outside and attempts to ram him into the ring post, but Drew is able to reverse it, throw Ridge into the ring post, and also put him through the table. After this all occurs we head to our second commercial break.
Sheamus and Drew are on the top turnbuckle as we make our way back into the program, with McIntyre looking for a superplex. It was not meant to be since Sheamus has Drew split the top turnbuckle, but still manages to have Sheamus thrown from the top rope. Claymore is attempted but Sheamus rolls away, he connects on the Alabama Slam, covers Drew only for a two count. They make their way back outside the ring, Sheamus tries to throw Drew into the bar, it gets reversed and Sheamus goes face first. Butch comes flying in from off screen and performs a crossbody. The competitors are both back in the ring with Sheamus connecting on a white noise from the second rope, he covers Drew, and only gets another two count. Butch gets a "big ass shalalie", Pat's words, not mine, gives it to Sheamus who swings and misses, Drew gets the Glasgo kiss, picks up the weapon and goes ham on Butch and Sheamus. Drew is able to hit the Claymore on Butch only to turn around to get hit with a Brogue Kick, and a pin, and again another near fall. The look on Sheamus is of pure shock, and disbelief. Sheamus fires himself up and attempts another Brogue Kick, Drew catches him and puts him through the table set up in the ring. Sheamus is scrambling for a weapon, and that's when Drew hits Claymore on Sheamus, and gets the three for the victory. This match was a great way to kick off the show. Man, they put each other through hell, and then some. The crowd was chanting this is awesome throughout, and I agree 100 percent.
Winner: Drew McIntyre
After the match Kayla Braxton is in the ring for an interview and tells him it must feel good to go to your home to compete against the champion at Clash at The Castle. Drew acknowledges the hot crowd by saying "Hotlanta you have been rocking all night long!"Drew goes on to say that "it didn't have to be this way but someone needs to take that title off of that part time champion" Theory enters the ring and beats down Drew with the Money in the Bank briefcase.
A video package of Baron Corbin beating up Pat McAfee is shown from last week's Smackdown.
Immediately after the video package Corbin is shown as a ticket holder to the event, with a picture of Pat on a sign with it saying loser, and a bag of popcorn. Pat turns around to confront him, but Baron says you can't touch me since I have a ticket. This leads us to our next commercial break.
Corbin is yelling "Do your job!" at Pat McAfee as we get back from break, which then transitions into a video from Monday Night RAW when Seth comes out to beat down Riddle with a curb stomp on the steel steps which postpones their match scheduled at SummerSlam.
A recap of the SummerSlam card is shown.
After the graphic of Pat McAfee versus Baron Corbin is shown, Corbin gets in the face of Pat who also throws the popcorn at him. WWE officials are now ringside to get things under control, but Baron escapes an official and proceeds to deliver a kick to the groin. Pat is in obvious pain as the next commercials appear. I am really looking forward to this match after the series of sneak attacks are making me want Pat to beat him up.
Theory is backstage telling Kayla he is going to be a two time US Champion, and he can't help that other guys in the locker room are jealous of him. Theory then runs into Paul Heyman, and they walk together having a conversation.
Pat is shown back at the commentator's table as he tries to gut it out for the rest of the night.
Meanwhile Shotzi is in the ring as she awaits Aliyah for a match.
Shotzi versus Aliyah
As the match starts it is explained to us that the match was supposed to be Aliyah versus Lacy Evans, but Lacy is not medically cleared to compete so Shotzi spoke with Adam Pearce so she can get a measure of revenge on her opponent.
Shotzi has a momentary advantage and begins to trash talk Aliyah.
After some back and forth Shotzi has Aliyah in a Boston Crab, which Aliyah is able to reverse, and eventually kick out of. Aliyah is able to gain some ground with some right hooks, and a clothesline in the ring gets her a two count. Aliyah lands a meteora on the outside, only for Shotzi to throw Aliyah into the ring post. The action inside the ring as Shotzi hits the Never Wake up, gets the three count.
Winner: Shotzi
I really like Shotzi. I hope she gets more TV time. I feel like she is a great wrestler who has a bright future, if given the time to shine.
Sonya Deville versus Raquel Rodriguez is shown from last week's Smackdown.
A digital exclusive is then shown of Sonya getting beat up by Ronda Rousey who came out to make Sonya get out of the ring. Deville was on the mic previously saying no one can get her out of this ring.
Liv Morgan and Rousey are shown backstage face to face to hype up their match at SummerSlam. Natalya enters and tells Liv to enjoy your last seconds with the belt since she is responsible for her winning the belt in the first place. Sonya comes in to interject by saying that Ronda is the baddest woman on the planet, but attacks her during a commercial break. Ronda leaves, and we see Shotzi back in the ring with a mic laughing, but Ronda comes out to the ring and tells Shotzi to leave. Shotzi says "Oh hi Ronda!" Ronda then hits Shotzi with the Piper Pit then grabs mic, and says "Bye, Shotzi!"
Ronda continues on by saying "All of these chicks are complaining that they should be in the title picture" it also appears she is shouting out to a fan who was booing/heckling her by responding to them with "You shut up, and your mom failed you!" That was pretty funny. She calls out Liv by screaming "Let's show them why we're fighting for the title tomorrow night!"
Commercial Break
A video package of SummerSlam is shown coming back from commercials.
Paul Heyman is shown to have a segment later on in the evening.
Liv Morgan comes out.
Liv Morgan and Ronda Rousey versus Sonya Deville and Natalya
Ronda and Natalya start it off with both attempting to have submission holds in their favor. A take down in Rondas favor, a pin and only a two count. Sonya and Liv now command the ring with Sonya getting early momentum before Liv takes control and tags Ronda. Liv and Ronda have a verbal exchange then Liv tags in. Sonya immediately gains the advantage and has Liv against the ropes. Natalya gets the tag, throws the champion outside the ring and performs a suplex on the ring apron.
Commercial break
Sonya now in and has Liv on the ropes, hits the running knee, pin only gets a two count. Natalya has Liv in a headlock and mocking Ronda. Natalya tries for the sharpshooter, Liv gets out of it, hits a codebreaker, it looked like she was going to tag Ronda, instead goes for the cover, and gets a two count. Ronda is begging to get into the match as Morgan is on the wrong side of the ring getting double teamed. A tag has Sonya in the match, with a headlock on Liv. Morgan gets a moment to tag Rousey, with a step up enziguri on Deville. Liv goes to the corner to go for a tag, however Liv turns to Deville while Sonya gets the tag to Natalya who goes for the roll up pin and gets a two count. Morgan escapes a drop to hold from Natalya, goes to her corner, and Ronda tags herself in. Rousey starts beating up Sonya with a pipers pit, attempts an arm bar, but gets hit from behind by Natalya. Liv lands a couple of right hands on Natalya before hitting ObLivion. Rousey gets the ankle lock on Sonya.
Winners: Liv Morgan and Ronda Rousey
After the match Liv and Rousey have a staredown, with Liv holding the title high in Rondas face.
A video segment is shown of Money in The Bank of the Usos versus the Street Profits, and how it ended with Montez Ford's shoulder up on the pin by the Usos.
The Street Profits come out to the ring for "Referee Instructions" for the Undisputed Tag Team Championship match at SummerSlam.
Commercial Break
The Usos come to the ring
Jeff Jarrett come out with "something to say"
The Usos and The Street Profits ask if certain things will get them disqualified, Jeff rebuttals with "I only have one job, and that's to count the 1, 2, 3. But that's for tomorrow night. If tonight one of you is feeling froggy, then one of you can jump".
A brawl ensues between both teams as Jarrett tries to stay out of harm's way, but Jeff get's super kicked from Jey Uso. Jeff gets up and pushes both members of The Usos. They leave the ring and Montez Ford performs a moonsault over the top rope, and it shows the Street Profits standing tall, and Jeff Jarrett still recovering from the super kick.
The New Day come out for their match against The Viking Raiders
Commercial break
A photoshoot with the Maximum Male Models is shown
The New Day versus The Viking Raiders:
The Viking Raiders are pretty dominant in this match. Xavier Woods gets the tag into the match and begins to get a rally going for his team. Woods gets the hot tag to Kofi who gets some more offense in. A double power bomb from the Raiders for the three count.
Winners: The Viking Raiders.
After the match, the Viking Raiders grab chairs, and their shields and knock the hell out of Xavier Woods with said shield. They get Xavier Woods' leg in between a chair, and use their shields to inflict damage.
If I am being honest I do not understand this feud. I also noticed the crowd was not into this botched filled match. I hope both teams can move on from this.
Commercial break
Paul Heyman is now in the ring for a special address.
Paul states that Roman will be victorious after SummerSlam, this brings out Brock Lesnar. Brock intimates Paul and Theory attempts a sneak attack however Brock catches that and begins to beat Theory until he is out of the ring. Drew McItyre then enters the frame and hits Theory with a Claymore. A stare down between Lesnar and Drew closes the show.
All in all it was a good go home edition of SmackDown before a premium live event. The matches that needed to feel important, felt important. If I had to choose the match of the night I would easily choose the "Good Old Fashioned Donnybrook Match". It felt like a big fight, it felt like a war, and it definitely felt like a number one contenders match. My least favorite action of the night would have to be The New Day versus The VIking Raiders. I love both teams, but to me this rivalry is just not clicking. It is not clicking with the crowd either. I want to see both teams in new programs. My segment of the night was easily The Usos, The Street Profits, and Jeff Jarrett. I got hyped for this match after watching this. My final assessment of this show, it was put together really well. Happy SummerSlam!