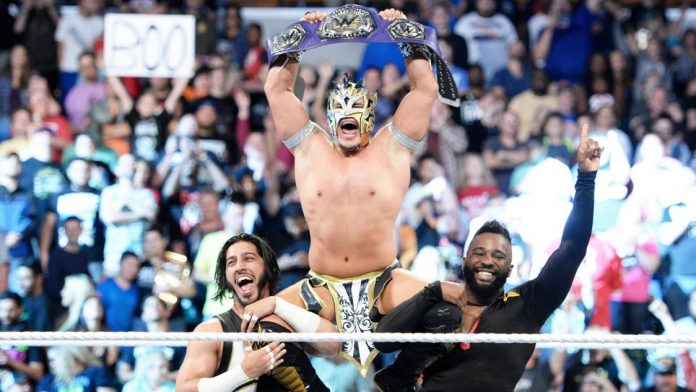 – Above is new video of WWE 2K18 Creative Director Lynell Jinks and game designer Ramelle Ballesca taking a look at the MyCareer and Road To Glory modes in the WWE 2K18 video game that hits stores next week.
– We noted before that the WCW Thunder and WWE Sunday Night Heat additions to the WWE Network had been put on hold indefinitely. PWInsider reported that the Thunder delay likely has to do with the royalties-related lawsuit from Buff Bagwell and Raven. There are now plans for the reality series era of WWE NXT to be added to the Network due to these two delays. You can expect to see the NXT content added after the World Class Championship Wrestling additions. WWE added 4 more WCCW episodes this week from 1987.
The NXT "Rookies & Pros" era featured Daniel Bryan's company debut as well as Bray Wyatt as Husky Harris, Konnor as Conor O'Brian, Fandango as Johnny Curtis, Ryback as Skip Sheffield, Curtis Axel as Michael McGillicutty, plus early looks at Wade Barrett, David Otunga, Darren Young, Heath Slater, AJ Lee, Kaitlyn, Alex Riley, Titus O'Neil, Naomi, Byron Saxton the wrestler and others. No word yet on how the content will be uploaded but there were 4 original seasons and a fifth "Redemption" season.
– WWE Cruiserweight Champion Kalisto and Darren Young will be attending the opening of HBO's New York Latino Film Festival tonight for the premiere of the "Saturday Church" movie. Young posted the following video on the movie and attending the premiere:
I'm so excited to be attending The @nylatinofilmfestival, presented by @hbo, with my amigo, the champ @kalistowwe for the premiere of the film #SaturdayChurch which is a drama/musical film that deals with #Transgender and #LGBT issues and it tells the story of a young boy growing up in the Bronx, struggling to come to terms with his gender identity. #nylff #nylatinofilmfestival #nyc #BLOCKTHEHATE #MEVSME #thedoubtersmademedoit thedoubtersmademedoit #strongerthanyesterday #nationalcomingoutday #theresroomforeveryoneatthefinishline