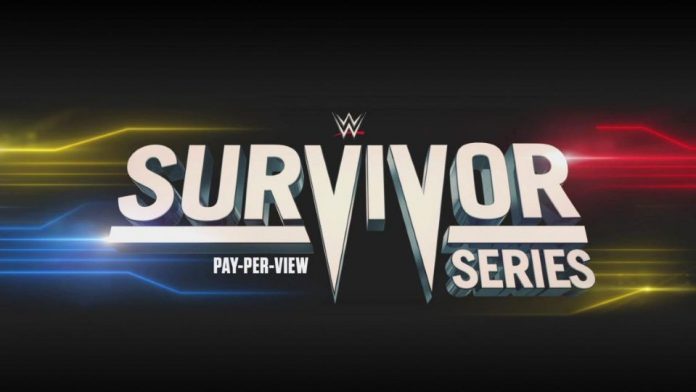 WWE Survivor Series Results – November 24, 2019
KICKOFF SHOW
The panel is Charly Carulos, Jonathan Coachman, David Otunga and Booker T. Otunga noted he was sitting in the crowd when the Series was held in the same venue in 1989.
They announced Becky Lynch vs. Shayna Baszler vs. Bayley will open the PPV.
They aired a video feature on that match.
Sam Roberts and JBL were at the entrance ramp putting over the history of the PPV.
They aired a video feature on Brock Lesnar vs. Rey Mysterio. Paul Heyman was interviewed backstage and said tonight is miracle or massacre. He said there are rumors Brock isn't 100% and tonight will be the night Rey pulls off a miracle. He said that tonight could be the massacre of Rey Mysterio, the likes of which WWE has never seen before or after tonight.
They officially announced a tag team battle royal with Raw, Smackdown and NXT teams.
They aired a video feature on last night's Takeover Wargames.
Shawn Michaels joined the panel. He announced Team NXT for the Elimination Match: Damian Priest, Matt Riddle, Keith Lee, WALTER, and Tommaso Ciampa
They discussed Adam Cole vs. Pete Dunne.
Cathy Kelley interviewed Adam Cole. He was asked if he feels 100% tonight after Wargames. He asked her to look at his week – Raw, Smackdown, a Ladder Match on Raw and now Wargames. Of course he isn't 100% but he's still Adam Cole, Bay Bay. He said Pete Dunne has never had a week like he has. The Undisputed Era is the measuring stick of NXT. He's going to treat Pete Dunne like a Raw or Smackdown star – he's going to show everyone what a definitive star looks like and that's undisputed.
They showed Shayna Baszler walking in the back with the Horsewomen.
Backstage, Bayley said her plan tonight is to do what she's been doing for several months, taking over every show. She's going to do that tonight on the biggest platform, Survivor Series. For years, she's been looked at as an underdog but she keeps it all in until its time for the match. It's different now and she's sick of it. Everything her opponents have coming tonight is their own fault. Everyone is the same target to her. Pin or submit one of the other, it doesn't matter. It's her night. Promo was just OK.
Tag Team Battle Royal: Dolph Ziggler & Robert Roode, The Street Profits, The O.C., The Revival, The Forgotten Sons, Zack Ryder & Curt Hawkins, Breezango, Lucha House Party, Imperium, Heavy Machinery
They had the Tag Team World Cup at ringside.
Everyone battled.
Steve Cutler of Forgotten Sons was first out.
Lince Dorado was out second, so Lucha House Party is kaput.
Everyone battled. In the end, it down to the Street Profits and Ziggler and Roode. Montez Ford hit a frog splash on Ziggler but was tossed over the top by Roode.
Your winners, Robert Roode and Dolph Ziggler.
It's Smackdown -1, Raw – 0, NXT – 0
They aired a commercial for 64th Man, a new comedy audio series starring John Cena.
Coachman said NXT got the first point. OOF!
Christian joined the panel. Lots of CM Punk chants.
They ran down the lineup for the PPV.
WWE NXT Cruiserweight Champion Lio Rush vs. Kalisto vs. Akira Tozawa
They all faced off and began brawling. Kalisto and Tozawa tossed Rush out of the ring but Kalisto then rolled up Tozawa for a near fall Lots of fast paced action with everyone being cut off just as they started to get some momentum going. Kalisto went for a springboard stunner but was caught by Tozawa. Rush drilled them with kicks.
Rush took control. Tozawa drilled him with a right hand. He went for a back suplex but Tozawa landed on his feet. Tozawa hit a leaping kick for a two count. Tozawa ascended to the top but Lio nailed him. Lio met him on the ropes but Kalisto returned to the fray. They all battled. Rush flipped off, nailing an inverted Spanish Fly off the top with everyone laid out.
Rush regained control, attacking each with punches and chops. Rush wiped out Kalisto with kicks. Tozawa nailed a back suplex for a two count but Kalisto attacked and stole the pinfall, almost getting a three count himself.
Tozawa nailed a shining wizard on Kalisto for a two count. Tozawa nailed a back senton splash for a two count as Kalisto broke it up. They went at it, shoving and slapping each other. Kalisto went for a handspring move but was caught. Kalisto nailed a Salina del sol but Rush slipped back in, nailed the Rush Hour and scored the pin.
Your winner, Lio Rush!
Good, solid bout.
Smackdown – 1, NXT – 1, Raw – 0
The panel began talking on Shinsuke Nakamura vs. AJ Styles vs. Roderick Strong when Sami Zayn showed up and said they cannot talk about that match without treating it with proper respect. They don't Nakamura as the artist that he is. Zayn respects Styles and Strong as tremendous competitors, but they are not artists or intellectuals like Nakamura. He complained the panel was talking about the match with the importance it deserved. They noted they were about to when he showed up. He said Nakamura has Sami Zayn in his corner, which is what makes him different. Booker remarked that Chuck D had Flavor Flav. They asked Sami if he even knew who Flavor Flav was. As a native NYer and a big Flavor Flav fan, this cracked me.
More CM Punk chants.
They interviewed New Day. Kofi said he's wearing Get Well Soon Xavier Woods gear. He said they wanted to see the hype about the Undisputed Era and War Raiders. You can't forget about New Day. Big E sid they are the greatest tag team in all of WWE.
WWE Raw Tag Team Champions The Viking Raiders vs. WWE Smackdown Tag Team Champions The New Day vs. WWE NXT Tag Team Champions The Undisputed Era
Bobby Fish had his knee taped and Kyle O'Reilly was limping from last night's War Games match.
Big E and Ivar bounced the Undisputed Era out of the ring. They slugged it out. Big E slammed him. E was tossed out of the ring by Undisputed Era. O'Reilly was double teamed by The Raiders. Fish got involved but was worked over. Erik slammed Ivar atop of Fish.
Kofi tagged in and drilled Erik with a series of right hands. He dropkicked Erik out of the ring. He worked over O'Reilly in the corner. The Raiders and New Day faced off and began brawling in the middle ring. Kingston was sent into the buckles but rebounded off with a dropkick. The Undisputed Era returned and attacked Kingston's knee. O'Reilly locked in a kneebar submission. Ivar broke it up splashing both.
It turned into a sequence of crazy moves with everyone hitting big kicks and suplex throws. O'Reilly and Kingston exchanged kicks back and forth on the apron. Big E went for a spear to the outside but everyone moves. The brawl moved to the floor with everyone battling. Erik slammed Ivar off the apron onto everyone else on the floor, taking them out.
A spent O'Reilly was tossed back into the ring by Erik . Erik drilled him with a right hand. O'Reilly fired back and began stomping away. Fish tagged in and began attacking him. Erik fired back. There were some stiff shots. Ivar nailed running splashes on Undisputed Era. O'Reilly accidentally nailed Fish. They rebounded with double team maneuvers on Ivar. Ivar fought back and went to the top rope.
Kofi came off the top with a bodypress but was caught by Erik. Big E hit the ring and killed everyone with suplexes. Erik nailed a dropkick on Big E, sending him into the buckles. Big and Kofi hit a double team stomp on Erik but Ivar broke it up. Big E lifted Kofi into a dive on the floor on everyone. Big E then speared Erik off the apron.
The Raiders hit a springboard suplex on Big E. Kingston missed Trouble in Paradise. The UE hit the Total Elimination on Kofi. Undisputed Era attacked The Raiders. The doubleteamed Ivar, then Erik. Ivar was kicked but muscled through it. He went for a double chokeslam but they fought him off. They went for the Total Elimination but he cartwheeled out of it. They came back to nail the Viking Experience on Fish and scored the pin.
Your winners, The Viking Experience!
Raw – 1, NXT – 1, Smackdown – 1
They discussed Daniel Bryan vs. Bray Wyatt,
By the way, no discussion at all over whether Kevin Owens has joined the NXT side.
They talked up the lineup for the PPV.
SURVIVOR SERIES
Team Raw: The Kabuki Warriors & Charlotte Flair & Sarah Logan & Natalya vs. Team SmackDown: Sasha Banks & Dana Brooke & Carmella & Lacey Evans & Nikki Cross vs. Team NXT: Rhea Ripley & Bianca Belair & Io Shirai & Candice Lerae & Toni Storm
Lacey Evans kicked down Sarah Logan and nailed Candice LeRae. They teamed to toss her out. Nikki Cross tagged in but was clotheslined down by Toni Storm. Logan suplexed Storm. Logan trash-talked her but Cross jumped on her back. Logan dropped back. Cross and Logan exchanged punches. Logan went for a suplex but Storm caught her and suplexed them both.
Dana Brooke and Carmella tagged in. Kairi Sane and Io Shirai, who were partners in NXT, tagged in. The crowd chanted for Io. They locked up and battled back and forth. Brooke came off the ropes with a senton on Io and covered her for a two count. Lacey tagged in. Candice and Asuka joined the fray. Candice nailed a back splash on Asuka and covered Lacey for a two count. Charlotte speared Io out of the ring. Sasha nailed the back stabber on Logan. The chaos continued.
NXT went to the floor to regroup. Io and LeRae were down hurt. Officials checked on them and walked them to the back. This left NXT down to three members, although they were not officially announced as eliminated.
Bianca Belair defeated Nikki Cross and eliminated her.
Carmella nailed a spinning takedown but was caught with the KOD. Carmella rolled to the ropes to save herself.
Bianca drilled Logan with a series of shoulderblocks in the corner. Logan came back to nail a double kneestrike on Ripley and Storm on the floor. Belair flipped Logan back into the ring. She nailed a standing moonsault but Natalya broke it up.
Belair went to the top and nailed a 450 splash on Logan, scoring the pin. Logan eliminated.
Belair faced off with Charlotte for the first time. Flair elbowed her way out of a waistlock. She rolled up Belair but Carmella kicked Flair and rolled her up for a two count. Flair hit her with a big boot off the apron but Belair rolled her up for a two count. Flair fought her off and nailed a big boot on her. She set up Belair and went to the top for the moonsault. Carmella got involved and went for a cartwheel into a move off the ropes. Flair caught her but it was still turned into a rana, sending her into Belair. Carmella tried to pin each but they kicked up each time.
Carmella kicked Belair in the jaw but scored only a two count. Flair nailed her with Natural Selection, eliminating Carmella.
NXT has 3 members left. Smackdown has 3 left. Raw has 4.
Kairi Sane, Sasha Banks and Toni Storm all tagged in. Sane drilled Storm with the insane elbow for a two count but Sasha caught her with a Meteora for a three count. Sane eliminated.
Asuka attacked Sasha and took her and Storm down with a double clothesline. She nailed Dana Brooke with a KO kick and pinned Brooke, eliminating her.
Asuka and Flair began arguing over strategy. Flair nailed her own partner. Flair began chopping Lacey. She did the strut but Asuka spewed mist in her face and walked off, leaving Flair blinded. Evans nailed the Women's Right and pinned Flair. Flair is eliminated.
This leaves Natalya alone for Team Raw. She attacked Evans and nailed a bulldog. Storm got involved but Natalya nailed her. Natalya rolled her up. Evans eliminated. This leaves Sasha alone for Smackdown.
NXT has 3 members left still.
Sasha locked Storm in the Bank Statement. Natalya locked her in the Sharpshooter at the same time. Storm had to tap.
Natalya and Banks doubleteamed Belair and beat her.
Banks and Natalya acted like they were going to work together, which made zero sense, but Banks attacked her and pinned her. That made Natalya look like a moron. Team Raw eliminated.
This leaves Rhea Ripley vs. Sasha Banks as the final competitors. The crowd came alive for this with back and forth chants.
Ripley took her down and nailed a dropkick for a two count. Banks caught her in a front guillotine choke. Rhea fought her way out. Sasha nailed a double knee strike. The crowd was strongly behind NXT. Banks went to the top for a move but was kicked as she came down. Ripley covered her for a two count. Ripley locked on a standing grapevine submission but Banks turned it into the Bank Statement. Ripley made her way to the ropes but was pulled back.
Io and LeRae returned to the ring and pulled Ripley to the ropes. Banks nailed them but was speared into the barricade. She slammed Banks into the apron of the ring. She brought Banks back to the ring and went for the Riptide but Banks slipped out and kicked her. Io shotgun dropkicked her off the ropes as Candice distracted the referee. Rhea nailed Riptide and scored the pin.
Your winners, Team NXT!
Survivors: Rhea Ripley, Candice LeRae & Io Shirai!
NXT – 2, Raw -1, Smackdown – 1
Really, truly enjoyable opener with everyone having a moment and lots of fun, first-time interactions. I could have done without the outside interference. Make the NXT brand as strong as possible. Plus, Io and Candice working together with these history is like Steve Austin working with Vince McMahon – just feels odd and out of place with history.
Backstage, Seth Rollins asked Kevin Owens about joining NXT last night. He said that NXT doesn't need him, but Raw desperately does. He said that he doesn't like Rollins questioning him and pointed out Seth's own history.
WWE United States Champion AJ Styles vs. WWE Intercontinental Champion Shinsuke Nakamura vs. WWE NXT North American Champion Roderick Strong.
All action early on. Nakamura kicked Styles early. Strong kicked Nakamura through the ropes to the floor. He tried to hit a backbreaker on Styles on the apron but Styles escaped. Styles sent Strong into the apron. He went for a springboard forearm but Nakamura cut him off and used his boot to smother Styles in the corner.
Nakamura suplexed Strong into the ring from the apron. He drilled Styles with a kneedrop, then kicked Strong, continuing to control the ring. Styles was placed across the top rope and kicked him in the gut. Strong came back with knees to the face and covered Nakamura for a two count. Strong locked on a back-wrenching submission on Nakamura. He dropped Nakamura down across his knee, but Styles hit the ring and locked on a sleeper on Strong.
Styles was caught with a series of running forearms from Strong. Styles comes back with a spinning backfist. Nakamura nailed Styles. Strong caught Styles and suplexed him, sending him into a Nakamura kick. Styles kicked up at two. He nailed a running knee for a two count but Strong broke it up. The crowd chanted, "All these guys."
Styles nailed an inverted DDT on Nakamura but Strong broke it up. Styles set up for the Styles Clash but Nakamura drove him into the buckles. They battled but Styles nailed a knee to the back of the neck for another near fall. AJ went for the Styles Clash but Strong attacked Styles with a kick to the back of the head. Sami Zayn pulled Nakamura out of the ring, leaving Styles and Strong. Strong began nailing a series of suplexes for a two count. Strong worked over Styles for some time and placed him on the top rope. Nakamura tried to get involved but was fought off. Strong went for a superplex but Nakamura leapt with a kick and drilled his knee. Nakamura covered him for a two count.
Nakamura went for the Kinshana but Styles grabbed his leg. Zayn went after Styles and smacked his head into the ring post. Strong nailed a running knee on Nakamura for a two count. Strong attempted a suplex but Nakamura drilled him. Huge CM Punk chant. Nakamura went for the Kinshasa, but Styles nailed the Phenomenal Forearm, hitting him. All three began striking each other with kicks and punches. Nakamura flipped Strong over and his knee landed on Styles' face. OUCH. Nakamura nailed the Kinshasa but Styles dove on the pile to break up the pinfall.
Styles and Nakamura faced off and began beating each other with strikes and punches. Nakamura came off the ropes with a Ryder Kick. He nailed a Michinoku Driver for a two count. Styles grabbed him for a Styles Clash but Nakamura kicked him to break it. Styles came back with the Phenomenal Forearm. Strong grabbed Styles and flung him out of the ring and pinned Nakamura.
Your winner, NXT North American Champion Roderick Strong!
Good match! Lots of good physical action and a believable series of competitive moves.
Styles was angry his win was stolen.
NXT – 3, Raw – 1, Smackdown – 1
Backstage, The Miz met up with Daniel Bryan, who was warming up. Miz said they don't like each other but they are competitors who have families. He said there are normal competitors but The Fiend feels like pure evil that cannot be stopped. He said that he hoped for everyone's sake, Bryan can put a stop to The Fiend. Bryan told him to get out of his face and continued preparing for the match.
They noted Mauro Ranallo blew his voice out last night and won't be on tonight's broadcast. Michael Cole is calling the NXT title bout. Get well soon Mauro!
WWE NXT Champion Adam Cole vs. Pete Dunne
Cole has his ribs taped. Dunne has his knee taped. The story is they are gutting through.
Dunne gained control early on, manipulating Cole's hand and fingers. Cole escaped and locked on a side headlock. Cole was caught with a big clothesline as Cole rebounded off the ropes. Dunne came off the ropes and stomped Cole's bad wrist.
Dunne went to the top but Cole knocked him off and began stomping away at him. Cole nailed a backbreaker. Dunne fought back but was dropkicked in the side of the knee. He kicked Dunne in the face but Dunne fired back with additional strikes Dunne caught him with an x-plex but was too hurt to capitalize and go for a pinfall. Dunne, now limping, fired away with rights and weeks. Cole reversed a whip into the corner but Dunne flipped out of the corner. He nailed a kick to the back of the head and drove him down with a sit-down powerbomb for a two count.
Dunne worked over Cole and went to the top, attempting a moonsault, only to find Cole pulled his knees up. Cole nailed the Last Shot knee strike for a two count. Cole set up for Panama Sunrise but Dunne moved out of the way. Dunne went for Bitter End but Cole cut him off and drilled him down for a two count. Cole missed the Last Shot and grabbed a crossarm breaker. Cole slipped out but was caught with the Bitter End. Cole kicked out at the last second.
Dunne began beating the hell out of Cole's chest with overhead chops. It was brutal. Dunne went for a moonsault but Cole kicked him in the face as he was in rotation, upside down. Dunne kicked out at the last second, which FINALLY woke the crowd up. They popped and chanted "NXT" loudly.
Cole went to the ropes for Panama Sunrise but was killed with a forearm to the face. Dunne nailed another sit-down powerbomb but Cole kicked up before the three count. Great stuff. They battled to the outside, where Cole hit the Panama Sunrise on the apron. Cole covered Dunne, who kicked out. Dunne grabbed Cole's fingers and snapped them. Cole countered a move with the Panama Sunrise and hit the Last Shot, scoring the pin.
Your winner and still WWE NXT Champion, Adam Cole!
This was just a tremendous match. The crowd was on their hands quiet after the last few matches but as they built the bout and went into the near-falls, they caught the imagination of the crowd and took them on a ride. Dunne and Cole each had stellar performances here.
The Undisputed Era came out to celebrate with Cole.
If the goal here was to showcase how great NXT is on a major show, they are well on their way.
They showed footage of a WWE-UNICEF event that took place celebrating World Children's Day over the course of Survivor Series weekend.
They showed Team Smackdown being instructed by King Corbin, although many of them weren't buying what he had to sell.
WWE Universal Champion Bray Wyatt vs. Daniel Bryan
Big "Let him in chant" for Bray before his entrance.
Bryan went right after Wyatt but was taken down and beaten as nothing fazed Wyatt. Bryan was knocked to the floor. Wyatt stalked him and sent him into the barricade. Wyatt continued beating down Bryan. He ripped at Bryan's neck, twisting it.
I try to keep personal thoughts out of the play-by-play but I fn' hate the red light for the match. I don't want to watch pro wrestling through an Instagram filter.
Bryan went back to the floor but when Wyatt followed, Bryan shoved him into the announcers' table. Bryan went for the running knee but was caught and almost hit with Sister Abigail's Kiss. Bryan escaped and nailed the running knee. Bryan went to the top and hit a dive to the floor.
Bryan tossed him back into the ring. He nailed several flying dropkicks but Wyatt kept returning to his feet. The crowd began chanting, "Yes!" but Bryan didn't play into them. He nailed the Yes Kicks into the chest but Wyatt just rose up. Bryan went back to the Yes Kicks again but the Fiend just rose to his feet. No matter what Bryan did, Wyatt shook it off. Bryan teased doing the "Yes" chant and and did it in the corner, nailing the running knee but Wyatt kicked up at two. That was the move Bryan pinned John Cena with. The crowd chanted for Bryan.
Wyatt rose behind Bryan, but he met him with punches. Bryan went to the top but was grabbed with the Mandible Claw. Bryan grabbed a hanging armbar off the ropes. The referee forced him to break it. Bryan went to the top but was nailed with a right hand as he came down. Wyatt went for Sister Abigail's Kiss but Bryan escaped and rolled him up for the two count. Bryan was caught in the Mandible Claw and pinned.
Your winner and still WWE Universal Champion, Bray Wyatt!
Lighting aside, it was a good match with a very clear good vs. evil story. At the rate they are going, Bray could be a legitimate Wrestlemania opponent for Undertaker. Bryan channeling the Yes Movement stuff was very enjoyable and he played a great babyface challenger against Wyatt. Another really enjoyable match.
At the risk of jinxing the show, I have to say this has been a very entertaining PPV thus far.
Rey Mysterio was interviewed backstage. He looked very solemn. He said that he can't believe that it's been 15 years since the first time he fought Brock Lesnar. Time has passed but some things never change. Brock never changed, but Rey has. Holding the pipe he's used in recent weeks, he promised he was going to do things the old Rey would have never done. He said that a few months ago, he was going to take off his mask and retire but he didn't because of his son Dominick. He said that in moments like this, he used to tell his son to look away. Tonight, he wants his son to watch closely as he uses the pipe to take Brock's legs out one by one. He's going to massacre Brock Lesnar and take away his WWE title. Good promo.
They aired a GREAT WWE TLC PPV commercial, a parody of holiday specials. I loved it.
Team Raw: Seth Rollins & Kevin Owens & Randy Orton & Ricochet & Drew McIntyre vs. Team SmackDown: Roman Reigns & Braun Strowman & Ali & Shorty G & King Corbin vs. Team NXT – Survivor Series Elimination Match.
BIG WALTER chant early. He, Drew and Braun were all in early. Braun got mauled. They stomped him down. Drew and WALTER then began beating the hell out of each other with chops. WALTER kicked him down, then hit a lariat on Braun in the corner. He caught Drew with a big German suplex, then went for one on Braun. Braun elbowed his way out of it but WALTER drilled him back. WALTER and Braun faced off. WALTER kicked him with a big dropkick but was nailed with the Claymore Kick and pinned.
The crowd HATED that and chanted "BULLSH***!"
Damian Priest entered and wiped out Drew with a lariat. He nailed Braun. Ricochet and Shorty G tagged in and they had some great back and forth sequences ending with Ricochet being hit with the Chaos Theory. Matt Riddle tagged in and locked up with G. They went back and forth and faced off. It was fun. Riddle kicked him. G tried to roll him up but Ciampa made the blind tag and kicked G in the face. Owens tagged in and hit a frog splash, eliminating G. The story was he could have gone after NXT or Smackdown and went after Smackdown.
Roman tagged in but Baron was mad and argued with him. That allowed Owens to superkick Roman and went for a stunner on Corbin, who escaped. Roman was killed with an Owens cannonball on the floor. He nailed a stunner on Corbin but upon entering the ring, was nailed by Ciampa and pinned. Owens eliminated. Orton docame behind Ciampa looking for an RKO but Ciampa saw him coming and clotheslined him over the top to the apron. Ciampa teased the hanging DDT but Orton escaped and drilled him.
Orton smashed Ciampa on the apron. He began unleasing the Garvin Stomp. Priest tagged in. Orton hit an RKO and pinned him. Priest eliminated. Riddle nailed a big knee strike and rolled up Orton, scoring the pin. Orton eliminated. He hit an RKO on Riddle on the way out. Corbin covered Riddle and pinned him.
Keith Lee and Braun Strowman faced off for the first time. Drew nailed Lee before they could interact. Braun clotheslined him and knocked Team Raw off the apron. Strowman ran around ringside, wiping out everyone on the floor with shoulderblocks. This time, Keith Lee charged at him and they crashed and burned, smashing into each other. Drew nailed Braun with a Claymore kick on Braun. Drew and Lee rolled into the ring. Braun was counted out and eliminated.
Ricocher hit some big dives, including one on Roman but was caught with End of Days and pinned by Corbin. Ali hit some big dives but Ciampa sent him into the ring post. Ali avoided it. Corbin got in his face for not listening. Ali shoved him away and returned to the ring but was caught with a stomp and pinned. Big CM Punk chant. It's down to Roman and Corbin for Smackdown. Drew and Rollins for Raw. Ciampa and Lee for NXT.
Drew nailed an Alabama Slam on Ciampa for a two count. He set up for the Claymore Kick but Roman speared Drew and pinned him, eliminating Drew. Seth Rollins is left on Team Raw. He rolled up Roman for a two count. Roman nailed the Driveby. Keith Lee was looking for a tag but Corbin blasted him off the apron. Corbin tagged in and began berating Roman. Roman had enough and hit the Superman Punch on his own partner and allowed Ciampa to pin him. Roman is last man on Team Raw.
Ciampa was beaten down by Roman and Seth. Keith Lee hit the ring and the former Shield members worked him over. The crowd booed that. Roman and Seth faced off. They dumped NXT from the ring and faced off. They went to the floor and set up putting Ciampa through an announcers' table. They set up the Shield powerbomb through a table but Lee charged and took them out with a big tackle. Lee went for a powerbomb of his own but Roman shoved him backwards into the ring steps,
Back in the ring, Ciampa nailed Rollins with Project Ciampa for a CLOSE two count. Ciampa went for the Fairy Tale Ending but Rollins slipped out and nailed a superkick. Ciampa avoided a stomp and nailed Rollins with a big knee. Ciampa was caught with a Superman Punch and a Seth stomp. Ciampa was pinned and eliminated.
Keith Lee is the last man left repping Team NXT. He stepped to Reigns and Roman, who even working togethger, were getting wrecked by him. Rollins escaped a Lee powerslam and nailed a series of superkicks. Rollins went to the top and hit a frog splash but Lee kicked out before three. The crowd loved that. Rollins began stomping his boot for the superkick but Lee caught him with a Jackhammer for the pin. Rollins eliminated!
It's down to Keith Lee vs. Roman Reigns. They faced off. Roman nailed a pair of Superman Punches but Lee kicked out at the last second. They teased the idea the ref made a big call and Lee was actually pinned. Roman set up for the spear but Lee caught him and hit a powerbomb for a CLOSE TWO COUNT. Lee missed a moonsault. Reigns speared him and pinned Lee.
Your winners, Team Smackdown!
Survivor: Roman Reigns!
A hell of a match and lots of shocking moments with NXT stars catching wins over legitimate top WWE stars, sending the message that they are on the same level. With this one match, WWE pretty much laid down the groundwork for their next generation of main eventers.
After the match, Lee bowed before Reigns out of respect and Roman, in return, paid him respect.
NXT – 3, Smackdown – 2, NXT – 1
WWE Champion Brock Lesnar (with Paul Heyman) vs. Rey Mysterio – No Holds Barred, No DQ
Heyman introduced himself in Spanish to mock Rey.
Rey didn't bring the pipe out. He went right for it under the ring at the bell. Lesnar went to the floor. Rey chased him but when he followed Brock into the ring, Brock cut him off. He clotheslined Rey four times. He tossed Rey to the floor rudely. He tossed Rey across and over one of the announcing tables. He hit an overhead belly to belly suplex into the table. He placed the Survivor Series sign that was across the table on top of Rey and jumped on it. He then ran Rey, back-first, into the ring post. It's been all Brock.
He went to do it again but Rey slipped behind him and shoved Brock into the ring post. Rey went to grab the pipe but Brock prevented that and hit a German suplex onto the pipe. OUCH! Lesnar lifted him and nailed another. Brock did it again.
Dominick Mysterio ran out with a white towel and hit the ring, trying to stop the fight. He wanted to throw in the towel but Brock threw it out of the ring. Brock grabbed him and the pipe but Rey lowblowed Lesnar. Dominick then hit a low blow. Rey began beating Brock with the pipe, smashing him with it. Dominick grabbed a chair and smashed Brock across the back. They hit stereo 619s, Dominick hit a splash. Rey hit a top rope frog splash. Rey covered Brock and Dominick piled on but Brock kicked out.
Rey and Dominick went to the top in opposite corners. Brock grabbed Dominick and hit a German suplex, then snatched Rey, hit the F-5 and scored the pin.
Your winner and still WWE Champion, Brock Lesnar!
Entertaining for what it was. Rey and Dominick teaming was the real money shot here.
WWE Raw Women's Champion Becky Lynch vs. WWE Smackdown Women's Champion Bayley vs. WWE NXT Women's Champion Shayna Baszler.
If Shayna wins, NXT is the victor. If Bayley wins, Smackdown ties with NXT. If Raw wins, NXT wins, as Raw is mathematically eliminated already.
Bayley knocked Baszler into Becky. They warded her off. Baszler drilled Becky with a right. Bayley and Baszler faced off. Baszler took her down and began mauling her with punches Bayley rolled through and they went to the floor before battling on the floor. Becky hit a dropkick off the apron on Bayley. In the ring, she nailed a leaping forearm and nailed a series of elbows. Bayley cut her off and stomped her. She hit a sliding kick on Baszler and kicked Bayley in the face. Lynch went to the top but was sent off by Bayley. Bayley went for a sunset flip powerbomb into the buckles but misjudged it and took herself out. Baszler attacked both and began working over Lynch's arm. Bayley got involved. Baszler went to attack but was sent into the buckles. Bayley stomped away and scored a two count.
Baszler took control and began stomping the elbow. Baszler nailed a running knee to the chest in the corner. She whipped Bayley into the opposite side of the ring but Becky nailed her. Becky drilled him but was caught with a kick to the face by Baszler. Bayley nailed a big clothesline on Baszler, sending her out of the ring. Bayley began stomping Becky and choked her against the ring ropes. Bayley and Becky battled. Bayley mounted her and nailed a series of rights. She began working oer Becky's back and scored several two counts.
Baszler returned to the fray but was nailed. Becky went to the top and nailed an Alabama Jam on Bayley but Baszler broke up the pinfall. Bayley was trapped in the Disarmher but Baszler kicked her in the chest. She nailed Becky with a big Gutwrench suplex. Bayley caught her with a knee and scored a two count. Bayley argued with the referee over the count, which allowed Baszler to overpower her. Bayley smashed her into the second rope and nailed a running knee.
Baszler used a double leg takedown and just beat her down. She nailed a suplex for a two count. They battled. Baszler put her in a Fireman's Carry but Beckty came off the top with a missile dropkick. My feed died. When it returned, Bazler and Bayley were battling on the top. Becky was kicked away. Bayley went to charge off the apron but was caught in the Clutch by Baszler. Becky nailed Baszler from behind and hit a powerbomb for a two count.
Becky went for the Disarmher but was caught in the clutch. Becky escaped and locked in the Disarmher. She slipped out and locked on the clutch again. Bayley charged but was backdropped over the top to the floor. Bayley was limping bad before being shot into the ringpost. Baszler nailed Becky with a knee strike to the back, sending her to the barricade. Becky was tossed into the ring steps. They battled on the floor with Shayna beating the hell out of Becky, sending her into one of the announcing tables. She slammed Becky from over the shoulders down on the table.
Bayley came out of nowhere with a clothesline and tossed Baszler into the ring. Bayley was trapped in the clutch but hit a back suplex to save herself. Bayley went for the flying elbow but was snatched into tbe clutch. Bayley finally tapped.
Your winner, WWE NXT Champion Shayna Bazler!
A good, solid match but given the crowd reaction, this wasn't the bout to close the night with.
After the match, Baszler stood over an unconscious Lynch laying on the floor. Lynch popped up and nailed her. She slammed Baszler atop the German announce table, then hit a legdrop off the barricade through the table. The show ended with Becky standing tall.
FINAL STANDING:
NXT -4 , Smackdown – 2, Raw –
NXT WINS SURVIVOR SERIES.
Credit: PWInsider.com