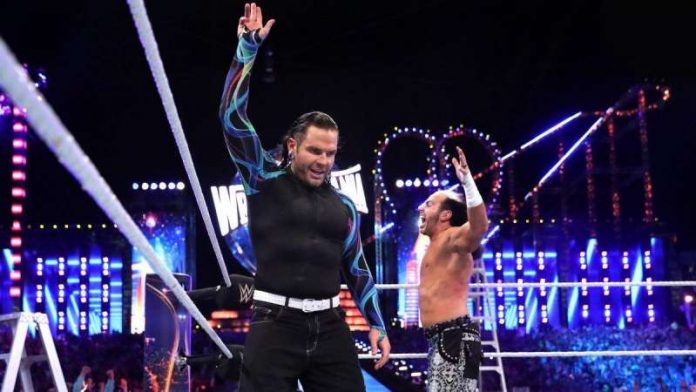 – We noted before how WWE UK Champion Pete Dunne retained his title over Trent Seven, BT Gunn and Wolfgang at Insane Championship Wrestling's "Shugs Hoose Party 4" event on July 29th in Glasgow, Scotland. ICW just released 22-minute video of the match, seen above.
– The Hardys, Carmella and Curt Hawkins will be in attendance for the New York Mets vs. Florida Marlins MLB game to promote WWE SummerSlam.
– WWE and Topps issued the following today:
The Topps Company and WWE Partner to Benefit 'Connor's Cure' to Support Pediatric Cancer Research

Topps will Create Limited Edition Trading Cards and Feature Autographed Cards of Triple H and Stephanie McMahon in Upcoming Products

(August 17, 2017; New York City, N.Y.) – The Topps Company today announced a partnership with WWE to benefit Connor's Cure, a charitable fund dedicated to supporting pediatric cancer research.

Topps, the exclusive physical trading card partner of WWE, will make a contribution to Connor's Cure, and create a special Topps NOW® card featuring WWE Chief Brand Officer Stephanie McMahon and WWE Executive Vice President of Talent, Live Events & Creative Paul "Triple H" Levesque. In addition, Topps will include McMahon and Levesque's autographed cards in upcoming Topps® physical and digital trading card products.

A special Topps NOW card featuring McMahon and Levesque will be offered exclusively on Topps.com, with proceeds going to Connor's Cure. The card will be available this Monday, August 21 along with other limited WWE Topps NOW cards featuring great moments from SummerSlam, all of which will be available for just 24 hours.

"We are excited to work with WWE to benefit Connor's Cure in a unique way through our exclusive trading card offerings," said Topps WWE Brand Manager Colin Walton. "WWE fans will get the opportunity to learn more about Connor's Cure and make a direct impact while owning a collectible for years to come."

Connor's Cure was established by McMahon and Levesque in honor of 8-year-old WWE fan Connor Michalek, who battled medulloblastoma, a rare tumor that affects the brain and spinal cord. Funds raised by WWE support Connor's Cure through The V Foundation's grant-making process.

Topps will also conduct a Live Digital Signing with McMahon and Levesque for authentic digital signatures to use in Topps SLAM, an official card trader app of WWE available in the App Store and Google Play Store. Fans can collect thousands of digital trading cards of their favorite WWE Superstars.