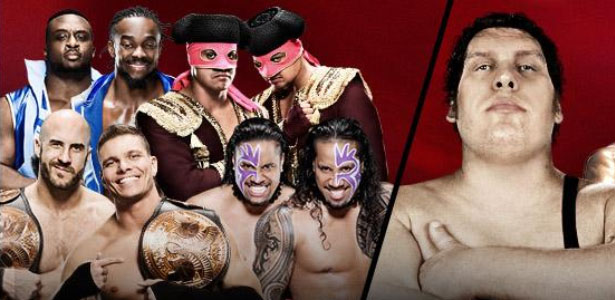 – The WrestleMania 31 Kickoff Pre-show opens on the WWE Network with the WrestleMania opening video from LL Cool J. We're live from Levi's Stadium in Santa Clara with Renee Young, Booker T, Byron Saxton and Corey Graves. We see many fans piling into the stadium. Saxton feels this is the most wonderful time of the year and sings it. Graves says this is a dream come true and there's no other place he would rather be. Booker has a copy of his new book and plugs it. Renee plugs the WWE Network. She talks about tonight's Fatal 4 Way for the WWE Tag Team Titles and Saxton plugs the Andre the Giant Memorial Battle Royal, saying there's more than 20 Superstars in the match. Renee says the match can really set the stage for someone's career. Booker says winning the battle royal would mean making history. He picks Big Show to win it. We go back to Tom Phillips in the Social Media Lounge. He plugs the #WrestleMania hashtag. Phillips will have WWE Hall of Famer Lita with him during the second hour. He leads us to a video package for John Cena vs. WWE United States Champion Rusev.
– We see Rusev backstage warming up. Lana appears and says something in Russian, apparently apologizing. She says she will never show compassion again. Rusev says something back and then says he will crush John Cena and America will die tonight. We go to break.
– We come back to the panel and Renee acknowledges that Lana is back after being away for a few weeks. Saxton doesn't think that matters. Renee leads us to a clip from John Cena's appearance on Jimmy Kimmel. Saxton says this is Cena's platform to show Rusev and the world that America can do anything. Graves doesn't believe Cena will be able to get past Rusev tonight. Eden is backstage knocking on Triple H's locker room. Kane slams his hand on the door and tells her this office is off limits. He tells her to leave and he's got to prepare for the battle royal. We go to a video for Sting vs. Triple H. The panel talks about the match. Saxton talks about seeing Triple H earlier and he looked like he was ready to do something malicious tonight. Saxton says if that is the case, Sting is in trouble. Graves says if Triple H loses tonight, it could hurt them all, the whole company. We see Joey Mercury and Jamie Noble backstage. Noble can't find the sugar for his coffee. The original Stooges Gerald Brisco and Pat Patterson appear and say they were using the sugar for Mr. McMahon. Noble gets an attitude but says they have to walk off because Seth Rollins needs them. Renee hypes one of tonight's musical performances as Saxton talks about Rollins vs. Randy Orton. We go to a video.
– The panel talks more about Rollins vs. Orton before going back to Tom Phillips in the social media lounge. We come back to Saxton talking about tonight's Fatal 4 Way for the WWE Tag Team Titles. Renee hypes the Andre Battle Royal. She leads us to a video with highlights from WrestleMania Week in the Bay Area. They discuss last night's WWE Hall of Fame and we see some clips from the Red Carpet. Graves says WWE really has taken over the Bay Area. We get hype for AJ Lee and Paige vs. The Bella Twins next. Graves says they both have the same enemy but also have the same common goal – the Divas Title. Booker says they hate each other. We get a video for Bray Wyatt vs. The Undertaker next. Saxton says Wyatt may be in over his head. Booker says Wyatt has talked a great game but now it's game time. Graves believes Wyatt may take his seat on the throne tonight. Renee plugs Aloe Blacc singing America The Beautiful tonight. She also plugs the Fatal 4 Way again. Renee brings up Roman Reigns vs. Brock Lesnar next. We see Lesnar making his big announcement about re-signing on ESPN earlier this week. Booker says Reigns is going to push Lesnar to the edge tonight. We get more discussion and a video package on the match. Graves says it has the big fight feel and he can't wait. Booker says this is one of the top ranked matches in WrestleMania history. Renee wraps up the first hour and it's time for some matches.
Fatal 4 Way for the WWE Tag Team Titles: The Usos vs. Los Matadores vs. The New Day vs. Cesaro and Tyson Kidd
We come back and Renee sends us to ringside. Michael Cole is joined by JBL and Jerry Lawler. They hype the show and out comes The Usos and Naomi as fans are still filing into Levi's Stadium. Lilian Garcia does the introductions. Los Matadores are out next with El Torito. Kofi Kingston, Big E and Xavier Woods are out next and ready to get filthy they say. Big E and Kofi will be representing The New Day in this match. WWE Tag Team Champions Cesaro and Tyson Kidd with Natalya are out next to a pop.
Cesaro and Kofi start things off and they go at it. Back and forth until Kofi hits a dropkick. One of the Matadores tags themselves in. Cesaro takes Jey Uso and tosses him into the barrier. He goes down and Cole thinks he's hurt. Kofi and Fernando go at it now. Kofi drops him for a 2 count. Trainers check on Uso at ringside. Los Matadores double team Kofi and Diego mounts him with right hands. Cesaro tags himself in as we see Uso being helped away. Cesaro keeps Kofi grounded now.
Kidd tags in with the double team after Cesaro hits a Cesaro Swing for a 2 count as Matadores break the pin. Kidd keeps Kofi grounded in the ring. Jimmy Uso is back on the apron and will be going at it alone. Jimmy tags in and unloads on Kidd. Uso with a big superkick and more offense. Uso with a big Samoan Drop. Cesaro comes in but Uso takes him out. Uso hits everyone with superkicks. Uso hits the Rikishi splash on Cesaro, Kidd, Fernando and Big E. Kofi ducks a superkick and leaps out onto one of the Matadores on the floor. Uso drops Kidd for a close 2 count. Uso ends up sending Kidd to the floor but runs into a big uppercut from Cesaro. Big E had tagged himself in and he splashes Cesaro and Uso at the same time. Big E and Kofi with a big double team on Cesaro for a close 2 count. Cesaro with another uppercut on Kofi. One of the Matadores tag in. Cesaro suplexes Big E in from standing on the apron. It's chaos as we gt several tags and double teaming. Matadores double team Kofi for a 2 count as Kidd breaks the pin. Kidd puts Natalya in the way as a shield and takes out one of the Matadores. Xavier Woods and El Torito get involved. Torito sends Woods into the barrier. Natalya puts Torito in the Sharpshooter on the floor. Naomi runs the ropes and leaps out onto everyone. She and Natalya have words and she hits Natalya with the Rear View. Big E and Kofi double team one of the Matadores for a close 2 count as Uso and Cesaro break the pin. A big brawl breaks out now. One of the Matadores pins Big E but the referee says Big E isn't legal. They keep fighting any way. Big E tosses the Matadore with a suplex. Big E goes for a double Big Ending on Kidd and Fernando but Uso superkicks them. More chaos. Kidd throws Fernando into Cesaro's uppercut. Kidd eats Trouble in Paradise. Cesaro with an uppercut on Uso.
More double teaming and chaos as the referee can't know who is legal. They do a huge multi-man double suplex out of the corner to a big pop. Uso splashes Big E but Cesaro tagged himself in on Uso's leg. Cesaro pulls Uso out of position for the pin and steals it for the win.
Winners: Cesaro and Tyson Kidd
– After the match, we get replays as the champions celebrate in the ring with Natalya and the others try to recover.
– We go back to the panel to discuss the match. Booker says The New Day brought it. We go back to Tom Phillips in the social media lounge and he's joined by Lita for some Twitter questions. Lita says she might be Team Bella tonight. She also plugs her Team Bestie Tour with Trish Stratus. She says they have been in talks with WWE for a possible Network show and seems open to a tag match against The Bella Twins in the future. We go back to the panel for more discussion and Renee hypes the Andre the Giant Memorial Battle Royal. We see video of ESPN's Jon Gruden predicting the match.
Andre the Giant Memorial Battle Royal: Konnor, Viktor, Kane, Big Show, Darren Young, Titus O'Neil, Jack Swagger, The Miz, Ryback, Curtis Axel, Fandango, Adam Rose, Zack Ryder, Erick Rowan, Sin Cara, Damien Sandow, Goldust, Mark Henry, Heath Slater, Hideo Itami

We go to the ring and it's filling up with Superstars. The bell hits and everyone goes at it. Axel stops things and everyone looks on as he tears his Axelmania t-shirt to a pop. He turns around and everyone picks him up and gets surfed around, then tossed to the floor. Axel is eliminated.
Big Show works on Titus in the corner. Goldust and Darren Young go t it. Henry goes at it with one of the Matadores. Ryback grabs Itami but he fights him off. Bo Dallas is fighting out of the corner. Adam Rose and Fandango eliminate themselves off the apron. Big Show chops Itami. Sandow eliminates Alex Riley. Zack Ryder takes out Heath Slater and goes for the Broski Boot but Bo eliminates him. Bo goes nuts at eliminating Ryder and jumps over the top rope, eliminating himself. Bo doesn't realize it as he runs around the ring to celebrate. Bo runs back in the ring and maybe he didn't go over the top. Itami unloads on Bo and sends him over the top. Bo is now eliminated. Itami unloads and gets chants but Big Show throws him to the apron. Show knocks Itami to the floor with a knockout punch and fans boo. Itami is eliminated. Kane eliminates one of the Matadores. Cesaro eliminates Sin Cara.
Tyson Kidd gets eliminated. The Ascension double team Henry and eliminate him. They double team Ryback now and the go to work on Big Show and Titus. Fans chant for Sandow, who is working together with The Miz. Goldust works on Young. Konnor knocks Big Show down. Uso and Cesaro go at it. Ryback eliminates The Ascension at the same time.
Ryback eliminates Young after a Meathook. Ryback tosses Slater over the top next. Titus runs over Ryback and barks. Titus misses in the corner and Ryback eliminates him. Ryback with Shellshocked to Swagger. Swagger is eliminated by Big Show. Kofi, Woods and Big E unload on Big Show. Big almost eliminates Show but he hangs on. The New Day keeps hitting him but Show tosses Big E and eliminates him. Show eliminates Woods with a knockout punch. Show eliminates Kofi next. Rowan beats down Show in the corner now.
Fans chant for Sandow some more. Big Show eliminates Rowan. Ryback runs over Show. Ryback eliminates Goldust. Ryback goes for Shellshocked on Show but Kane makes the save. Kane with a double chokeslam on Miz and Sandow. Kane goes to toss Cesaro but he hangs on. Cesaro crawls back in and scoops Kane. Kane is eliminated by Cesaro. Fans chant for Cesaro now. Uso is eliminated by Big Show. Cesaro and Show go at it now. Cesaro scoops Show up but can't keep him up. Show eliminates Cesaro to boos from the crowd. Show raises his hand but turns around to Ryback with a spinebuster. Fans chant for Ryback but he runs into a choke from Show. Ryback gets eliminated. It's down to Sandow, Miz and Show as fans cheer.
Miz gives Sandow orders as Show watches from his corner. Fans chant for Sandow. Sandow shakes his head "no" at Miz and the crowd pops. A "yes!" chant breaks out as Miz tries to talk Sandow into getting on the same page. Fans boo The Miz. Miz loses his cool and starts talking trash to Sandow and yelling at him. Miz puts his hands on Sandow and he gets pissed. Sandow says he quits and tosses Miz over the top rope. Miz is eliminated. Sandow yells at Miz from the ring. Miz jumps back on the apron but Sandow knocks him off. Referees order Miz to the back but he tries to go back to the apron. Miz throws a fit as Sandow is left in the ring with Big Show. Sandow turns around and realizes this. Show walks up on Sandow and laughs. Show opens his arms and challenges Sandow to bring it. Sandow with a forearm. Sandow unloads. Show tosses him over but Sandow hangs on and pulls himself back in. Sandow unloads again and backs Show into the ropes. Sandow with a clothesline but Show runs over him with a shoulder block. Fans boo. Show charges but Sandow ducks. Show goes over the top but barely hangs on. Sandow bites his hand and stomps but Show falls to the apron. Sandow bites the fingers again but Show fights his way back to his feet. Sandow rocks him and bounces off the ropes. Show grabs him by the throat and comes back in the ring. Sandow manages to get a submission locked and Show starts fading. Show comes up out of nowhere and powers out of the hold by tossing Sandow to the floor for the win.
Winner: Big Show
– After the match, Show's music hits as we go to replays. Show goes to ringside and grabs the Andre the Giant Memorial Battle Royal trophy. It's heavy but Show manages to hoist it up for his WrestleMania moment.
– We go back to the panel for more discussion and hype for tonight's pay-per-view. Booker "told us so" with Big Show winning the battle royal. The Santa Ana winds are blowing in as we hear the fans getting rowdy in the stadium. Renee reveals the IC Title Ladder Match will open the show and we go to a video package for the match that's narrated by Graves.
– We go to ringside to the announcers as ladders are being set up around the ring. Eden introduces WWE Hall of Famer Pat Patterson and he's in the ring. Patterson hangs the Intercontinental Title belt as we wrap up the pre-show.
LIVE WWE WRESTLEMANIA 31 RESULTS COVERAGE IN PROGRESS