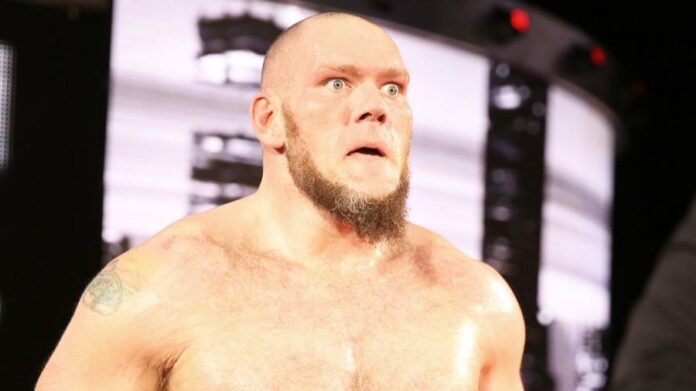 Lars Sullivan made his long-awaited WWE main roster debut on the post-WrestleMania 35 episode of Raw from the Barclays Center in Brooklyn, New York.
The colossal grappler from NXT attacked WWE Hall of Famer Kurt Angle after Angle dropped Baron Corbin with the Angle Slam. Sullivan then confronted Angle in the ring and immediately made a statement at the Olympian's expense, flattening him with the Freak Accident and a top-rope headbutt.
Last November, WWE began airing vignettes hyping the arrival of Sullivan to the main roster. Sullivan was slated to work a dark match at Raw on January 7 in Orlando, Florida — his first match at a WWE show — but he reportedly had an anxiety attack upon arriving at the Amway Center and left the premises. WWE then rescheduled his dark match for the following night at SmackDown LIVE in Jacksonville, Florida, but he flew home to Colorado before the show.
WWE originally planned on having Sullivan debut on the main roster in January by attacking John Cena. This would have set up a match at WrestleMania 35 — with Sullivan almost certainly going over.
Sullivan's attack on Cena would not have taken place inside a ring or even inside the arena. Rather, Sullivan would have attacked Cena at a bar. WWE planned on filming the segment on January 14 in Memphis, Tennessee — where WWE was for Raw that day — and airing it on the January 21 episode of Raw. January 14 would have been the only date WWE could have filmed the angle since Cena began shooting a movie the following Sunday in Vancouver, British Columbia, Canada and was not available until WrestleMania.