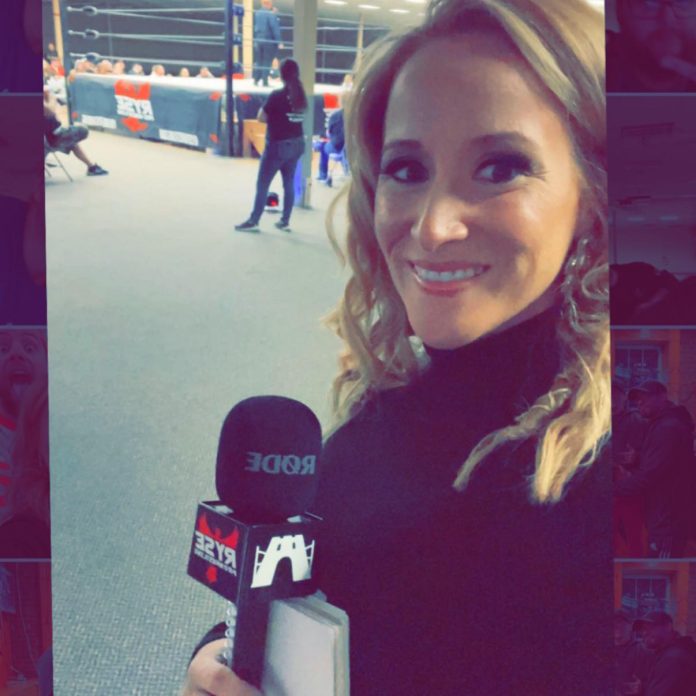 Just last month, as I was taking notes on a format sheet, using an empty display stand as an impromptu desk backstage at Ryse Wrestling, a league that runs independent events in Uniontown, Pennsylvania, the blue collar town just south of the city, I was told that I'd have a new broadcast partner for the evening. The organization hosts its events and training center, which has produced athletes that have had local and national success in the Uniontown Mall. A former Burlington Coat Factory was converted into a pro wrestling arena, complete with the entrance set, lights, banners, and of course, the squared circle to contain the action.
Just an hour before the 7 PM bell time, which was right after I had the chance to get a few pre-match notes from Promise Braxton, the Reality Of Wrestling star that begun her career under the Ryse banner, I had a chance to discuss the card with my broadcast pal for the night, the esteemed Meighan Nelson, an accomplished pro that joined the Ryse crew last year as their backstage correspondent. Despite being relatively new to the on-air side of the sport, her bright smile, poise, and professionalism, she was a natural in the sports entertainment genre.
Based on not only how I saw her interviews presented, but her confident style, I knew she would translate very well to the commentary booth. It was ironic on that May evening just after 6 PM that Meighan was prepared to make her official commentary debut because 6:05 has always had a special place in her professional wrestling journey.
"I was brought up with it, I recall as a young girl, probably as young as a toddler being a huge professional wrestling fan. Some of my earliest memories were me and my sister dancing to Jimmy Valiant's song. I also remember as a kid around 6 PM, knowing it was dinner time because the first we'd hear that wrestling bell after 6:05, we knew it was time for dinner. I remember my dad sitting in his chair at the dinner table that faced the living room and he'd be perched, watching NWA. In 1992, I watched it with him and got really into it after I watched Clash Of The Champions, where Madusa wrestled Paul E. Dangerously, and I remember thinking it was the coolest thing," she explained.
After she saw the future Hall of Famer, Medusa pummel the future extreme leader, Meighan went all-in on professional wrestling, watching as many shows and attending as many live events as possible throughout the 90s. In particular, during the cartoonish era of the WWF, despite their villainous persona, she went wild for the Quebecers and their manager Johnny Polo, who she was a fan of since his Scott Flamingo days in WCW. Similar to so many, the boom of the late-90s fueled her fandom even further, as she keenly watched the momentum of the Monday night wars tilt back and fourth during the era. Also similar to many fans of that boom period, when the sizzle from the wrestling boom faded after Vince McMahon bought World Championship Wrestling, Meighan's fandom waned with the consolidation of the industry.
She went onto a successful career and into the next chapters of her life, with pro wrestling as just a memory from her youth. It wasn't until almost to decades later in 2019 when the stress of the nine-to-five hustle of life prompted her to look for an evening away from reality that the sport that amazed her as a youngster was brought back into her life. At the recommendation of a friend, Nelson attended that year's International Wrestling Cartel Super Indy tournament, widely regarded as one of the biggest events of the Pittsburgh area, a region that has almost as much of a wrestling history as the steel it once produced.
Coincidentally, the same year that Nelson's passion for pro wrestling re-entered her life, All Elite Wrestling, Tony Khan's upstart group, launched, and Meighan credits the excitement of the AEW product as one of the aspects that brought her back full swing into her fandom. From attending television tapings to traveling to pay-per-views, she felt like that same enthusiasm for the sport as she did in her youth. Another aspect from her younger years that she had a chance re-live was to listen to pro wrestling luminaries recount their memories of those Saturday night shows or Clash Of The Champion specials through the Conrad Thompson podcast network.

Meighan got a chance to develop a working relationship with someone else that took a twenty-year hiatus from following the business the way she did before the launch of AEW, the legendary voice of the Saturday night shows that she watched from the dinner table, Tony Schiavone. Nelson, who gets an occasional mention on the wildly successful "What Happened When" podcast, is regularly trusted to help the current All Elite broadcaster at events and signings, a unique opportunity to blend her fans from inside of pro wrestling with the skills she utilizes as a successful professional outside of the sports entertainment realm.

"He's the ultimate professional," Nelson said with enthusiasm. "People say don't meet your heroes, you'll be disappointed but I was a Tony Schiavone fan, and he's always a gentleman."
With her dedication to professional wrestling fully restored, Nelson had another opportunity to get even more involved with the business that drew her back into that youthful fandom again. After she became a familiar face around the local Pittsburgh scene, many recognized her kind and professional attitude, as she always showed such a level of respect for the performers that risk their health for the entertainment of the paying audience. Chris LeRusso, a grappler with twenty years of in-ring experience, was offered the opportunity to takeover as the head organizer for the previously mentioned Ryse Wrestling organization at the start of 2022 with the notion to give the promotion a fresh coat of paint as the wrestling world as a whole finally emerged from the pandemic. LeRusso, who has also worked as a trainer and traveled extensively during his tenure in the sport, saw the level of poise and professionalism that Meighan had. Nelson was offered the chance to be the new backstage correspondent, a role that her mentor Tony once held, at Ryse wrestling in April of last year.
"The locker room couldn't have been warmer, couldn't have been nicer when I made it a point to try to introduce myself to everyone," she commented.
Meighan's next assignment will be this weekend for Ryse, and in many ways, her pro wrestling story went full circle because the same young lady that sat at the kitchen table with her family at 6:05 to watch pro wrestling will find herself on-camera with her own mic this Saturday night around that same well-known time for pro wrestling.
What do you think? Share your thoughts, opinions, feedback, and anything else that was raised on Twitter @PWMania and Facebook.com/PWMania.
Until next week
-Jim LaMotta
E mail drwrestlingallpro@yahoo.com | You can follow me on Instagram & Facebook @jimlamotta89