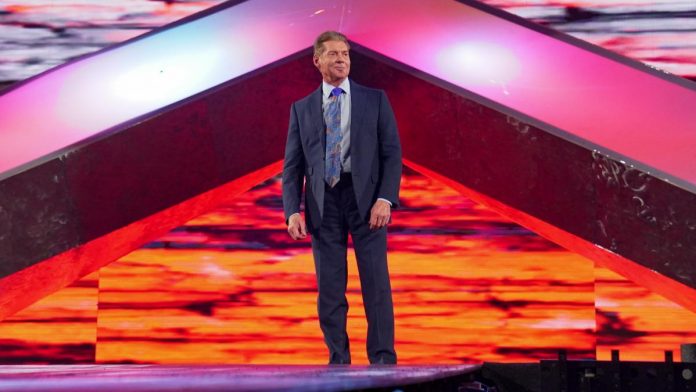 It's 2003, and it's Monday night. 9:00pm. RAW hits the airwaves LIVE from Memphis. Pyros go off. The theme song is going. And then Eric Bischoff's music hits…IM BACK…..and better than ever. The crowd, expecting Eric, meet him with a mix of cheers and boos. And all of a sudden, the music stops. And all of a sudden….NO CHANCE such as what you got……

This is precisely what happened. But it didn't happen 20 years ago. It happened 24 hours ago, as of this writing. As I suspected, from the moment he used the keywords "step aside" in his announcement, Vince McMahon returned. And assumed TOTAL CONTROL. We will get to the WHY shortly, but let us cover the most significant consequence, which also happens to be the how.

It was always evident from the get-go that even though he stepped aside/down/horizontally/vertically- it just does not matter. The amount of stock he has allows him to do two things: Take complete control, and remove all CLASS A shareholders/voters that do not want to vote in his favor. He might as well be Eric Bischoff in 2003 setting us up for the Elimination Chamber, filled with CLASS A voters that do not like him. (SS2003, by the way, was an incredibly stacked but underrated pay-per-view which I was privileged to be at – sitting in MSG's section 103 as a 13-year-old.) But I digress.

Now, here is the why. As an actor and producer in Hollywood for over 13 years, I humbly learned a lot about how my industry works. One of the ways is investments. Either from angel investors or investment firms. Some already hold minority shares in the company. Some of these names include BlackRock, Vanguard, and Lindsell Train Limited. As individuals, we have Linda and Stephanie, naturally. Shane, who is better off being off that list, is noticeably absent from it, since he'd probably take his profits and put them into paying Rock to not appear at all with an all-out Royal Rumble surprise #30 entrant appearance and give us what we REALLY want. Roman vs Shane at Mania. I kid.

All jokes aside, these three companies could purchase WWE from Vince and put him as President of the company. Or any other major leadership role alongside Trips and Steph. Some companies, such as these, specialize in entertainment and filmmaking. One prominent name is Black Bear's Black Bear Pictures. They can simply purchase WWE and hand over creative control to Vinny and whoever Vince chooses to fill creative with. That can be a whole other debate, but Triple H has done, overall, a pretty good job thus far. And personally, I think Vince can adapt to the new times with still being able to apply some of the old-school elements spinning around in his brain all the time.

This all includes one very simple understanding: he wants to take the company private, once again. The economy overall is shit right now, and you don't need to know what inflation is to think that 9 bucks for a box of Cheerios is a lot. Also, media rights renewals are looming. Vince is taking advantage, and rightfully so, of his knowledge as a powerfully intelligent businessman, plain and simple.

I do not claim to be a financial wiz because the last time I took a math class was in 12th grade, as it was never required of me at Brooklyn College. But I have something many wrestling fans don't have and that's straight-up common sense. If you think for a moment that Vince would ever take his hands off of WWE, then you are in for a rude awakening. I had a chance to meet him this past fall. He has charm, an aura of humbleness, and many layers of warmth. His handshake is one that exudes power and control. And no, I am hot voluntarily signing myself up for the "kiss my ass club", I am telling the wrestling world something no one else will tell them: Vince is actually a normal guy underneath that suit. He was nothing but a gentleman and a scholar. He is a smart man, and he is smarter than you and I. To think that he was plotting his return all this time gives me chills. I was not surprised, just awed at this mastermind's brilliance.

And no, while he was not in Memphis, and not in Connecticut, and certainly not anywhere in between, he did go off the radar.

I will choose not to speak of the location of our serendipitous meeting, but let us just say he went off the radar so that the silence can create an opening to his return. And we will not see him publicly. Maybe not until the Royal Rumble. I am more confident in a Hall of Fame turn, than anything.

Now, there is one more alternative. This is all one big facade for him to just return to where he was just a year ago with this company. Creative control. But Vince stands to make more doing what he is proposing, and my final guess is that he will go private, sell the company to an entertainment-based private fund, and run the show that way. It is the smartest move.

"through his beneficial ownership of a substantial majority of our Class B common stock, our controlling stockholder, Vincent K. McMahon could exercise ultimate control over our affairs, and his interests may conflict with the holders of our Class A common stock."

No Chance In Hell, you were ever going to take away his father's seed and Vince's evolution of said seed. Long live WWE.
What do you think? Share your thoughts, opinions, feedback, and anything else that was raised on Twitter @PWMania and Facebook.com/PWMania.