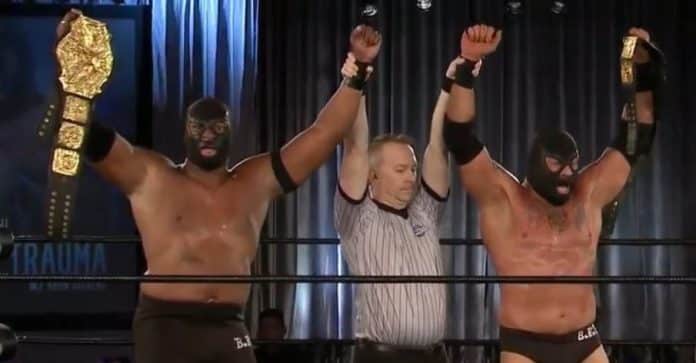 Your new NWA World Tag Team Champions are Blunt Force Trauma's Carnage and Damage.
Blunt Force Trauma defeated La Rebelión's Bestia 666 and Mecha Wolf to capture the NWA World Tag Team Titles on Night One of the NWA's 75th Anniversary Show on Saturday night. Blunt Force Trauma was accompanied to the ring by Aron Stevens, while La Rebelión was accompanied by Vampiro. Stevens once broke up a pin attempt, which prompted Vampiro to attack him for a ringside brawl.
This is the first reign for the Carnage and Damage titles. La Rebelión began their second reign on August 27, 2022, when they defeated Hawx Aerie for the vacant titles on Night One of the NWA 74th Anniversary Show. Bestia and Wolf held the titles for 364 days. This is the fourth-longest reign in the titles' 31-year history, which includes the NWA, WCW, WWE, and NWA-TNA.
Later tonight, during Night Two of the NWA's 75th Anniversary Show, Blunt Force Trauma will defend their newly-won titles against Mike Knox and Trevor Murdoch.
Here are shots from Chase's Khorassan Ballroom in St. Louis, Missouri, where the title was changed on Saturday:
Night 1 of 75th NWA Anniversary Wrestling show

Blunt Force Trauma ends La Rebelión's 364 day reign as NWA Tag Team Champions #NWA75 pic.twitter.com/HQWJCB3Bul

— Christopher (@Christo79744616) August 27, 2023
Blunt Force Trauma defeat La Rebelión to become the new NWA World tag team champions @nwa #NWA75 pic.twitter.com/olFnHGbmH5

— NY-TALL-GUY (@tall_ny) August 27, 2023