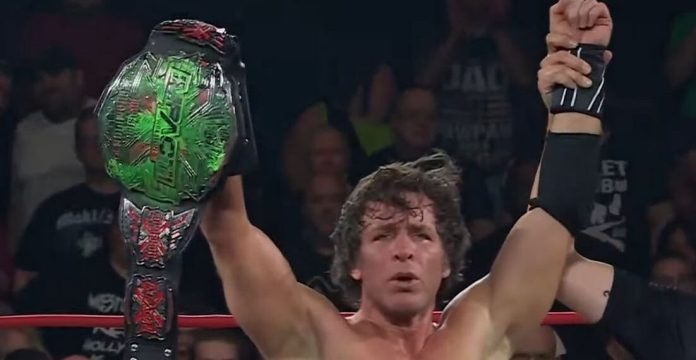 Chris Sabin is the new X-Division Champion of Impact Wrestling.
Sabin defeated Trey Miguel to win the X-Division Title on Friday night's Impact Against All Odds pay-per-view. Sabin won the pin after a Cradle Shock, despite Miguel spraying paint in his eyes. This was a rematch of their Under Siege match from last month, in which Miguel used spray-paint to win.
Sabin is in his ninth reign as champion. Since passing the six reigns held by AJ Styles, Jay Lethal, and Austin Aries, he has held the record for the most X-Division Title reigns. On November 18, 2022, Miguel began his second reign at Impact Over Drive by defeating Black Taurus in the tournament finals to reclaim the vacant title. Miguel held the title for 202 days in a row.
The Motor City Machine Guns had a big night as Alex Shelley won the Impact World Title in the main event. Sabin and Shelley celebrated the show's conclusion together, as seen at this link.
Click here for complete Against All Odds results. Here are highlights from the title change at the Ohio Expo Center and State Fairgrounds in Columbus, OH:
Both @SuperChrisSabin and @fakekinkade have the opportunity to make history TONIGHT at #AgainstAllOdds! pic.twitter.com/YuAX0PkKeb

— IMPACT (@IMPACTWRESTLING) June 10, 2023
Will @SuperChrisSabin become a 9-time X Division Champion or will @TheTreyMiguel leave with the title?! Find out NEXT!#AgainstAllOdds pic.twitter.com/ZrioII6qzt

— IMPACT (@IMPACTWRESTLING) June 10, 2023
.@TheTreyMiguel quickly turned things around! #AgainstAllOdds pic.twitter.com/AmMz2nO6TV

— IMPACT (@IMPACTWRESTLING) June 10, 2023
.@SuperChrisSabin SPIKED @TheTreyMiguel with a LETHAL combination!#AgainstAllOdds pic.twitter.com/t4eFQ2jFyu

— IMPACT (@IMPACTWRESTLING) June 10, 2023
Angels Wings! @SuperChrisSabin #AgainstAllOdds pic.twitter.com/atxwEfaWjW

— IMPACT (@IMPACTWRESTLING) June 10, 2023
NICE TRY @TheTreyMiguel! #AgainstAllOdds pic.twitter.com/5xAKx8uDcu

— IMPACT (@IMPACTWRESTLING) June 10, 2023
A PHENOMENAL Styles Clash CONNECTS! @SuperChrisSabin #AgainstAllOdds pic.twitter.com/d7NafJrbod

— IMPACT (@IMPACTWRESTLING) June 10, 2023
Hail @SuperChrisSabin!#AgainstAllOdds pic.twitter.com/6aee9cvhHW

— IMPACT (@IMPACTWRESTLING) June 10, 2023
EXCLUSIVE: @SuperChrisSabin is a 9 TIME X Division Champion!#AgainstAllOdds pic.twitter.com/cquNrbv8ab

— IMPACT (@IMPACTWRESTLING) June 10, 2023
guys

guys

guys

guys

Chris Sabin is X-Division Champion. #AgainstAllOdds pic.twitter.com/G0NRhSTA4l

— Garrett Kidney (@garrettkidney) June 10, 2023