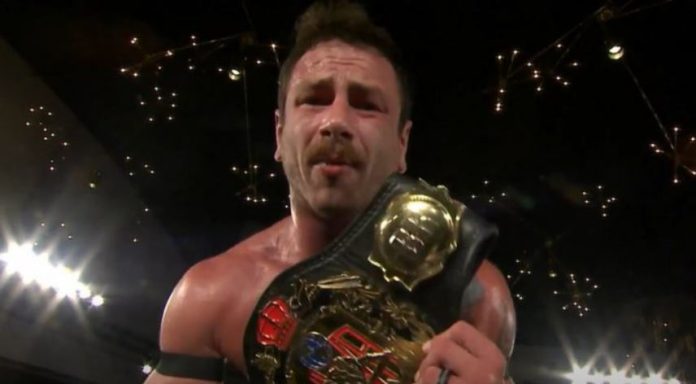 Your new NWA World Junior Heavyweight Champion is Colby Corino.
On Saturday night, Night One of the NWA's 75th Anniversary Show featured a battle of second generation wrestlers, with Colby Corino defeating Kerry Morton to capture the NWA World Junior Heavyweight Title.
This is Corino's first reign as champion, which was reactivated by the NWA on March 20, 2022 at Night Two of The Crockett Cup when Homicide defeated Corino, Austin Aries, and Darius Lockhart in a Fatal 4 Way. On November 12, 2022, Morton defeated Homicide to begin his first reign as champion at NWA Hard Times III. He wore the strap for 287 days in a row.
Corino will have to get right to work tonight because he will be defending his newly won title against Jack Cartwheel on Night Two. Cartwheel won a Jubilee Jamboree match on Night One of NWA 75 to earn the title shot. Eric Jackson, Matt Vine, Alex Taylor, and Koa Laxamana also performed at the Jubilee Jamboree.
Here are shots from Chase's Khorassan Ballroom in St. Louis, Missouri, where the title was changed on Saturday:
The match we've all been waiting for #NWAJuniorHeavyweightChampionship match Kerry Morton vs Colby Corino #NWA #NWA75 #ProWrestling #WrestlingTwitter pic.twitter.com/FTspnC8j3v

— King (@MrKingCoop) August 27, 2023
Like father like son! @ColbyCorino becomes a champion in the @nwa just like his daddy @KINGCorino. #NWA75 pic.twitter.com/jFQyyBYPjn

— Mike Hallgren (@mikejhallgren) August 27, 2023
Congratulations @ColbyCorino ! New @nwa World's Jr Heavyweight Champion!!! I'm so proud of you!!! #nwa75 pic.twitter.com/ullK744ZyS

— CORINO (@KINGCorino) August 27, 2023
I finally did it pic.twitter.com/M3XQKoUslD

— Colby Corino (@ColbyCorino) August 27, 2023
Colby Corino just won the NWA JR. Heavyweight Championship! 🙌🙌 #NWA75 pic.twitter.com/8lpFsxmhKJ

— 𝐃𝐫𝐚𝐕𝐞𝐧 (@WrestlingCovers) August 27, 2023