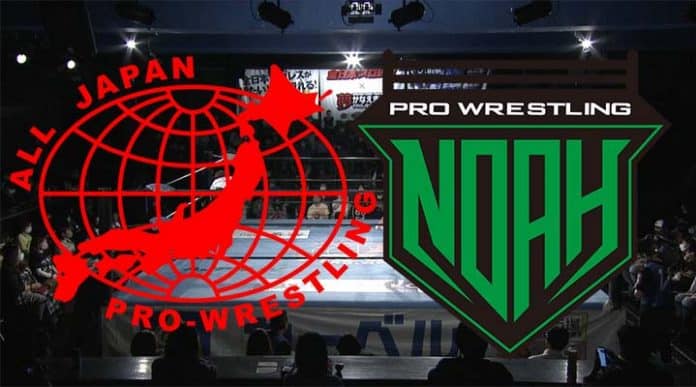 Back on February 21st at Pro Wrestling NOAH's Keiji Muto Grand Final Pro-Wrestling Last Love Hold Out event a match took place that featured stars of AJPW taking on stars of Pro Wrestling NOAH. In the match, the NOAH team of Kenoh, Manabu Soya and Katsuhiko Nakajima defeated the AJPW team of Kento Miyahara, Yuma Aoyagi and Suwama in a thrilling encounter. After the match, Miyahara got into it verbally with NOAH's Masa Kitamiya who was on commentary.
The days that followed the Keiji Muto's Final Match event, Kento Miyahara demanded that Masa Kitamiya appear at an AJPW show to apologize for the incident. On the February 27th AJPW Excite Series show a member of the Pro Wrestling NOAH roster did appear, only it wasn't Kitamiya it was Yoshiki Inamura. Inamura and Miyahara had an in ring verbal confrontation in which Miyahara asked Inamura if he was there to apologize for Kitamiya. Inamura challenged Miyahara to a match which was accepted and is scheduled for March 14th at AJPW Dream Power Series 2023.
This wasn't the only AJPW/NOAH confrontation that occurred within the past two weeks. On March 9th at Pro Wrestling NOAH's Star Navigation 2023 event, the AJPW World Tag Team Champion Yuma Aoyagi and Naoya Nomura appeared and confronted Kenoh and Manabu Soya. A challenge was issued and a match between both teams was made for March 21st at AJPW Dream Power Series.
Kenoh and Manabu Soya have a GHC Tag Team Championship match on March 19th against current champions Masa Kitamiya and Daiki Inaba. Kenoh stated that if he and Soya win the GHC tag team titles, the match against Aoyagi and Nomura will be a title unification match.
AJPW star and member of AJPW Board of Directors Suwama and Kenoh have gotten into verbal battles publicly as well. Kenoh called Suwama an ""evil managing director". Suwama responded by suggesting that Kenoh was saying something "stupid".
So to quickly recap on March 14th AJPW"s Kento Miyahara will face Pro Wrestling NOAH's Yoshiki Inamura and on March 21st the AJPW World Tag Team Champions Yuma Aoyagi & Naoya Nomura will defend the titles against Pro Wrestling NOAH's Kenoh and Manabu Soya.
With the success of the AJPW vs NOAH match at Keiji Muto's Final Match event and the two upcoming inter-promotional matches, one has to wonder if we may get a full AJPW vs Pro Wrestling NOAH event. I do believe the two upcoming matches will be watched closely by both promotions to see if they gauge enough interest to present an entire card in which the stars of AJPW face off against the stars of Pro Wrestling NOAH.
There has been a lot of press regarding the interaction between both promotions. The Tokyo Sports website has run numerous articles in regards to the interaction which has hyped up the AJPW vs NOAH feud.
If we do eventually get a full inter-promotional card, AJPW's Kento Miyahara and NOAH's Kenoh would be at the forefront. I do believe a match between Kento Miyahara and Masa Kitamiya will be happening in the future. While I feel that  Miyahara will defeat Inamura at Dream Power Series on March 14th, I also have a gut feeling that Kitamiya will appear after the match and confront or even attack Miyahara.
Kento Miyahara vs Masa Kitamiya could be one of the top matches on an AJPW vs NOAH show. Their feud is being hyped up nicely and a match between the two stars has the potential to be an incredible one. When this match does happen, Miyahara has to win. The face of AJPW can't lose to Kitamiya. It would make AJPW look extremely weak if Miyahara were to lose to Kitamiya.
Another route they can go is have Kento Miyahara defeat Kitamiya and have him attempt to turn that win into a GHC Heavyweight Championship match against Kaito Kiyomiya. That match would truly be something special should it ever happen. While this is exciting to think about, I believe that AJPW Triple Crown and GHC Heavyweight championship title defenses would be kept off any AJPW vs NOAH card.
Kenoh is leading the charge for NOAH in the feud between both promotions. In addition to the AJPW Tag Team Title match upcoming for him and Soya, I feel that the seeds have been planted for a huge singles match between Kenoh and Suwama.
An inter-promotional card between AJPW vs Pro Wrestling NOAH would definitely give AJPW a big boost as they are presently on a bit of a downturn. Top stars Jake Lee and Tajiri left the promotion at the end of 2022 creating two big voids. Jake Lee, coincidently, is now on the Pro Wrestling NOAH roster after spending years with AJPW. You can very well run a "where does Jake Lee's loyalty lie" storyline which would make things very interesting.
You have to wonder which venue would be a good one if we ever got an inter-promotional card between AJPW and NOAH. I think that answer is easy. It should take place at the legendary Korakuen Hall in Tokyo. Both promotion run shows there on a regular basis and it would be ideal for an AJPW vs NOAH event.
I believe the two AJPW vs NOAH matches that are upcoming will be a success and will generate a lot of fan interest. I truly hope it leads to a full AJPW vs Pro Wrestling NOAH event.
Now of course with all the hype I have put into a potential AJPW vs Pro Wrestling NOAH event, I have become a fantasy booker and put together what I think would be a great line-up of matches:
Main Event: Kento Miyahara (AJPW) vs Masa Kitamiya (NOAH)
Co Main Event: Suwama (AJPW) vs Kenoh (NOAH)
Yuji Nagata & Shotaro Ashino (AJPW) vs Kaito Kiyomiya & Takashi Suguira (NOAH)
Shuji Ishikawa & Cyrus (AJPW) vs Katsuhiko Nakajima and Manabu Soya (NOAH)
Yuma Aoyagi & Naoya Nomura (AJPW) vs Naomichi Marufuji & Yoshiki Inamura (NOAH)
Naruki Doi (AJPW) vs AMAKUSA (NOAH)
Jun and Ren Saito (AJPW) vs Shuji Kondo & Tadasuke (NOAH)
Atsuki Aoyagi, Rising HAYATO & Hikaru Sato (AJPW) vs YO-HEY, Alejandro & Ninja Mack (NOAH)
Hokuto Omori & Yusuke Kodama (AJPW) vs Atsushi Kotoge & Junta Miyawaki (NOAH)
Dan Tamura (AJPW) vs Yasutako Yano (NOAH)
What do you think? Share your thoughts, opinions, feedback, and anything else that was raised on Twitter @PWMania and Facebook.com/PWMania.