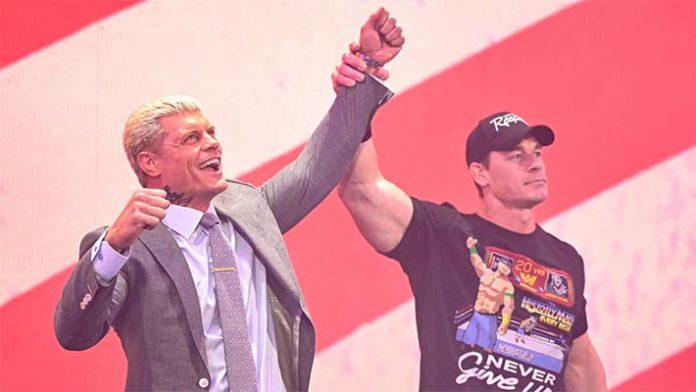 On Thursday night, WWE Superstar John Cena paid a visit to The Nightmare Factory.
The wrestling school owned by AEW's QT Marshall revealed that Cena served as the guest speaker for their 9th training camp as the students prepare for their Showcase live event on March 23rd. WWE's Cody Rhodes works as a trainer at the school.
"The [goat emoji] graces camp 9 as THE guest speaker!!!!!!! Thank you @JohnCena for coming to The Nightmare Factory @CodyRhodes @QTMarshall /// nobody better to fire them up for their showcase on 3/23 #respect #dothework THANK YOU," they wrote.
Marshall and Cena were in the group photo, but Rhodes was not.
Hunter Knott thanked Cena for the opportunity, writing, "What an absolutely incredible experience… Thank you @JohnCena for sharing your incredible knowledge with us. @QTMarshall @CodyRhodes @NF_Training"
The Nightmare Factory website used to list Rhodes and Marshall as co-owners, but Rhodes is now only listed as a coach/trainer.
For those who missed it, you can read what Cena said to Rhodes on Monday's RAW by clicking here.
The following tweets can be found below:
The 🐐 graces camp 9 as THE guest speaker!!!!!!! Thank you @JohnCena for coming to The Nightmare Factory @CodyRhodes @QTMarshall /// nobody better to fire them up for their showcase on 3/23 #respect #dothework THANK YOU pic.twitter.com/8vKdeVO3u4

— Nightmare Factory Training LLC (@NF_Training) March 10, 2023
What an absolutely incredible experience…

Thank you @JohnCena for sharing your incredible knowledge with us.@QTMarshall@CodyRhodes@NF_Training https://t.co/K1NepyKoJM

— Hunter Knott (@hknott12) March 10, 2023