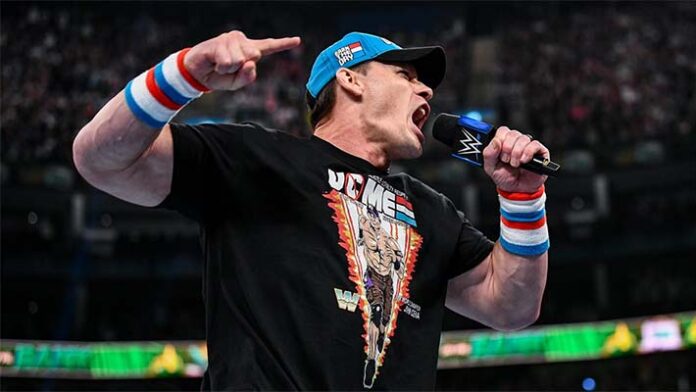 Under his first contract with the WWE, veteran Superstar John Cena earned $1,000 per month.
Cena recently participated on season 3 of Peacock's "Hart to Heart" interview series with Kevin Hart, during which he recalls signing his WWE developmental contract in 2001.
"My first contract for the WWE was $12,000 a year," Cena revealed. "I quit my job the day I was signed. I think my rent was $1,000 a month, so all my money is now rent. $12,000 a year, quit my job."
Hart pointed to how Cena was in debt at that point. "Yeah, exactly," Cena agreed.
Cena then discussed how his family members reacted to his new WWE job.
"But when I told my mom, she's like, 'I hope you're okay.' My brothers, it's very… I grew up in a small town in New England, it's very… you have an edge, you don't talk about anything except for sports," Cena said. "If you're really hurting inside it's, 'Eh, fucking [Boston] Red Sox, huh?' You know, and that look says everything, and that's it, that's the end of it. But they also won't let you grow too big for your britches… and I love my brothers and I love my family for desperately latching onto my feet and stapling them to the floor if I wanted to think that I was looking at life from a different perspective. They always kept me level and looking at people eye-to-eye, and I love them for that. But they [my brothers] didn't give a shit [about me working for WWE].
"My dad thought I was, like… I could've told him any other position and he would have been like, 'Yeah, whatever,' but [it was], 'Dad, I just got a job with the WWE.' [He said], 'Oh, my son! Like this was the one time he was like, 'This is unreal. You're going to do… It's going to great, I can't believe it.' And he's still, to this day, he's extremely proud."
Cena relocated from Massachusetts to California in 1998 to put his Springfield College degree in Kinesiology to use, but instead chose to pursue a bodybuilding career. He began wrestling in 1999 for Rick Bassman's UPW, then signed a WWE developmental deal while still with UPW. In 2001, he was moved to WWE's developmental territory OVW, where he thrived until being called up to SmackDown in 2002. Cena went on to amass millions of dollars as one of the most famous WWE Superstars of all time, and is now creating a name for himself in Hollywood.