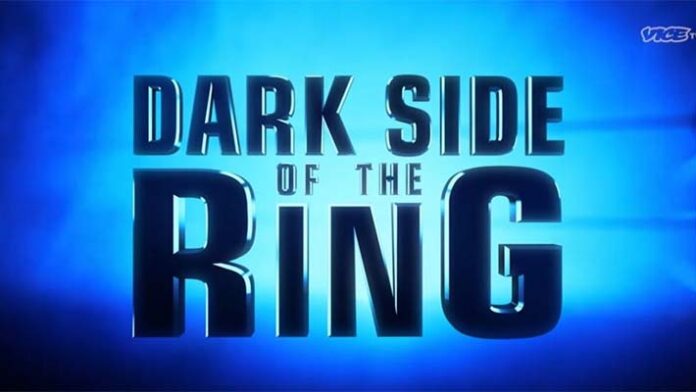 The highly-anticipated Dark Side of The Ring series returned to Vice TV last night for the premiere of its fourth season with an episode titled "Chris and Tammy," an edition of the show that focused on the often rocky relationship of Candido and Sytch. This was Dark Side's return to the air after a two-year hiatus and initial reports that the show wouldn't be renewed for another season. However, the show was eventually green lit for a fourth round of episodes, and between tonight's premiere and the third season finale, which examined the steroid scandal of the early-90s, the producers of the show were also involved with "Tales from The Territories," a lighter show that focused on the regional system. The round table discussion of legends from prior generations also had Dwayne Johnson as an executive producer.
Vice TV, the channel that broadcasts Dark Side, recently filed for Chapter 11 bankruptcy and put the company assets up for sale to lenders so the future of the network seems to be up in the air. At least for now, it looks like the wrestling series will air as planned, but it definitely seems like this will be the final season of Dark Side of The Ring, and truth be told, it probably should be.
While the series is a fascinating concept, the obstacle is to walk the tight rope of such somber and often depressing topics. There's a very, very fine line between examination and exploitation. Dark Side of The Ring has found itself on both side of that line throughout its existence.

Sometimes there was too much of a reach for the "red meat" of a particular topic, or a concept that was overdone previously, but dragged back into the conversation to provide content for an episode. The editions of Brusier Brody, Brian Pillman, and Owen Hart were some of the subjects that were riveting for fans. At the same time, nobody was clamoring for a tired re-telling of Montreal, and exposé of XPW, or an over dramatic account of Collision in Korea.
As much as I enjoyed watching the majority of the series, there were definitely times that the show looked for pure controversy rather than compelling content. On one hand, it's nice that some legends get the credit they deserve to a more main stream audience. On the other hand, it's trashy to attempt to exploit certain individuals to attempt to garner buzz or ratings.
That's why I honestly didn't know what to expect with the show's look at Chris Candido and Tammy Sytch. Candido, for all of the problems that he had at various points in his career, overcome those struggles and re-emerged onto the wrestling scene rejuvenated prior to his tragic passing in 2005. It's amazing to think of how much Candido accomplished and how extensive his career was when you take into account that he was only 34 at the time of his death after a blood clot following surgery to repair the broken ankle he suffered at the TNA Lockdown pay-per-view.
All things considered, with the constraints of 42 minutes of air time, The Dark Side presentation on Candido was fair and accurate. You can't necessarily get a complete picture of a lengthy career with only an hour time slot, a sacrifice that is made to get the episode onto cable television. In many ways, Candido defined the term "worker" in the industry. He took great bumps, everything he did in the ring was crisp, and it's difficult to find a subpar Candido match. Make no mistake about it, he had his problems outside of the ring, but inside the ropes, "No Gimmicks Needed" was as solid as anyone.

The episode of Dark Side reflected that with the majority of the show focused on his accomplishments, which definitely outshined his problems, and proof of that is how he had a comeback when he was healthy before he passed away. Watching Jim Cornette, Lance Storm, and Dr. Tom Prichard get emotional when discussing Candido's death was tough to watch, as it gave a sense of how well-thought of he was during his career. I actually had the chance to meet Chris Candido twice in 2004 just after he started his comeback run when he worked for Norm Connors' International Wrestling Cartel group before he signed with TNA. I was just 15 at the time and was thrilled to get the chance to met the former ECW star. Both times I met him, he was a really nice guy and it was so great to see him back on track and healthy for his return to the sport. In an ego-driven business like pro wrestling, grudges and real-life conflicts often made headlines, but you won't find many people that have too many negative things to say about Chris Candido, which is rare for the sports entertainment industry.
Unfortunately, the same can't be said for Tammy Sytch, who could've been known as a pioneer, but will instead have a "legacy" as a cautionary tale of everything to avoid with the fame of pro wrestling. Sadly, Sunny's life and career could be an entire season of Dark Side of The Ring. There's a difference between those with a substance problem and those that simply don't care about the consequences of their actions. Sytch had more DUI charges and legal problems than they would've had time to detail on an hour of television. Sunny's personal decisions that were destructive to her own life was one scenario, but her recklessness that killed someone when she was intoxicated behind the wheel was a completely different situation. Her comments in recent years on a variety of topics on Twitter, her infidelity during her relationship with Candido, and her lack of any consideration for the other people she put in danger the numerous times that she drove under the influence seemingly prove the type of person Tammy Sytch is outside of the Sunny character that she famously played on television in 1996.
Candido's peers shed tears when they reflected on his passing, which speaks to the volume of his character. It's very doubtful that anyone will shed a tear for Tammy Sytch, and they shouldn't.
What do you think? Share your thoughts, opinions, feedback, and anything else that was raised on Twitter @PWMania and Facebook.com/PWMania.
Until next week
-Jim LaMotta
E mail drwrestlingallpro@yahoo.com | You can follow me on Instagram & Facebook @jimlamotta89