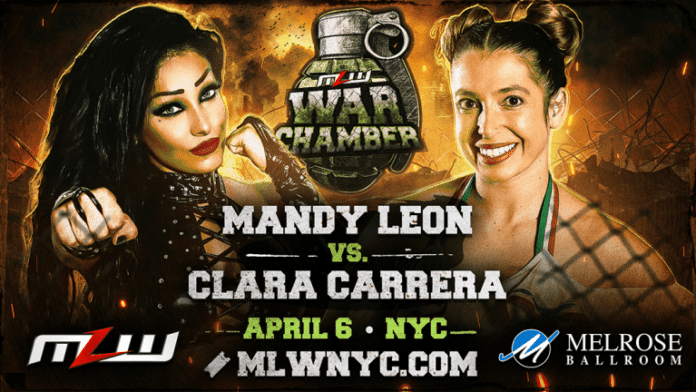 You can officially pencil in a new match for the upcoming Major League Wrestling special event scheduled for next month.
On Monday, the promotion announced the addition of a women's singles match pitting Mandy Leon one-on-one against Clara Carrera for their MLW War Chamber 2023 show on April 6 at the Melrose Ballroom in New York City, New York.
MLW.com released the following announcement with all of the details.
Mandy León vs. Clara Carreras April 6 in NYC
Featherweight fight added to MLW's return to NYC
Major League Wrestling today announced Mandy León vs. Clara Carreras at MLW War Chamber'23 Thursday, April 6 at New York City's Melrose Ballroom.
🎟Buy tickets at www.MLWNYC.com and on Eventbrite.
The card is an MLW TV taping, airing nationwide in the US and in over 60 countries around the world.
The "Exotic Goddess" Mandy León has violent dreams for her opponent come April 6 in New York City.
A model turned pro wrestler; León is a deceptively dangerous competitor. With an arsenal, including Havana Dreams, Leónsault and her signature Astral Projection, this Brooklyn, NY native is a threat in the featherweight division.
Known as "La Chica", Clara Carreras has impressed on the northeastern circuit, collecting wins as the California native emerged as a prospect to keep an eye on. Looking for a big breakout bout, Carreras looks to end this match fast.
Promising destruction and domination, what happens when Mandy León clashes with Clara Carreras?
See Mandy Léon vs. Clara Carreras LIVE Thursday, April 6th in NYC at MLW War Chamber'23.
Mandy León vs. Clara Carreras April 6 in NYC https://t.co/54FTpzxA9q

— Major League Wrestling (@MLW) March 20, 2023