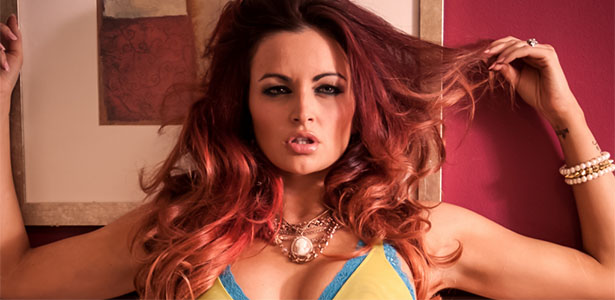 Former WWE Diva and first Lady of Ring of Honor, Maria Kanellis took some time to participate in an exclusive in-depth interview with PWMania.com. Maria speaks on a variety of subjects including WWE, ROH, her singing career, the weirdest question she's ever received, CM Punk and more. Below is the complete interview.
It's a pleasure to have you, Maria. My first question is how did you decide to become a wrestler?
I was a big fan growing up. I used to watch it with my little brother and dad. I started watching it again in high school. One week when I was 22, I entered the Diva Search online thinking nothing of it. Low and behold, I saw my photo on Monday Night Raw and I got a phone call asking to come and audition. 10 years later, I think it's the best decision I ever made.
I was a bikini model at the time and had just done a reality show Outback Jack. So I was already involved in entertainment, but nothing big as WWE.
How was your overall experience with the Diva Search?
I enjoyed it a lot. I didn't know what to expect. It was nerve racking just like any other reality show and I definitely learned a ton.
Did you enjoy more of the physical aspect of wrestling or the entertainment aspect of it?
That's always a tough question. People have asked me if I liked the interviews or the wrestling. I love them both equally. There were times like Wrestlemania where I had a match and it was an incredible experience. But now working with Mike in ROH, I do more of the entertaining and I enjoy that just as much.
Who were your favorites growing up?
My favorite female wrestler was Lita. I think it's incredible to know she's getting inducted this year. She gave me a strong female role model. My mom was a great woman, but my dad was always the king of the castle, so to speak. Lita was a strong female and did what she pleased and I admired that.
Because you've competed in the Lingerie matches, Pillow fights etc, what do you think about WWE's current product not showcasing such matches?
I think they have great female talents nowadays. AJ and Natalya are great wrestlers. Paige in NXT can hang with any of the guys there. So I don't think WWE is lacking when it comes to women talents. I hope the girls get more and more time to get into the spotlight because of how good they are becoming.
I was there at a time when there were different types of female wrestlers. There were lingerie models and full time wrestlers who came from the independent scene. So it's a very similar time nowadays. Mickie was on the independents before WWE, Melina was a wrestler for a log time before she made it to the WWE main roster and Candice Michelle went from being a lingerie model to being excellent in the ring. It's the same type of atmosphere now, with the only difference being that there's different names.
There were only lingerie pillow fights and bikini contests for the first couple of years that I was there and that fizzled out. By the time I left, there wasn't that much anymore. It's definitely changed from 15 years ago when WWE wasn't a PG product. But it hasn't changed much from the time I was there.
You talked about female wrestlers coming from a wrestling background and some from a modeling background. Considering the dynamics of both of those backgrounds, were there any personality clashes while you were there?
It's pretty much the same as when a new kid comes to school, there's always that feeling of "Oh, it's the new guy/girl." I think there are strengths to both types of women and I think the combination of those two personalities can make for a great show.
What are some of your favorite WWE moments?
When I won Diva of the Year, it was so unexpected. I also had a match against Michelle McCool who was champion at the time and I felt the match really came together. Any time I worked with Victoria or Beth Phoenix are matches I enjoyed.
One time I had a match with Beth Phoenix and she threw me up in the air and I was supposed to land on my feet. But something happened and I landed right on my butt. Beth, being the pro that she is, grabbed me, put me in her finisher and that was the end of the match. It wasn't what was planned, but it's what happened, so that was a funny moment.
Also, there was this time when I interviewed Ric Flair. He was someone I idolized growing up, so that was amazing. But at the same time, I've never been a star struck person.
What was your working relationship like with Vince McMahon?
He was like a father figure to me. He would never ask me to do anything that he wasn't willing to do himself. He was the inspiration behind my character. The first time I started doing the ditsy character, he was there and gave me advice on how to run with it.
Did you like portraying the ditsy character or did you feel like you could have been used differently?
I struggled with it at first, but in the end I was thankful that I did it. There were so many great moments that came out of it, from working with Mankind, Cryme Time, DX, to wrestling Umaga or Kurt Angle. None of those things could have been done without that character, because my character was sympathetic and someone the fans could get behind.
Plus, nowadays, it's funny because I get calls from interviewers who think I'm very stupid. And I get the chance to show them that I'm not. A lot of times when I get a call, they'll talk to me with baby talk and just ask me dumb questions and think that I'll divulge the secrets of the universe or something because they think I'm stupid. But within the first five minutes, it changes and they realize I'm a lot smarter than they think. It's so funny getting those calls though, because that means I've done my job.
So with that in mind, what is the most unusual question you've been asked?
Just recently, I was interviewed by a newspaper. When I think of newspapers, I assume that there will be some type of maturity to the questions they ask. I expect them to be respectful of their audiences from grandma down the street to a businessman to a high school student or college student.
So this reporter really builds up this last question and says to me, "I've researched this and I think this is a really important question: How did Snoop Dogg taste?"
I found that to be incredibly insulting and it was just so weird that it was for a newspaper. If it was for Howard Stern, I'd expect that. But for newspapers, I'd expect things like "How was your experience working with Donald Trump?" So that's one of the dumbest questions I received.
The way I answer questions like "How was it kissing John Cena?" is that I'm an actress first. I sign a contract to play a role and I get paid for it. It's not reality, it's a role.
So then maybe I can word that question differently for you. How was it working with Snoop Dogg?
It was great. He's a sweetheart. He did what he needed to do, made a statement as big as he could and we shook hands after it was over. And plus he gave Santino quite the bump.
Having dated CM Punk in the past, what are your thoughts on him walking out on WWE?
I don't know all of what's going on in the wrestling world other than ROH because I've been so busy with school. What I do know is that Punk has worked incredibly hard to get where he's at. He's the example you use when you talk about independent wrestlers who come to WWE. He was the first in that transition. He came from the independents and made a name for himself in WWE. He's already done the work and doesn't need to do anything else in his career to solidify the statement he has made. He changed wrestling forever because he showed that some dirty, stinky wrestler from Chicago can become a famous superstar. So whatever he decides is the right decision for him.
Do the CM Punk chants bother you at all?
Not at all. Mike and I get them all the time and it doesn't affect our relationship or what we do. As long as the people are reacting, we must be doing something right.
Moving away from WWE for a moment, let's talk about your run in ROH so far. How did you decide to work for them?
I think they actually picked me. I had been doing minimal indy wrestling shows, doing signings here and there. I wasn't wrestling for a long time. Mike and I started dating and didn't really tell anyone at first because we didn't know where it was going to go. So after we had been dating for four months, I went with him to an ROH show and everyone there was amazing. They were so sweet and kind and I've always loved the ROH locker room. And at Final Battle that year, they asked me if I wanted to go out to the ring with him. I thought, sure this'll be fun, especially at the Hammerstein Ballroom, which I love. So I said I'll do it one time. And I did.
Then after that, I went to pre-tapes with Mike and they had already arranged for me to be on pre-tapes with him and had not talked to me beforehand. They just figured I would be there. So it just happened. I didn't sign a contract with them for a long time. I actually signed one with them in May of last year. So it was like "Yeah she'll be there."
It worked out great because Mike is such a good heel. Not only that, but ROH also gave me the opportunity to work with the Women of Honor. We shot 2 episodes of a series we're putting together showcasing women's wrestling in ROH. It's basically the search for the new Women of Honor since we've lost a lot of our originals like Daizee Haze and Sara del Rey.
There's so much talent on the independent circuit now and it makes my job easy. But at the same time, I need find talent who will be dedicated to the Ring of Honor way.
Are there any independent female talents who stand out to you?
One that I definitely like is Jessica Havoc. Madison Eagles is great. Kasey Ray is a tiny little thing, but she is a beast. She can do every type of flip possible and she's also going to be at my bridal party. She stands out to me the most because she's beautiful and talented. She's new, but she has fire.
What are some of the differences working for ROH as opposed to WWE?
The schedule is the biggest difference. WWE has so many dates, whereas ROH only has about 4-7 dates a month.
But ROH is just as intense. I love the locker room because it has those fresh faces who want to make it in the wrestling scene.
Do you see yourself continuing to work for ROH in the next few years?
That's really up in the air. You never know. There's some guys whom you never thought would go back to WWE because of what they've said in the past or the drama that's happened. But they end up going back. So, never say never.
I really enjoy working with ROH and this new women's division is something I can really sink my teeth into and help it grow. I want women to know that if they want to start building their fanbase, they can come to ROH and we can give them that platform.
You've expressed quite a dedication to the Women of Honor. There's no doubt that you care about the success of the division.What do you think is the biggest challenge for women in wrestling today?
The biggest issue is that there's not enough spots for them. Wrestling is and always has been a male-dominated industry. Wrestling itself is tougher to get into than any other major sport and it's even tougher for women to get into wrestling.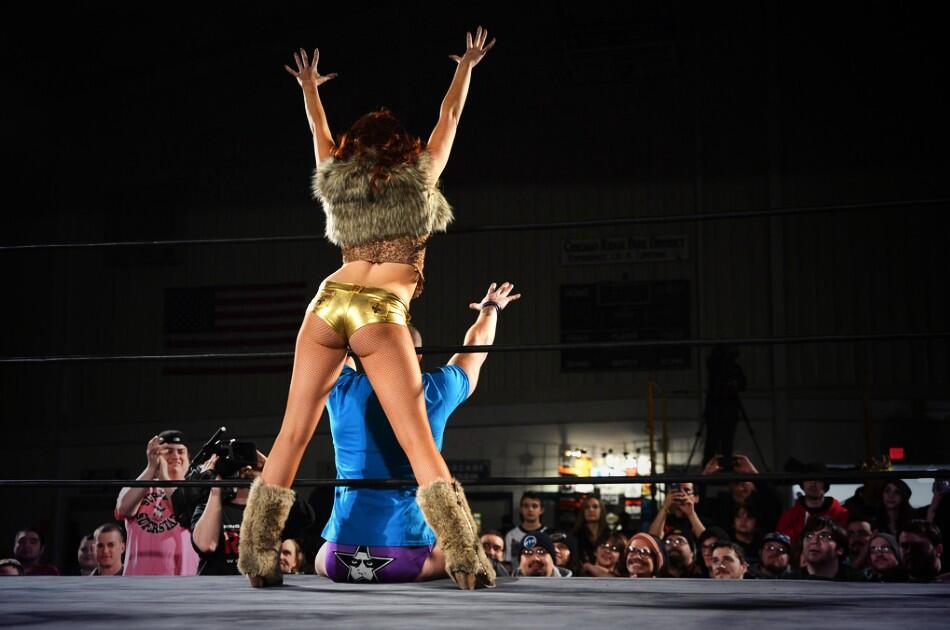 Moving away from wrestling, you released an EP Sevin Sins in 2010. How did you gain an interest in music?
I've always been into music. I've always been a writer. I had done Celebrity Apprentice and I was looking for another outlet for my creativity. I met these great producers and we did these songs. One of the songs on the EP was used for the podcast Mike and I do called Mike and Maria in Wonderland and the song has gotten half a million downloads. We've gotten questions like "Where did that music come from?" So we've gotten attention from that.
I would produce more music but it gets expensive. Also I'm preparing for my wedding, so music's on the back burner for now, but I love doing it.
Would you ever consider a full time singing career?
I considered it, especially after I released my EP and people were asking me to come and perform. But to be honest, I'm a little scared when it comes to performing in front of a live crowd. It's ironic because I don't mind wrestling in front of people, but with singing I'd just chicken out.
Nowadays, I'm planning for my wedding, which is a full time job in it of itself. Plus I'm a full time college student.
Speaking of college, where do you go and what's your major?
I go to Illinois Valley Community College and I'm an art major. I'm looking for a four year institution to finish my bachelor's degree. I thought about going into film or event planning. I think someday it's going to be a mixture of the two.
What factored into your decision to return to school?
The biggest factor was getting engaged. I've been in wrestling for almost ten years and I've always wanted to go back to school. Before I got into wrestling, I had already completed 19 credit hours. When I left WWE, I considered going back to school then but the time wasn't right until I signed with ROH.
Do you get recognized at college?
I do get recognized and it's funny. One guy who works for the school paper came up to me in the hallway and said "Oh my gosh, are you Maria?" And I said "yes." And he said "We gotta write about you."
There was this other time where a guy in my Spanish class asked me to sign a Playboy for him and I did. And I'm laughing, thinking "Here I am at college signing Playboys."
There have also been students who wanted to get pictures with me.
So yes I do get recognized, but I try my hardest to stay low key. One guy said to me "You don't look the same as you do on TV." I told him "Of course. I'm not wearing eyelashes or sparkly clothes for class."
But all in all, everyone's very respectful. My professors are understanding when I have to miss class for ROH. ROH has also been supportive in my decision to go back to school.
What's a possible institution you plan to transfer to upon completion of your courses at IVCC?
One of my top schools is UMass online. They have a program where they give you credit for what you've already done. I've produced music videos, helped develop the Women of Honor, my writings, etc. I can get college credit for all of that.
Would you plan on pursuing your Master's degree?
I would like to continue my education as much as I can. I would absolutely love to get my doctorate and use that as a character on television. It would just irritate people so much.
What's next for Maria Kanellis?
Definitely give a listen to my podcast. Mike and I give a ton of insight as to what's next for us. But what comes next for me is building this women's division and watching Mike Bennett's career skyrocket. We just recently did a show with Preston City Wrestling in the UK. Just keep an eye out on the two of us. We are enjoying this ride with all of our fans.
Thanks again for your time, Maria. PWMania.com wishes you luck in all that you do!
What do you think? Comment below with questions, thoughts and anything else that was raised.
* Follow Maria on Twitter @MariaLKanellis.
* Listen to Mike Bennett and Maria's podcast Mike and Maria in Wonderland at fanoff.com/shows/mikeandmaria.
* Follow Brett on Twitter @TheDeutch