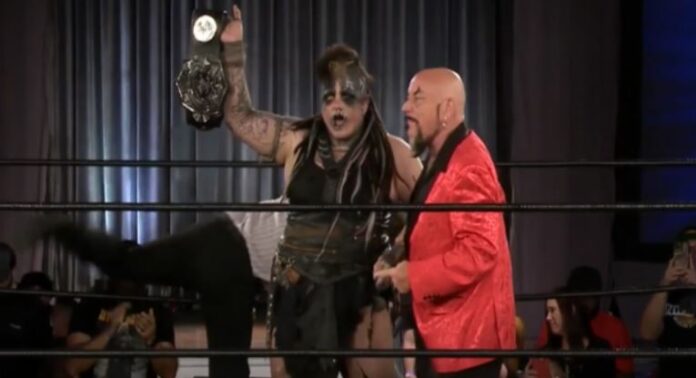 Your new NWA World Women's Television Champion is Max The Impaler.
Max defeated Kenzie Paige on Night One of the NWA 75th Anniversary Show to win the NWA World Women's Television Title. Max dominated the majority of the match, which began Saturday's main card and lasted just over 6.5 minutes. Max stopped a comeback attempt after gaining control, but Paige fought back and hit a big Facebuster for a close pin attempt. Max then blocked a Kenzie Cutter and flattened Paige with a lariat to win the championship. Max then shared his joy with Father James Mitchell.
Max is only the second woman to hold the NWA World Women's Television Title, and this is her first title reign in the NWA. Paige won the inaugural NWA 312 championship on April 7th, defeating Max in the finals of an eight-woman tournament. Paige wore the strap for 141 days in a row.
Paige lost her TV Title on Saturday, but she went on to win the Burke Invitational Gauntlet and become the new #1 contender to NWA World Women's Champion Kamille. Max, Allysin Kay, Samantha Starr, Sierra, CJ, Heather Monroe, Taylor Rising, Ruthie Jay, MJ Jenkins, and The WOAD also competed in the Burke Invitational Gauntlet. Paige won by eliminating Kay last. Kamille won a No Limits match against Natalia Markova on Night One, and now she will defend against Paige on Night Two.
Several shots from Saturday's title change opener at Chase's Khorassan Ballroom in St. Louis, Missouri are included below:
#AndNew NWA World Women's Television Champion! @_theyaremax_!!@MinisterReal #NWA75 pic.twitter.com/7ed0DpWP90

— NWA (@nwa) August 27, 2023
The Prophecy fulfilled. @_theyaremax_ is your new NWA World Television Champion after defeating @KenziePaige_1 at #NWA75
Making important history in the process! pic.twitter.com/GPMeV9zc1c

— NWA (@nwa) August 27, 2023
Always good seeing Max The Impaler in action!! And look at James Mitchell on the outside of the ring, looking as dastardly and sinister as ever. #NWA75 #ProWrestling #WrestlingTwitter #NWA pic.twitter.com/m4kP6TCvrB

— King (@MrKingCoop) August 27, 2023
Max The Impaler just won the NWA Women's TV Championship. #NWA75 pic.twitter.com/JxoqlQVdIR

— 𝐃𝐫𝐚𝐕𝐞𝐧 (@WrestlingCovers) August 27, 2023