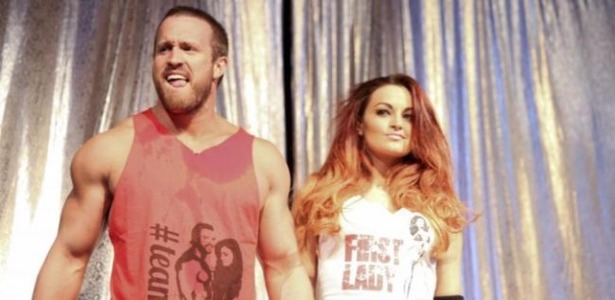 ROH superstar Mike Bennett recently participated in an exclusive interview with PWMania.com. Bennett discusses his WWE tryout, how he started in wrestling, podcasting and more. Below is the interview.
You've come a long way since your first ROH appearance in 2008. What are some of the key changes that have occurred in your career since that time?
It's been a learning process. When I started with ROH, I had been on the indy scene for a while, but I only wrestled in a certain area and only had one type of style. So coming to ROH was different, because it was a mix of guys from all over the world. It was all about getting in the ring and learning something new every day and taking it home with me. ROH forced me to step my game up and they humbled me, because I thought I was already at a certain level, but I had to learn more. I personally think ROH has always had the best roster and so I had to compete with these guys day in and day out, but it's a healthy challenge. Every show, I'm thinking "How am I going to learn and top everyone else?"
The thing I like about ROH is that if you are willing to learn, it pays off and the people at the top take notice of it. If a guy is making noise, it's a good thing, like I heard on Stone Cold's podcast. When I go out there, the fans make noise and I get a reaction.
How did you decide to become a wrestler in the first place?
I always told my dad it was one of the things that I never grew out of. Normally, if you're a wrestling fan, that means you're a fan and then you grew up. Basically, I never grew up. I kept that fandom going. One day I told my parents I was going to be a wrestler and they told me as long as I had a backup plan, they would support me 100 percent. They let me enroll in wrestling school at 15. When I graduated high school, I went onto college and got my degree in criminal justice. So, my decision to become a wrestler came from having the best parents in the world.
So, what was your backup plan going to be?
My dad's a lawyer, so I always had law in my family. At one point, I wanted to be a police officer, but that tapered off after a while. I've always been interested in civil rights, law and police brutality.
Would you consider a law career after you retire?
I definitely don't want to be one of those guys who sits at home and does nothing because I'd go crazy. I go crazy when I have a day off. I don't really want to do acting, because I feel that's cliche after being a pro wrestler. I have a passion for law and history. I'll probably do what Maria did and go back to school and see where it goes. I haven't quite figured it out yet, but hopefully that'll be a long way off. Maybe when I go back to school, Maria can help me with my math problems.
You've wrestled for ROH, TRP, NECW, etc. How different is it performing for each company?
A lot of it has to do with the type of crowd you're in front of. ROH has a smart crowd. And it's growing, as evidenced by some of the shows we've done in places like Milwaukee where the casual fans outnumber the niche fans. The casual fans are fun because they react to everything and every superstar gets a good reaction. If you go to NYC, they're the toughest fans in the world. If you go to indy shows at high schools, it's all kids, so you're not going to have a 60 minute strong style match in front of 5 year-olds. The guys that are the best are the ones who can perform for all types of crowds and can adjust their styles for each crowd.
How did the Prodigy gimmick come about?
It was an idea created by Dave Lagana, Jim Cornette and I. Despite my tenure on the indies for so long, I was still relatively unknown. I was this up-and-comer looking to make a name for myself. Every ROH show that I was on, I traveled with Bob Evans, who is my real life trainer. Cornette suggested to put Bob with the character. And I was the one who took it to the sports entertainment aspect. I was like, what if I bring a sports-entertainment character to a company that's strictly about wrestling?
How did you decide to start doing podcasting with Mike and Maria in Wonderland?

Maria was in Denver and met the right people who were doing podcasting. I didn't know anything about technology other turning my Playstation on and off. They were ok with editing and they sent us headphones and everything. We did our first episodes and it got over 100,000 listens. It's been a blast calling up friends and asking them to talk on our podcast. At first we felt that wrestling was over saturated with podcasts. So we decided to not just talk about wrestling, but also about our life as a couple. That's why we gave it the name Wonderland, because it's a mix of everything that we do.
How was your tryout with WWE?
I loved it. They push you harder than anyone else. I was always ready to make any sacrifices to get into wrestling and that's exactly what the camp was: weeding out the guys who don't want it enough. It was clear after the first day and a half who really wanted it. They told us to show them something regardless of our experience. But at the end of the day, I decided to stick with ROH because I have a lot more to offer. My contract's up in a few months, so I don't know where I'll end up. But I would certainly love to be at WWE at some point.
Have you ever met wrestlers who did not want to go to WWE?
I've never met anyone in entertainment who says "I want to be the best, but I'm happy where I'm at." There are guys out there who are weekend warriors who just wrestle for fun every weekend and have jobs during the week. But if you truly want to be the best, you don't want to stay in one place. You always want to improve and grow.
What's next for Mike Bennett?
As far as wrestling goes, I would love to stay in ROH, but I also want to be the best. I hope to get back to NJPW soon as well. I have a lot of good things to say about them. I'm at a good place right now in wrestling and it's only going to get better.
Thanks again for your time! PWMania wishes you well!
Follow Mike Bennett @RealMikeBennett
Follow Brett @TheDeutch