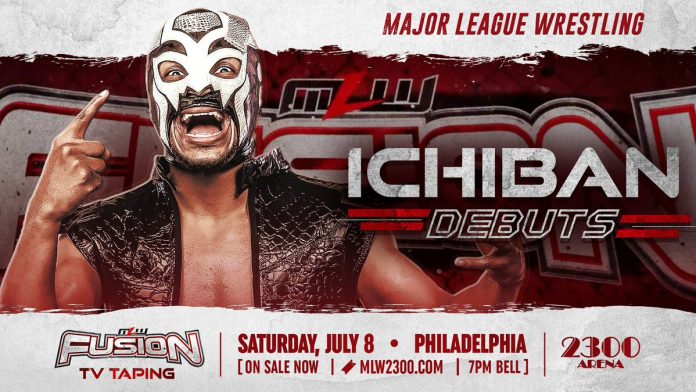 Ichiban is coming to Major League Wrestling.
On Thursday, Major League Wrestling announced the decorated international pro wrestling star will be working the upcoming MLW Fusion: Never Say Never show this July.
MLW.com released the following announcement:
Ichiban debuts July 8 in Philly
Debut set for Fusion TV bout as a part of July 8 card
Major League Wrestling (MLW®) today announced Ichiban will make his debut on the FUSION TV taping portion of the July 8 Never Say Never event Saturday, July 8 at Philadelphia's 2300 Arena.
Grab tickets at MLW2300.com and the 2300 Arena box office. Tickets start at $15.
The pride of the NumberOneDojo is coming to Major League Wrestling. Impressing league officials as he's unleashed a fury of lethal puroresu on the northeastern wrestling circuit, the exceptional middleweight now embarks on a new challenge: MLW.
"All roads lead to the 2300 arena as Ichiban makes his MLW debut," states a representative from NumberOneDojo, Ichiban's fight camp. "The NumberOne Dojo's Kokujin Katana will once again travel into unknown territory, looking to test his might against the best. Ichiban wishes to prove himself here in the Major League by fighting MLW's strongest warriors & giving them a lesson in the way of the ONE."
Ichiban will compete as part of the FUSION portion of the card.
League officials are in talks with several prospective fighters and expect to announce Ichiban's July 8 bout shortly.
NEVER SAY NEVER FITE+ CARD
World Heavyweight Championship
Hammerstone (champion) vs. Alex Kane (with Mr. Thomas)
FUSION TV TAPING BOUTS
Gene Snisky in action!
The debut of Ichiban!
Some of the athletes and talent signed to compete and appear include:
Jacob Fatu
BOMAYE Fight Club
Mance Warner
Rickey Shane Page
Raven
AKIRA
Delmi Exo
World Tag Team Champions Samoan SWAT Team
"Hot Sauce" Tracy Williams
Tony Deppen
Sam Adonis
1 Called Manders
Mr. Thomas
Matthew Justice
Matt Striker
Mandy León
Mister Saint Laurent
Sam Laterna
More athletes and matches will be announced at MLW.com.
Tickets start at $15 at MLW2300.com. Tickets will also be available day of show at the box office unless the event sales out in advance.
*** SPECIAL 7PM FUSION TV TAPING START TIME ***
FITE+ Premium Live Event broadcast begins at 8PM ET.
General Public Doors Open: 5:30 p.m. with a special bell time of: 7:00pm.
The venue is located at: 2300 S Swanson St, Philadelphia, PA 19148.
DAY OF EVENT INFO
The schedule for the event is as follows:
5:30 p.m.: Early entry for front row ticket holders
6:00 p.m.: Doors open for general public (all ticket holders)
7:00 p.m.: Fusion Showtime
8:00 p.m.: MLW premium live event on FITE+
The world of MLW never stops. See you at the historic 2300 Arena for Major League Wrestling!
MORE ABOUT THE 2300 ARENA
2300 Arena (previously named Viking Hall, ECW Arena, New Alhambra Arena, Asylum Arena and The Arena) is a multipurpose indoor arena used primarily for professional wrestling, boxing, mixed martial arts, and concert events. The 2300 Arena also hosts fashion shows, corporate and private parties, political rallies, conventions and more.
The venue is located at: 2300 S Swanson St, Philadelphia, PA 19148
About Major League Wrestling
Major League Wrestling (MLW®) is a sports media holding company, offering television content, action figures, apparel, live events, and ancillary entertainment. MLW operates live events in major markets throughout the United States and Mexico, including New York, Philadelphia, Dallas, and Tijuana.
One of the fastest growing wrestling leagues today, MLW programming is available in over 60 countries worldwide, including MLW Underground on REELZ in the United States airing Tuesdays at 10pm ET / 7pm PT; and MLW Fusion on beIN Sports in the U.S. and Ayozat TV on SKY in the United Kingdom.
MLW premium live events stream monthly live and exclusively on FITE+.
MLW events showcase diversity and the full spectrum of professional wrestling, with athletes representing countries around the world with fighting styles, including: technical, Japanese strong style, lucha libre, King's Road brawling, MMA, catch wrestling, hybrid wrestling, submission grappling and other disciplines.
ICHIBAN (@numberone_dojo) debuts in MLW July 8 in Philly with Fusion TV bout

🔗 https://t.co/JKIqUxrvhC
🎟️ https://t.co/0qvY4rbwNl pic.twitter.com/JVVOwH5exE

— MLW (@MLW) May 25, 2023